Why Not a Pumpkin Variation for a New Family Favorite?
During a stay in Kosice, Slovakia at the end of my Journey to Greece, I fell in love with a vegetarian red beet pirohy (pierogi) dish served with fresh spinach and goat cheese. To discover more about my love story with this delicious wholesome dish, read my recipe for Red Beet Ravioli with Spinach and Goat Cheese.
While I was testing out recipes for Red Beet Ravioli with Spinach and Goat Cheese with one of my Belgian sisters, she started harvesting pumpkins from her vegetable garden.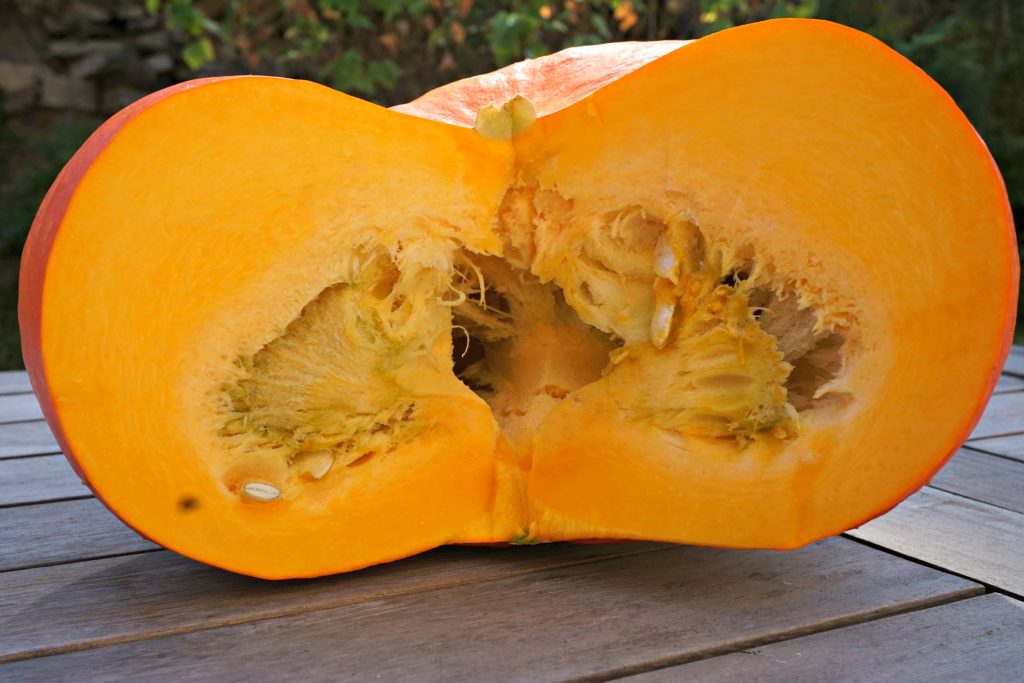 As I love pumpkin, especially in savory dishes, I decided to try making pumpkin ravioli using the recipe created for the Red Beet Ravioli with Spinach and Goat Cheese.
The taste of pumpkin in the pasta is subtle, yet just enough to give this dish a wonderful hint of autumn. The golden color from the pumpkin also makes this Pumpkin Ravioli with Spinach and Goat Cheese dish so attractive.
Please refer to Red Beet Ravioli with Spinach and Goat Cheese for more information about preparing the pumpkin ravioli dough and filling as well as about assembling and then serving the pumpkin ravioli.
How Well do Pumpkin and Goat Cheese go Together?
When I use pumpkin in savory dishes, I usually pair pumpkin with ricotta or parmesan cheese. I've also on a occasion added fontina or pecorino cheese. So what about goat cheese?
Goat cheese is lovely with earthy ingredients like red beets, or with ingredients having a pronounced or bitter flavor, such as arugula, kale, and escarole or endives. The goat cheese used in this recipe has a mild taste so enhances the flavors of the dish without overpowering them.
Given pumpkin's subtle flavor, I was a bit hesitant to use goat cheese, yet thought it was worth a try. I had all the other ingredients available anyway for the Red Beet Ravioli with Spinach and Goat Cheese so why not use pumpkin in the dough for one batch?
What if You Don't Like Goat Cheese?
Many people do not like cheese made from goat milk or sheep milk. If you are one of these people staying away from goat cheese, please reconsider.
When I made the Red Beet Ravioli with Spinach and Goat Cheese the first time for my Belgian family, a few of the members were reluctant to try the dish because they do not like goat cheese. They were then surprised how this goat cheese adds a smoothness to the dish without dominating your palate. The taste of this medium soft cheese plays a supporting role to the other ingredients.
If however you absolutely do not want to use goat cheese, do not fret. I'd recommend replacing the goat cheese with ricotta cheese and adding a little bit of parmesan and perhaps a pinch of sage. For more inspiration concerning substitute ingredients, see my recipes for Pumpkin Risotto and Pumpkin Sage Pasta.
I hope this recipe for Pumpkin Ravioli with Spinach and Goat Cheese will serve as a starting point and that you will let your inspiration guide you. I'd love to hear from you about other variations that you create using this recipe.
To discover new pumpkin dishes, click here. Remember to use the links below to share recipes with your friends.
Pumpkin Ravioli is fun to make with kids or friends and a delight to eat. It's a healthy way to celebrate autumn and perhaps a vegetarian Thanksgiving. If the Pumpkin Ravioli are served as a main dish, figure on each person eating between six and eight. See notes below re: time needed.
Servings

Prep Time

Cook Time

Passive Time

12

people

100

minutes

140

minutes

60

minutes
Servings

Prep Time

12

people

100

minutes
Cook Time

Passive Time

140

minutes

60

minutes
Preparing the Dough
The pasta dough may be made either by hand or in a food processor. After the dough is prepared, it may be rolled out by machine or by hand. I will describe each step highlighting your options.

Follow the link above in the ingredient list for a recipe to prepare your own pumpkin puree. Otherwise, use canned pumpkin puree.

If you use canned pumpkin, skip to the next instruction. If you prepare your own pumpkin puree, be sure to put the pureed pumpkin in a strainer over a bowl to eliminate excess liquid. Press down on the pureed pumpkin to remove as much liquid as possible. Use the excess liquid in a soup or a smoothie to benefit from the nutrients. Once the pureed pumpkin cools, you can prepare the dough.

If you prepare the dough BY HAND, put the pureed pumpkin with the egg and egg yolks in a large mixing bowl. Add a pinch of salt. Mix together with a wooden spoon. Add one-third of the flour and then mix together. Add another one-third of flour and mix together. Continue mixing with the wooden spoon as you add more flour a bit at a time until the dough begins to separate from the bowl. If you use a FOOD PROCESSOR, add the pureed pumpkin, the egg and egg yolks, a pinch of salt, and three-fourths of the flour into the food processor bowl. Pulse together about 20 to 30 seconds until the dough begins to separate from the bowl. If it does not separate, add more flour until it comes together in a ball. I needed the indicated amount of flour but the exact quantity may vary according to the amount of liquid in the pureed beets and the size of the eggs used. Note: try not to stretch this step out too long as you do not want to work the dough too much, otherwise the pasta will have more elasticity (be more chewy).

Once the dough starts to separate so you can touch the dough with your hands without the dough sticking to them, you can knead the dough a few minutes (2 to 3 minutes) on a wooden board or clean counter. You may need to add a little more flour at this stage to avoid the dough sticking to your hands. Stop adding flour when the dough is soft to the touch and does not stick to your hands.

Divide the ball of dough into 2 or 3 portions. If you like, add a drop of olive oil to your hands and rub it lightly on the outside of the dough. This step is optional. Wrap each portion in plastic film and put in the refrigerator to rest at least 30 minutes.
Preparing the Filling
Wash and cook the spinach to be used in the filling (not the spinach leaves to be added on top).

Put the cooked spinach in a drainer over a bowl to eliminate excess liquid. Press down on the spinach to remove as much liquid as possible.

Put the olive oil in a pan over a medium-high heat. Dice the shallots and add them to the pan. Cook the shallots about 2 minutes until they are translucent.

Add the drained cooked spinach to the pan and continue to cook a couple minutes. Add salt and pepper. Optional: Add some pureed pumpkin to enhance the flavor of the pumpkin in this dish. (See notes below). Let cool.
Assembling the Ravioli
Cooking the Ravioli
Bring large cooking pots filled about 2/3 with water to a boil.

Add about 8 raviolis into the boiling water. Be careful not to overcrowd the pot as the raviolis will expand while they cook. They will need to cook about 10 minutes from the time you place them in water. The raviolis usually come up to the surface of boiling water after approximately 2 minutes and then need to cook another 8 minutes before they are ready. These times are estimates and they may vary depending on the size of the ravioli.

If you are not serving the ravioli immediately, place them in a baking dish with a little olive oil to avoid sticking. Place the dish in a warm oven (low heat only to keep warm) until you are ready to serve the ravioli.

Continue to cook the ravioli until they are all ready. If possible, you can have two pots going simultaneously to save time.
Serving
On each plate, place a handful of washed raw baby spinach leaves. Cover with about 6 to 8 cooked raviolis.

Crumble 30 to 40 grams (about 1 ounce to 1.3 ounces) goat cheese on top.

Drizzle a little olive oil (or a blend of olive oil and a nut oil) (see notes) on top. If you are adding pumpkin seeds on top, add them now. (Don't however add pumpkin seeds if you are also mixing some nut oil with the olive oil for the top). Finish with a pinch of grey salt and a dash of black pepper freshly grounded. Serve and enjoy!
1.  The time needed to prepare one recipe for 12 people may seem daunting.  However, you should note that several tasks can be happening at the same time.  For instance, you prepare the filling as the dough rests in the refrigerator or as you cook the pumpkin for the dough.  In addition, you can break up the work into several steps performed at different times. The dough may be prepared one or two days in advance or up to 1 or 2 months in advance if you choose to freeze it. If you prepare the ravioli with children or friends, people can perform different tasks simultaneously.  One person can roll out the dough while another fills them, for example.  The time indicated above is the total time if you were to perform all of the tasks at one time by yourself.
2.  Contrary to what you would think, these ravioli do not have a strong pumpkin flavor. If you enjoy the taste of pumpkin, you can add a little pumpkin puree to the filling to enhance the flavor.
3.  The flavor of the ravioli is delicious and subtle.  I'd recommend trying it as suggested the first time.  If you want to add a little additional flavor without overpowering the dish, try blending some nut oil (pumpkin seed, walnut or hazelnut) with the olive oil on top OR adding some crushed roasted pumpkin seeds on top.
4. If you freeze the dough to be used at a later time, be sure to defrost before using to roll out.
5.  If you freeze the pumpkin ravioli, do not take them out to thaw in advance.  Put the frozen ravioli directly in the boiling water and let cook an extra 2 minutes or so.
Nutrition Facts
Pumpkin Ravioli with Spinach and Goat Cheese
Amount Per Serving
Calories 301
Calories from Fat 126
% Daily Value*
Total Fat 14g 22%
Cholesterol 95mg 32%
Sodium 282mg 12%
Potassium 366mg 10%
Total Carbohydrates 30g 10%
Protein 14g 28%
* Percent Daily Values are based on a 2000 calorie diet.