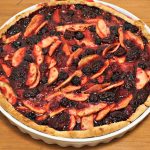 (Skip to Recipe)
What is Bumbleberry Pie?
At first I thought Bumbleberry Pie was a sweet baked good featuring bumbleberries. Little did I know that a Bumbleberry Pie is actually a pie made with mixed berries (usually three types of berries), and sometimes includes apple or rhubarb.
My brother asked me to make a raspberry pie for his birthday. He then added if raspberry was not possible, he'd like a blackberry or apple pie instead.
Fresh raspberries and blackberries can be expensive at this time of the year (springtime), even in California where tasty berries grown locally o…
Read More