A Versatile Vegan Tomato Sauce
I usually try to feature here recipes for tasty healthy versions of otherwise ordinary dishes. Or recipes for extraordinary dishes that will wow your family and guests.
Most people already know how to make an Italian-style tomato sauce to use on pasta. However, here is a tasty healthy version of a tomato sauce that can be used in many of your favorite dishes. Several friends have asked me to share this recipe for Vegan Tomato Sauce, as it is as yummy as it is nourishing.
I often use this Vegan Tomato Sauce in my vegetarian lasagna as well as other pasta dishes. By using tofu in this recipe, I can reduce the amount of cheese in my lasagna. The tofu adds a creamy texture to the sauce, especially if you blend it at the end with a hand mixer.
You can use this Vegan Tomato Sauce to replace a bolognese sauce in most dishes without losing any flavor. It's best with a thicker pasta noodle that can easily hold such a full sauce.
Eggplant lasagna
Last week I decided to make a couple eggplant lasagnas: one vegetarian and the other vegan to test out my new Cuisinart Elite 2.0 16-cup Food Processor. In both eggplant lasagnas, layers of thinly-sliced eggplants are covered by my Vegan Tomato Sauce and grated cheese. In the Vegetarian Eggplant Lasagna I used Parmesan cheese while in the Vegan Eggplant Lasagna I used a Vegan Almond Cheese I made the day before. Click on the links above to find the recipes for these easy-to-make one-dish meals.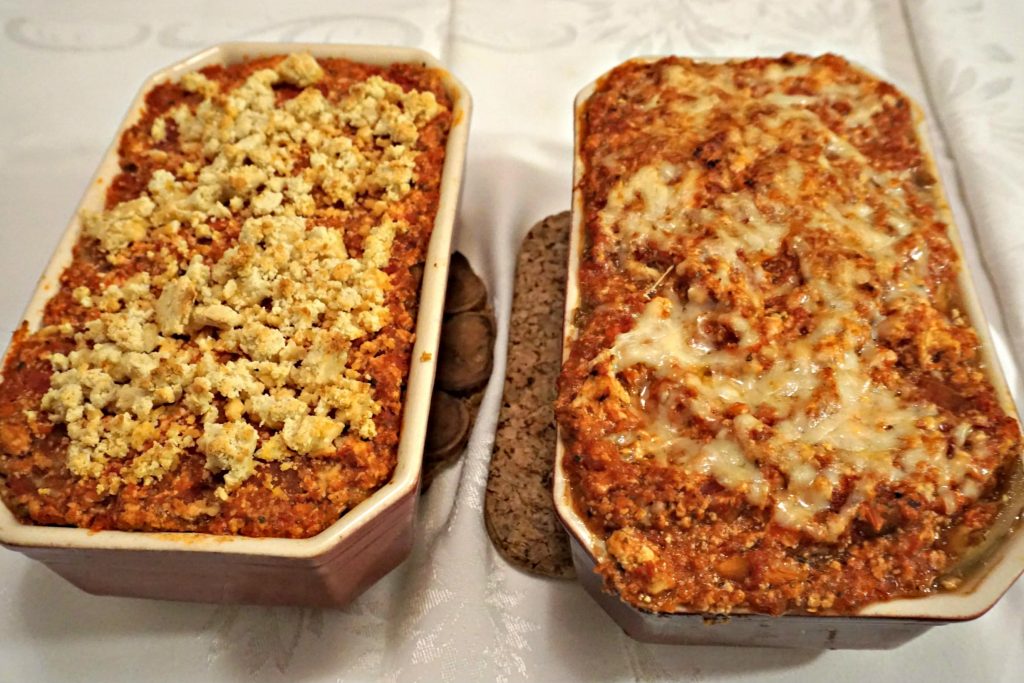 Prepare this Vegan Tomato Sauce to accompany your family's next Italian-style supper. See for yourself how delicious it is while being lower in saturated fat. Then share the recipe with all your friends using the social media links
I'd love to read your feedback in the comments below.
Servings

Prep Time

Cook Time

10

pasta servings

5

minutes

40

minutes
Servings

Prep Time

10

pasta servings

5

minutes
Peel and dice the onions. Wash, peel and chop the carrots finely.

Pour the olive oil into a casserole over a medium heat.

Add the onions into the casserole. Continue to cook them while mixing with a spoon a couple minutes.

Add the tofu, chopped carrots and the minced garlic to the casserole. Continue to heat the mixture in the casserole a couple of minutes until the tofu is lightly golden and crumbled.

If you are using the red wine, add it now to the casserole and continue to stir for about a minute or two. Add the remaining ingredients (tomatoes, tomato paste, basil, oregano, thyme, rosemary and water). Stir and continue to heat over the stove until you get the consistency that you want: about 20 - 30 minutes.

Taste the sauce and adjust the seasoning. If you prefer, use a hand blender to mix the sauce and get a smoother consistency. I sometimes blend it half way so the sauce is smooth yet retaining a few chunks. The consistency is up to you.

Use and enjoy!
Nutrition Facts
Vegan Tomato Sauce
Amount Per Serving
Calories 91
Calories from Fat 45
% Daily Value*
Total Fat 5g 8%
Sodium 24mg 1%
Potassium 281mg 8%
Total Carbohydrates 9g 3%
Protein 5g 10%
* Percent Daily Values are based on a 2000 calorie diet.