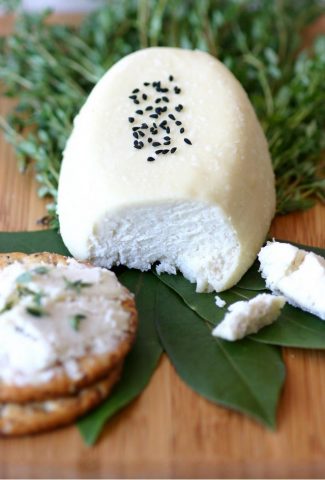 How difficult is it to make Vegan Almond Cheese?
Vegans and people who are lactose-intolerant often find it difficult to find vegan "cheeses" which are a good replacement for ordinary cheese, taste good and are fairly easy to make. Well, look no more. This Basic Almond Cheese crumbled on top of a salad, pasta or pizza will satisfy your cheese cravings. Another option is to use this almond cheese as a base for a cheese appetizer or dip mixed in with some herbs, salt and pepper, and a drizzle of olive oil. Or why not top your basic almond cheese with different kinds of ground peppercorns (e.g., pink, red, black, grey….) or nuts or spices?
Try this Basic Almond Cheese and let me know in your comments below this post what you think of this recipe. Please also share this recipe and other posts with your friends.
For more ideas on how to make vegan cheese, look at my boards Vegan Recipes and Recettes Délicieuses on Pinterest. You can access these boards by clicking on their names here in the post or by logging in on Pinterest.