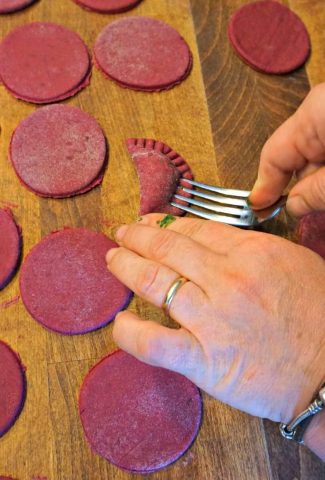 Why Bother Making Fresh Red Beet Pasta?
Recently I developed a recipe for Red Beet Ravioli with Spinach and Goat Cheese, which was absolutely yummy. Of course, I may be a bit biased. So don't rely on my word, try it yourself and see how delicious is this ravioli dish!
The red beets in the pasta make the dough a vibrant purple color, which will certainly make any plate look more attractive. The red beets also add dietary fiber, vitamins, minerals and nutrients that will help you and your family remain healthy. Contrary to common belief, red beets are not high in sugar; sugar makes up only about 4% of red beets.
When added to the dough, the red beets give a subtle hint of beet flavor to the cooked pasta. You will hardly notice that red beets are in your dish, except for their color and a hint of their earthy flavor.
If you enjoy making your own fresh pasta, you can use cooked red beets prepared by you or boiled red beets you can buy packaged at your local grocery store. Either way you will appreciate their flavor and health benefits.
You may use this Fresh Red Beet Pasta for any type of pasta: ravioli, lasagna, fettuccine, or pappardelle. The recipe below will guide you through your preparation by hand or machine. Any way you choose to make this Red Beet Pasta, you will be thrilled with the final result.
This Fresh Red Beet Pasta recipe is kid-friendly. Children will enjoy mixing, kneading or rolling the dough. The crimson red color of this pasta will make it even more fun for kids to enjoy preparing with you.
Please use the social media links to share this recipe with your friends. If you enjoy this recipe, come back and rate it and add your comments.



Red Beet Pasta
Red Beet Pasta is vibrant, tasty and healthy. It's fun to make with kids or friends. I calculated each person's serving to be about 120g / 4.25 ounces of raw fresh pasta to be covered by a sauce. However, it might depend how you prepare the pasta. For instance, a recipe that will cover 6 servings of pasta with sauce will stretch to 10 servings of filled pasta like ravioli. See notes below re: time needed.

Servings: 6 people
Ingredients
200 g red beet puree (made from fresh raw beets or from pre-cooked beets)
1 egg medium
2 egg yolks
400 g all purpose flour or tipo 00 flour
1 pinch salt
3 drops olive oil (optional)
Instructions
Preparing the Dough
The pasta dough may be made either by hand or in a food processor. After the dough is prepared, it may be rolled out by machine or by hand. I will describe each step highlighting your options.

If you use pre-cooked beets, skip to step 5 here below. If you want to use fresh beets, wash the red beets and remove any greens. Leave the skin on the red beets until after they are cooked.

You have choices on how to cook your red beets: in a pressure cooker, in a pot over the stove or in the oven. If you use a PRESSURE COOKER, put the red beets in a strainer at the bottom of the pressure cooker with enough water to touch the bottom of the strainer. Be careful not to have too little water so the pressure cooker burns. Cook for about 20 minutes after the cooker reaches high pressure. If you use a pot OVER THE STOVE, put the red beets in a pot with a little water over the stove. Bring to a boil and then reduce to a simmer. Let cook about 45 minutes or until soft enough to puree. If you ROAST the red beets, put them in a roasting pan wrapped in baking paper or aluminum foil. Let cook about 45 minutes or until soft enough to puree.

Remove the red beets and let sit about 5 minutes to let cool off. Remove the skins. They should come off easily.

Puree the red beets using a hand mixer, a food processor, or a mashing device.

Put the pureed red beets in a strainer over a bowl to eliminate excess liquid. Press down on the pureed red beets to remove as much liquid as possible. Use the excess liquid in a soup or a smoothie to benefit from the nutrients.

Once the pureed red beets are cool, you can prepare the dough. If you prepare the dough BY HAND, put the pureed red beets with the egg and egg yolks in a large mixing bowl. Add a pinch of salt. Mix together with a wooden spoon. Add one-third of the flour and then mix together. Add another one-third of flour and mix together. Continue mixing with the wooden spoon as you add more flour a bit at a time until the dough begins to separate from the bowl. If you use a FOOD PROCESSOR, add the pureed red beets, the egg and egg yolks, a pinch of salt, and three-fourths of the flour into the food processor bowl. Pulse together about 20 to 30 seconds until the dough begins to separate from the bowl. If it does not separate, add more flour until it comes together in a ball. I needed the indicated amount of flour but the exact quantity may vary according to the amount of liquid in the pureed beets and the size of the eggs used. Note: try not to stretch this step out too long as you do not want to work the dough too much, otherwise the pasta will have more elasticity (be more chewy).

Once the dough starts to separate enough so you can touch the dough with your hands without the dough sticking to them, you can knead the dough a few minutes (2 to 3 minutes) on a wooden board or clean counter. You may need to add a little more flour at this stage to avoid the dough sticking to your hands. Stop adding flour when the dough is soft to the touch and does not stick to your hands.

Divide the ball of dough into 2 or 3 portions. If you like, add a drop of olive oil to your hands and rub it lightly on the outside of the dough. This step is optional. Wrap each portion in plastic film and put in the refrigerator to rest at least 30 minutes.
Rolling the Dough
Remove the dough from the refrigerator about 5 minutes before you want to begin rolling it. Take one portion out at a time to allow the unused portions to continue resting in the refrigerator. Divide each portion into three parts before proceeding to the rolling phase.

If you are rolling with a MACHINE, follow the instructions of the machine. Generally you will need to put the dough through the machine with the opening at its widest setting. Once the dough passes through the machine, fold the dough three times and put the dough through again. After 2 or 3 times at the widest setting, close the setting a couple notches and continue the same process a couple times. Close it a couple more notches and continue the same process. Proceed in this manner until you reach the second to the last setting. Put the strip of pasta on a towel on the back of a chair to dry slightly. Be careful not to let it dry completely. If you are rolling BY HAND, take each part (1/3 of 1/3) and roll it out on a floured board or counter into a thin disc. Fold the disc three times and roll out again. Do this three times. Let the disc dry slightly on baking paper until ready to be filled or cooked.

Place the filled or rolled pasta on a baking sheet or other surface covered with baking paper. If the pasta will overlap so they touch, add a little flour to avoid them from sticking together. Let the pasta rest a little until you are ready to cook them. If you will not cook the pasta relatively soon, put it in the refrigerator until the final cooking stage. NOTE: at this time if you like you can place the lined baking sheet into the freezer for about 30 minutes if you want to keep the pasta for another day. After the 30 minutes in the freezer, place the semi-frozen pasta in a plastic freezer bag for storage. See notes below.
Cooking the Pasta
Cook the pasta as you would other fresh pasta. Note the time required for cooking will depend on how you will use the pasta. Lasagna in the oven will require about 20 to 30 minutes; ravioli in a pot of boiling water will need about 10 minutes from time of dropping them into the water; and fettuccine strips will take about 5 to 6 minutes.
Notes
1.  The time needed to prepare one recipe for 6 people may seem daunting.  However, you should note that several tasks can be happening at the same time.  For instance, you can prepare the filling (if you will use one) as the dough rests in the refrigerator or as you cook the red beets for the dough.  In addition, you can break up the work into several steps performed at different times. The dough may be prepared one or two days in advance or up to 1 or 2 months in advance if you choose to freeze it. If you prepare ravioli with children or friends, people can perform different tasks simultaneously.  One person can roll out the dough while another fills them, for example.  The time indicated above is the total time if you were to perform all of the tasks at one time by yourself.

2. If you freeze the dough to be used at a later time, be sure to defrost before using to roll out. 3.  If you freeze prepared pasta (already rolled and confectioned), do not take it out to thaw in advance.  Put the frozen pasta directly in the boiling water and let cook an extra 2 minutes or so.
Nutrition
Nutrition Facts

Red Beet Pasta

Amount Per Serving (133 g)

Calories 294 Calories from Fat 27

% Daily Value*

Fat 3g5%

Saturated Fat 1g6%

Polyunsaturated Fat 1g

Monounsaturated Fat 1g

Cholesterol 159mg53%

Sodium 40mg2%

Potassium 22mg1%

Carbohydrates 53g18%

Fiber 2g8%

Sugar 5g6%

Protein 9g18%

Vitamin A 0IU0%

Calcium 0mg0%

Iron 0mg0%

* Percent Daily Values are based on a 2000 calorie diet.