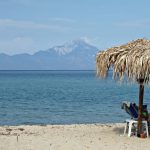 Is Halkidiki Heaven on Earth?
Some may consider such a question sacrilege?  How can Heaven be on Earth?  Yet, almost every day I was in Halkidiki I experienced something spiritual.  This written by a person who does not think of himself as being particularly spiritual.

What or where is Halkidiki?
Halkidiki (or Chalkidiki) is a peninsula in the Central Macedonia region of Greece. Halkidiki, south of Thessaloniki, is a popular destination in the summer for tourists mainly from Southeast Europe.  You can find out more useful information by clicking this link.
[caption id…
Read More