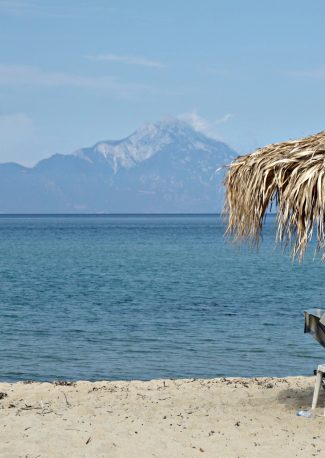 Is Halkidiki Heaven on Earth?
Some may consider such a question sacrilege? How can Heaven be on Earth? Yet, almost every day I was in Halkidiki I experienced something spiritual. This written by a person who does not think of himself as being particularly spiritual.
What or where is Halkidiki?
Halkidiki (or Chalkidiki) is a peninsula in the Central Macedonia region of Greece. Halkidiki, south of Thessaloniki, is a popular destination in the summer for tourists mainly from Southeast Europe. You can find out more useful information by clicking this link.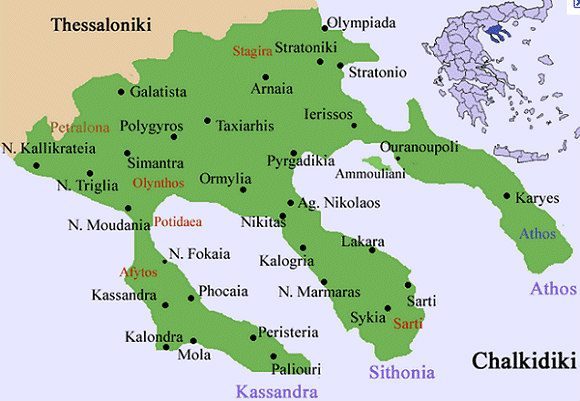 According to Greeks, Halkidiki has three legs. Outsiders looking at the map might think they look more like fingers on a hand. To me they look like the teats of a cow's udder. Whatever you think the appendages look like, I will follow the Greek example here and refer to them as legs.
In short, the first leg, Kassandra (formerly known as Pallene), is the most popular of the three legs with tourists for vacation. The beaches are family-friendly as the water is often fairly shallow and free of rocks, making it safe for children. It's also the closest to Thessaloniki, Greece's second largest city. As a result it can be very crowded in the summer. Sithonia, the second leg, has a better mix of nature (mountain areas) and beaches, with more space for people to enjoy the location. Sithonia offers many beaches also wonderful for children because of the their nice sand and shallow water. The third leg, Athos, is primarily dominated by Agion Oros (Holy Mountain), composed of Mt Athos and its monasteries. Agion Oros is restricted to men only.
First Impressions of Sarti
I travelled by car from Xanthi to Sarti in Sithonia. I drove down to Sarti in amazement over the utter beauty of Greece's landscapes. Mountains, sea, and fields of sunflowers, to name a few highlights. We always hear about Greece's seas and beaches, yet the mountains and forests are also worth visiting. Ok, I'm getting sidetracked here. Back to Halkidiki.
Once you arrive in Sithonia, the land seems more productive. Olive trees suddenly populate the hills. The road to Sarti is mostly winding at a certain altitude from the sea. You get only glimpses of the sea at some points, like viewing a beautiful maiden behind a veil. I really enjoyed the diversity of the landscapes.
Arriving in Sarti, however, was a bit of a disappointment at first. I had read that it was a good place to select as a base and then to travel from there to visit the other beaches. The first night walking around the town of Sarti I felt I had landed on frat row (the street where fraternities reside) at an American university. The main town of Sarti basically comprises about 10 blocks by 4 blocks of streets full of shops displaying primarily cheap items for purchase as souvenirs.
Families from all over Southeast Europe come to Sarti (as well as elsewhere in Halkidiki) for vacation. Many families stay in rental rooms that have been modified over the years to include a kitchen area so they can prepare some of their own meals. The streets therefore seem to be densely populated with people looking to spend little money, except for some treats for the children and beer and alcohol for the adults.
Dining Out in Sarti
Over the next days I travelled to many of the beaches on the eastern side of Sithonia, returning in the late afternoon to Sarti. In the evening I dined at a different restaurant each night. I discovered over those days that in fact Sarti was an ideal base for visiting Sithonia if you are looking for a small town rather than isolation for the evenings.
At the north end of town, a few restaurants offer magnificent atmosphere, with tables feet from the sand and even the water. Dining outside while enjoying the sea breeze and views could not be made more spectacular almost anywhere else. Even after sunset the light on the water and shores reminded me of my wonderful chance to be in such a lovely location.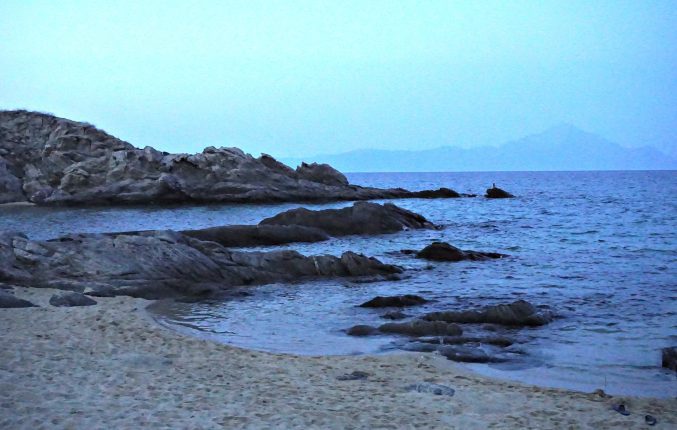 The first evening I dined at Ta Vrahakia, at the farthest point north of the town. Ta Vrahakia is busy and hustling, yet disappointed me in that the television remained on inside the restaurant, casting a displeasing shine on an otherwise stunning scene. The food was good, yet did not reflect the description given when ordering. The seafood pasta came in a creamy tomato sauce even though the server promised it would be prepared with a fresh tomato sauce. The dessert supposed to be made with walnuts did not seem to have any nuts at all of any kind in it. The service was also a bit brusk.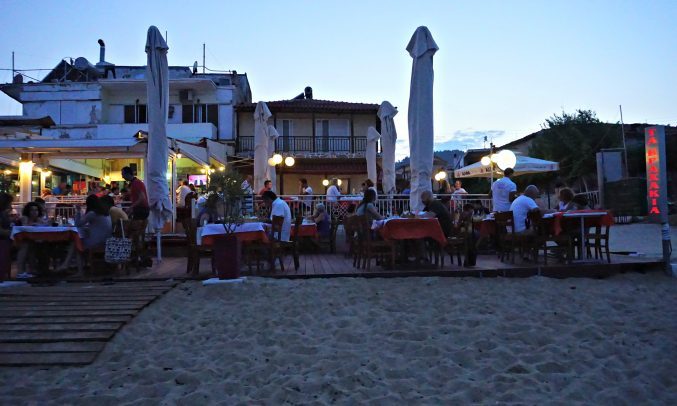 The second evening I had the pleasure of eating at Mamma Mia. The Italian owner of this restaurant, Carolina, spent each summer since childhood in Sarti. She decided to launch her dream restaurant in Sarti with full passion and dedication. Carolina held position in the bar area in the middle of the restaurant with a view on everything. She prepared drinks, appetizers and helped out any way she could. You could tell that she took a hands-on approach to managing her baby. And it showed.
The dishes from starter to dessert were delicious, made with quality ingredients, and creative. Each dish had me stop after the first taste to appreciate the flavors in my mouth. For instance, the sardines I ordered as a starter featured such pure and fresh flavors. I wish Mamma Mia were in my neighborhood so I could go back often for more!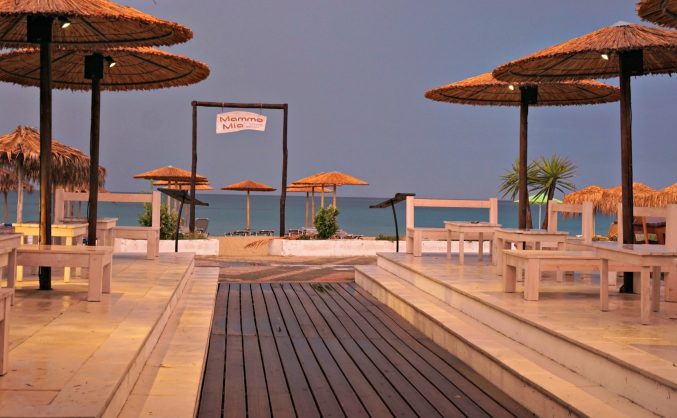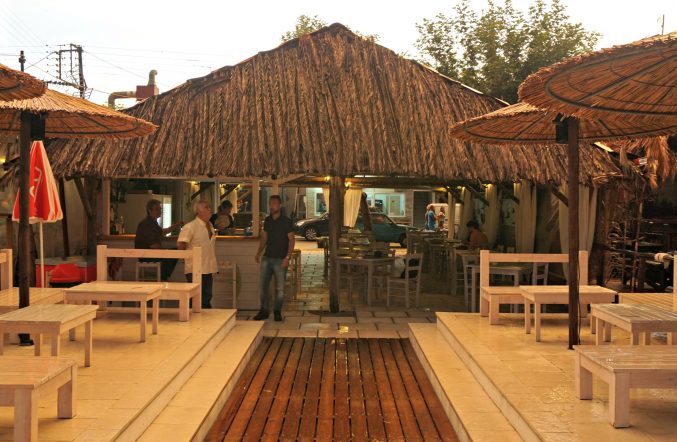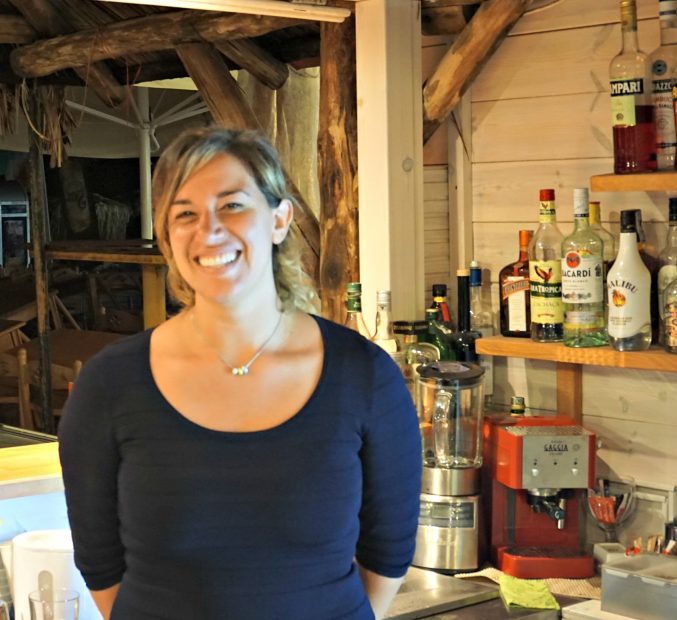 The third evening I ate at Kotsaris Tavern, immediately next door to Ta Vrahakia. Kotsaris Tavern was everything Ta Vrahakia should have been. It had friendly professional service, tasty Greek food, and the same view. The server gratefully recommended the Skordalia (creamy garlic paste) to accompany the grilled sea bass.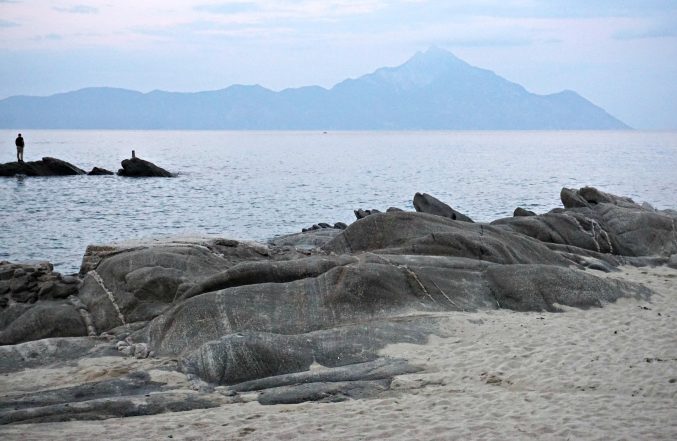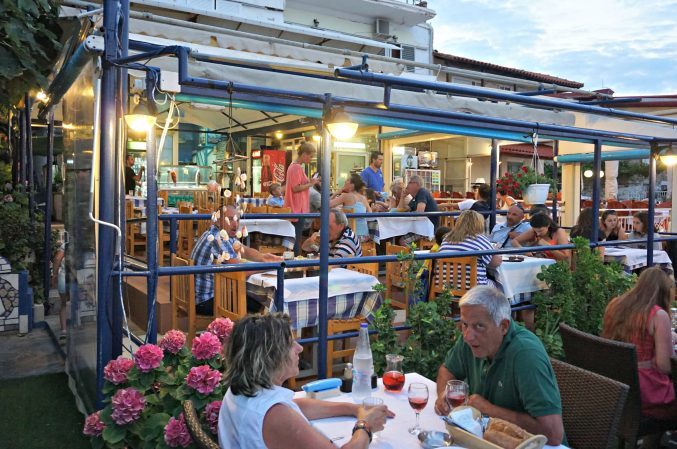 Interestingly all three restaurants cost almost the same amount (25 euros) for dinner (beer/wine, starter, main course, dessert and espresso). If I had to choose, I would place Mamma Mia first, Kotsaris Tavern second and Ta Vrahakia third. Honestly, I'd skip Ta Vrahakia and go to Kotsaris Tavern instead, even if it were two nights in a row. Don't get me wrong, the food at Ta Vrahakia is good. However, the whole dining experience at Kotsaris Tavern is just better.
Beach-hopping in Halkidiki
In Halkidiki there is no shortage of breathtaking beaches. Some beaches are more accessible than others by road. Most beaches require a drive or walk down a hill to a sandy cove where you can sunbathe and swim.
Beach bars offer drinks, shade and snacks to their guests. In short, people agree to buy drinks and food from the beach bar in exchange for a lounge chair, an umbrella and some other benefits. Only a few beach bars in Sithonia charge for sitting down in their area on top of charges for drinks and food. Best therefore to inquire in advance.
If you don't want to be in an area managed by a beach bar, there is plenty of space around them to set up your own towels, umbrellas and chairs. I'm usually against paying for such extra services, but I learned quickly to enjoy them. In fact, the price for drinks and food are about the same as anywhere else, so you're not paying much of a surcharge. Yet, in the hot gazing sun it's recommendable to use an umbrella or other means of creating shade. Otherwise, it's unbearable for more than short spurts of time on the beach. So if you don't have your own cover, enjoy the benefits of a beach bar.
You also have your choice of beach bars. Each beach bar tries to stand out above the others by blaring their music and creating a fun, party atmosphere. The pounding beats of the music at some beach bars, however, can get on your nerves after a while. So continue walking until you find a beach bar that offers the atmosphere and music you enjoy.
Besides Sarti's beaches I visited the beaches of Kalamitsi, Vourvourou, Kavourotripes, Sykia, Limanaki, Klimataria and Tigania. Click this link to discover more about these and other beaches in Sithonia (Halkidiki).
I joked a bit that "if you've seen one of these beaches you've seen them all". Each seems as beautiful as the next. How can you go wrong with any of them? True that there are similarities: greenish blue water, sandy beaches, and good swimming.
Many also share my favorite feature of all, a stunning view of Mt Athos. It's the constant company of Mt Athos, much like the moon at night, that made my time in Halkidiki seem spiritual. Mt Athos seemed to be asking me "Is so much beauty on Earth possible? If so, how do you think it came here?" No matter the answer to these questions, I appreciated every moment on those beaches viewing Mt Athos and felt grateful to have this experience.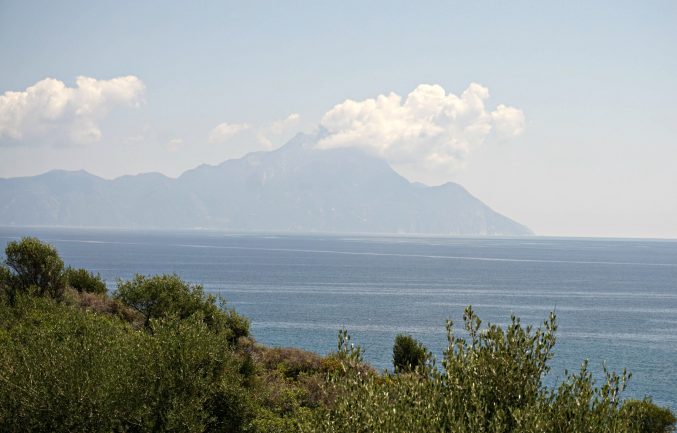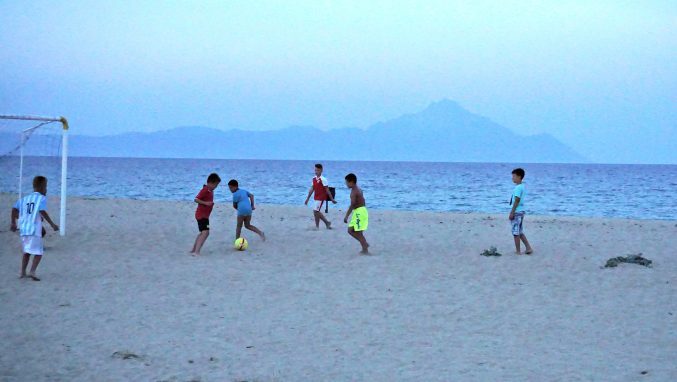 Kavourotripes (Orange Beach or Portokali)
Despite the similarities, some differences also distinguish the beaches.
The beach generally considered to be the most beautiful of all, Kavourotripes (also known as Orange Beach or Portokali) did not live up to my expectations. Yes, the setting with all the rocks jetting out from the sand and the small isolated niches for sunbathing was absolutely gorgeous.
However, Orange Beach is also a bit of an overcrowded zoo. The main beach area is very small and is entirely occupied, every single centimeter, by a beach bar playing loud pounding music and its chairs filled with guests. There was no way to be on the beach and enjoy a moment there. After walking around on the fringes to enjoy the nature of the spot, I moved on. I'd seriously recommend stopping by here early in the day when fewer people are around to enjoy the nature and then travel on to a more quiet beach.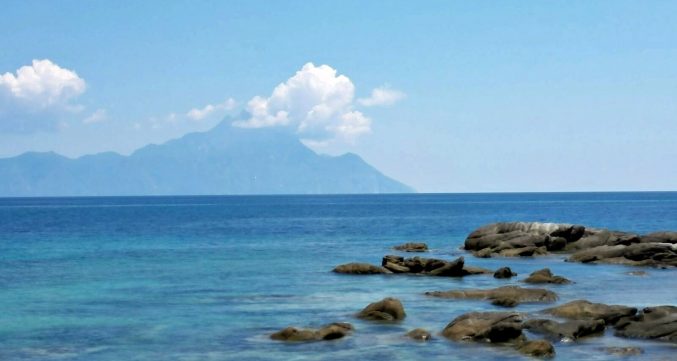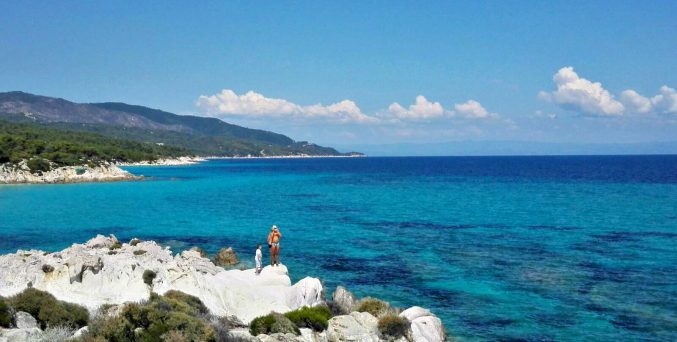 Kalamitsi
Kalamitsi used to have a reputation for being a beach close to nature, where visitors often camped. Today it's still a lovely beach, yet now has a couple more modern hotels on the seaside giving the feeling that it's been gentrified.
I spent much of an afternoon at Kalamitsi on a lounge chair offered by a quiet beach bar, which by the way was only beach bar in Sithonia that charged me for the privilege of lying under an umbrella (2 euros per hour).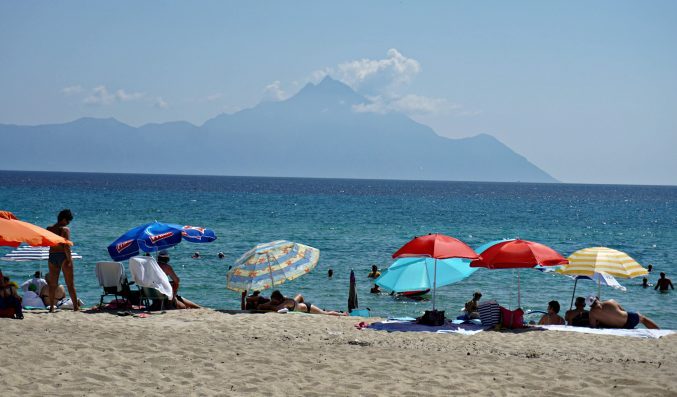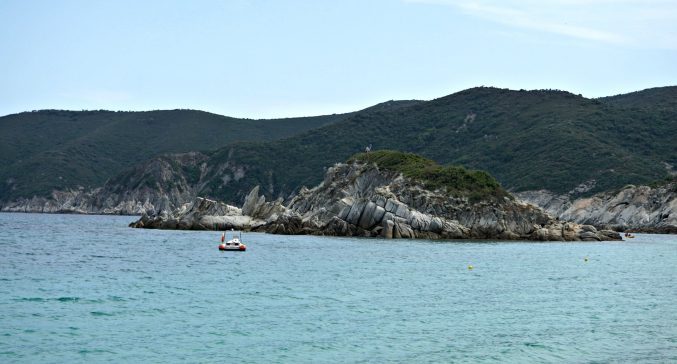 Vourvourou
The coast at Vourvourou is mostly protected from the public by private guesthouses and hotels. These private establishments have essentially created a barrier so outsiders cannot easily enjoy the beach there. Of course, the public can still gain access at different points, but it's more difficult than at other beaches.
The town of Vourvourou also feels more residential, with villas climbing the surrounding hills and the streets between the main road and the coast. If you are looking for a quiet place to stay on the water, Vourvourou is probably your place. You can find a room or apartment here that opens onto the beach. However, if you are staying somewhere else, don't bother trying to gain access to the beach at Vourvourou. The sand is not as clean of wood, large pebbles, and other objects. I did not find it as pleasant to bathe there.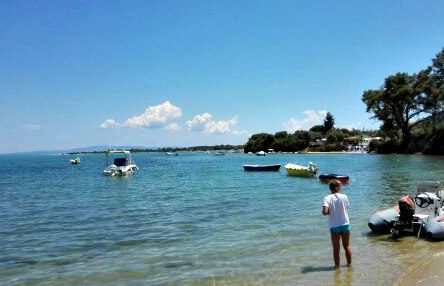 Sykia, Limanaki, Klimataria and Tigania
I actually found a string of beaches south of Sarti (Sykia, Limanaki, Klimataria and Tigania) to be the nicest of all, along with Sarti's beach. Sykia is easy to access from the main road of Sithonia, yet brings you to a quiet group of beaches (all part of Sykia) where you can enjoy your surroundings and find peace. At one end of this group of beaches (depending on which road you take down to the beaches) there is a small beach bar or shack that makes you feel like you've found something authentic.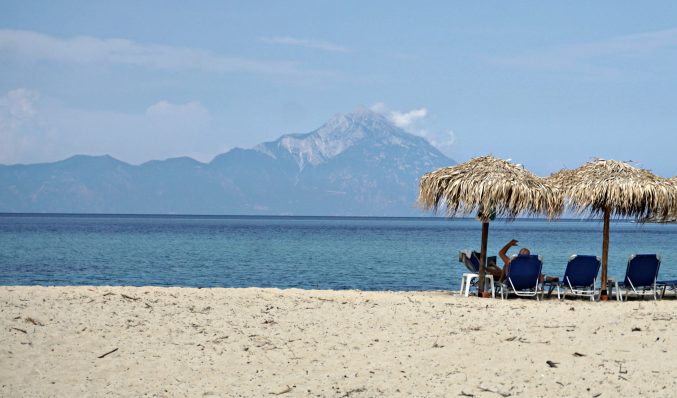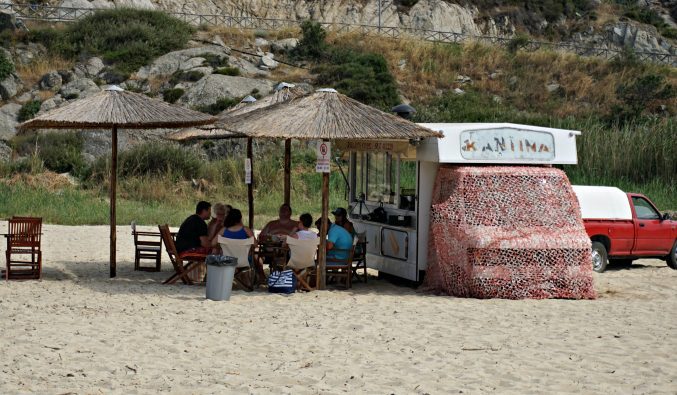 The first time I went to Sykia, I stopped at the shack and enjoyed myself. The manager of the guesthouse where I stayed (Frau Irenes Haus) later recommended I visit Klimataria and Tigania beaches, both very close to Sykia. Gee, was I happy she did! I went back and continued on a small road away from Sykia beach and around the coast to discover Klimataria and Tigania beaches.
On the way to Klimataria you'll pass Limanaki beach, which is so quaint with several choices for eating. The most well known is the Five Steps in the Sand Tavern, which has the nicest view, even if the others also share a similar view.
Klimataria is a gem of a beach. I was surprised to see so many people there given its location off most maps. There were a couple of beach bars offering drinks, food and shade, yet these were not overcrowded in the same way as on Orange Beach.
I thought I had reached my final destination, Tigania, because of its hidden location. Yet soon I discovered that Tigania was still further along a more hidden path, even if the road after a certain point started to mark arrows to help you find Tigania.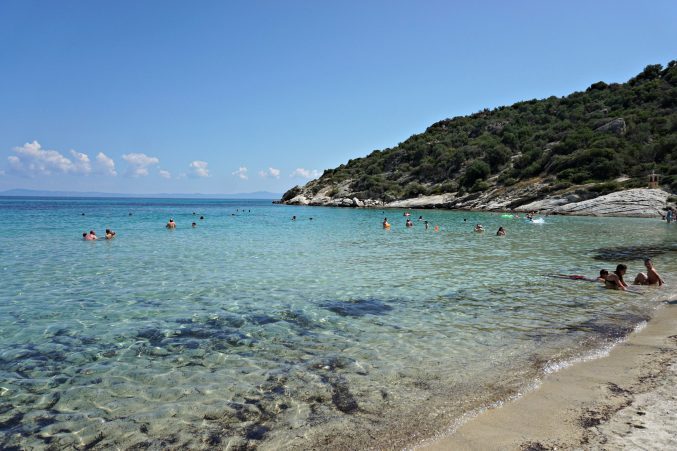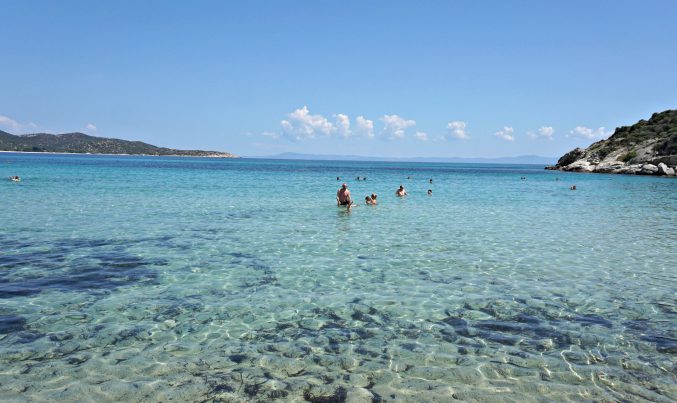 Tigania, also known as Cool Secret Beach, is probably the nicest beach I visited. If you don't mind a bit of adventure finding it, you will be rewarded when you get there. Tigania is essentially two small beaches with lovely swimming separated slightly by some rocks. Perched above the rocks is a beach-bar-hut, which is paradise itself. If you don't want to sit on the beach or swim, stay here to enjoy the view and the cool breeze coming through the open windows.
The novel aspect about Tigania is that the beach bar here seems to manage the number of people that can sit in their area. They limit the number of umbrellas and chairs below actual capacity so it never gets overcrowded. Of course, anyone is welcome to set up their space on the sand next to the section managed by the beach bar. I'd definitely recommend seeking out this beach. Enjoy it while perhaps helping to keep it kind of a secret so it does not become the next Orange Beach overrun by its beauty and success.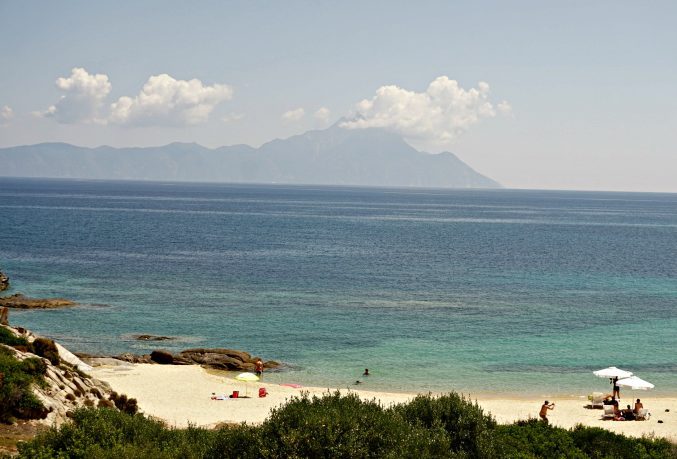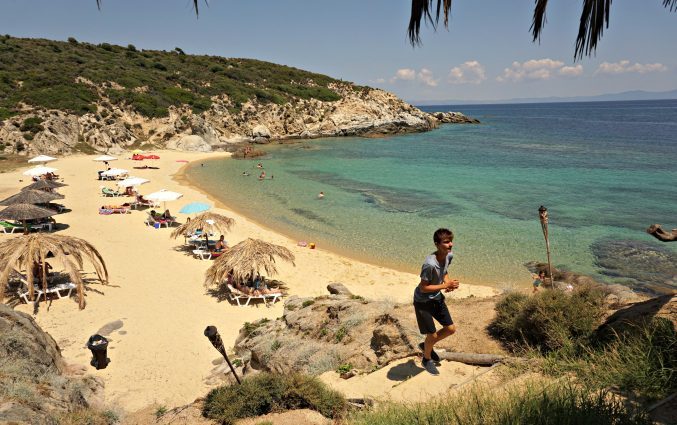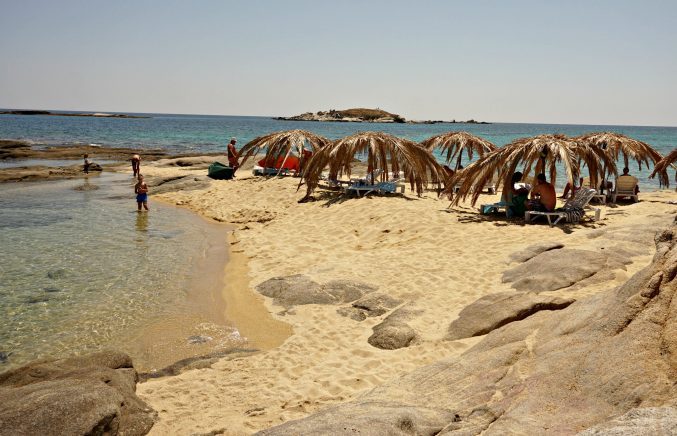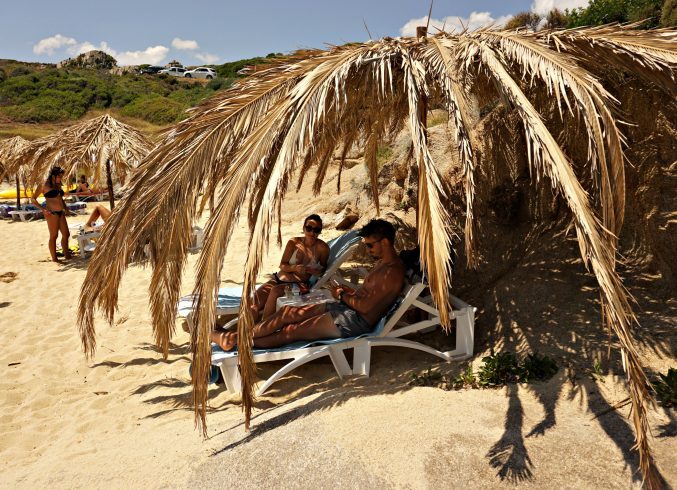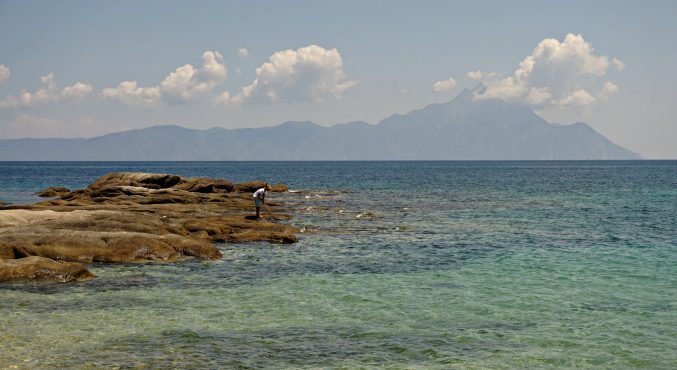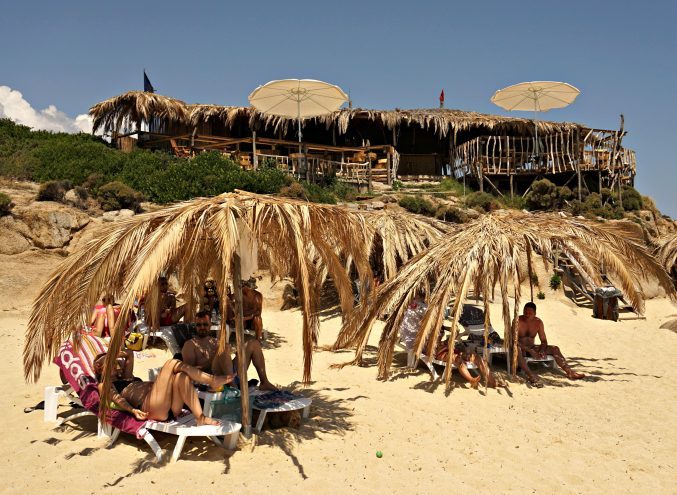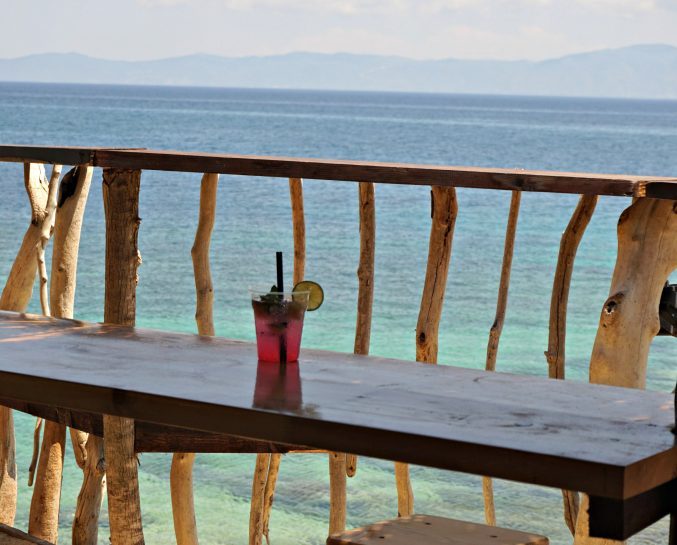 Although I did not make it to Kriaritsi beach, just south of Tigania, the views of it from afar made me want to come back to visit it. It's a larger beach than Klimataria or Tigania, yet seems unspoiled and an attractive place to sunbathe.
Sarti Beach
As you see, Sithonia does not lack beautiful beaches. I enjoyed spending my days exploring the coast and inland areas, sunbathing along the way. At the end of each day, I also appreciated coming back to Sarti's beaches and swimming there. More than once I was reminded that there's no place like home.
Even if I thought of Sarti as my base from which to branch out and sightsee, it could also be a beach destination in its own right. Sarti's beaches have been awarded the blue ribbon for their cleanliness, safe swimming for children, and beauty. The views of Mt Athos from Sarti are also breathtaking. So if you don't feel like driving around, stay in Sarti for its beaches. They are not overcrowded, have a wide choice of beach bars and offer the same sun as available elsewhere in Sithonia.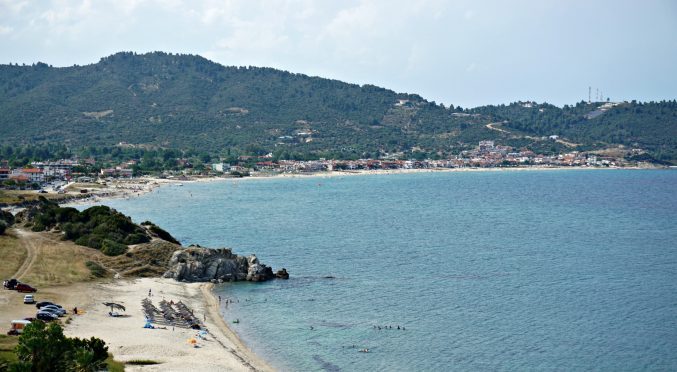 Sarti is full of guest houses offering rooms (often with cooking facilities) for rent. I stayed at Frau Irenes Haus based on the reviews I had seen on Trip Advisor and Booking.com. I was very pleased with my choice. Frau Irenes Haus is a family-owned inn, currently managed by Nancy, who oversees the running of her business with loads of energy, dedication and kindness. She makes herself available to respond to questions and requests. The rooms are clean, comfortable and pleasant. Located on the edge of town, within a couple blocks from the sea, shopping and restaurants, Frau Irenes Haus is a wonderful choice. In addition, you can find free easy parking in front of the inn.
What do you think?
After looking at the photos above, what do you think? Is Halkidiki Heaven on Earth? Can you tell the beaches apart? Don't they all look as beautiful as the next?
Believe it or not, there are many more beaches in Sithonia in Halkidiki that I did not visit or mention here.
I recommend traveling to Sithonia in Halkidiki to discover your own special beaches. Come find out if Halkidiki (or at least Sithonia) is Heaven on Earth. I'm sure after your visit to Halkidiki you will be calling it your lovely too.
Remember to follow me on my Journey to Greece and to share links with your friends.