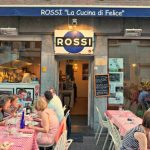 What Makes Leuven a City to Visit?
After a day trip to Hasselt in Belgium, a friend and I stopped in Leuven on our way back to Brussels for dinner.  Leuven is a hustling and charming university city about 15 minutes outside of Brussels in the province of Flemish Brabant.

Oude Markt
Many consider Oude Markt in Leuven to be the longest bar in Belgium in the summer because this central square and surrounding areas are lined with cafes.  Once the weather becomes warm, everyone seems to come out from hibernation to sit outside with friends with a drink or food in their hands.
&nbs…
Read More