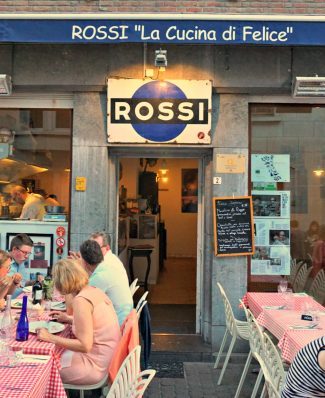 What Makes Leuven a City to Visit?
After a day trip to Hasselt in Belgium, a friend and I stopped in Leuven on our way back to Brussels for dinner. Leuven is a hustling and charming university city about 15 minutes outside of Brussels in the province of Flemish Brabant.
Oude Markt
Many consider Oude Markt in Leuven to be the longest bar in Belgium in the summer because this central square and surrounding areas are lined with cafes. Once the weather becomes warm, everyone seems to come out from hibernation to sit outside with friends with a drink or food in their hands.
The University
Leuven has been built around its main university, the Katholieke Universiteit Leuven (KU Leuven), founded in 1425 by Pope Martin V. For lovers of trivia, KU Leuven is the oldest Catholic university in the world and the first university in the Low Countries.
Stella Artois
Leuven has also been the home of the Stella Artois brewery since 1717. For beer aficionados, Stella Artois is one of the jewels in the Anheuser-Busch InBev beer empire.
Wonderful Mix
As you can see, Leuven has an interesting mix between church, university and brewery, along with a lot of merchants. The current residents include former KU Leuven students who decide to stay in their adopted city, people working in Brussels and seeking a smaller town closeby with an easy commute by train or car, as well as families with roots in Leuven. In short, Leuven is a wonderful place to come to shop, dine or just enjoy an afternoon or evening.
After a stroll from the Leuven train station through the Grote Markt and Oude Markt, we took a side street Krakenstraat one block to Stardonckstraat 2 to our final destination Ristorante Rossi Slow Food.
What Makes Ristorante Rossi Slow Food so Special?
Ristorante Rossi - Slow Food
Location

Atmosphere

Food

Service

Price/Quality Ratio
Summary
Rossi Ristorante Slow Food serves fresh quality food in an informal setting in the center of Leuven. Chef Felice Miluzzi welcomes guests while preparing all the food with his assistant in a small kitchen visible to everyone. When the weather is warm and dry, customers enjoy sitting outside on the terrace. The prices are reasonable for the food served.
* Read this Explanation of the Belgian Foodie® Rating System to understand what these numbers signify.
Many factors make Ristorante Rossi Slow Food (Ristorante Rossi) a sure hit.
Slow Food
First, this restaurant features Slow Food, good, clean and fair food. According to its website, Slow Food "is a global, grassroots organization, founded in 1989 to prevent the disappearance of local food cultures and traditions, counteract the rise of fast life and combat people's dwindling interest in the food they eat, where it comes from and how our food choices affect the world around us." Ristorante Rossi puts this philosophy into action by offering a daily Surprise Menu composed of selected fresh, seasonal ingredients of the highest quality. As the name Slow Food suggests, diners should expect to enjoy their dining experience without feeling rushed.
Seasonal Dining
During the summer Ristorante Rossi's menu is more limited than during the year. The night we ate at Ristorante Rossi a 3-course meal was offered at a fixed price of EUR 38, taxes and service included, but excluding drinks. Guests who do not want a 3-course meal can order any or all of the courses à la carte. The chef and owner, Felice Miluzzi, can prepare dishes from the daily ingredients to meet a customer's dietary needs (e.g., vegetarian, gluten-free, or lactose-free).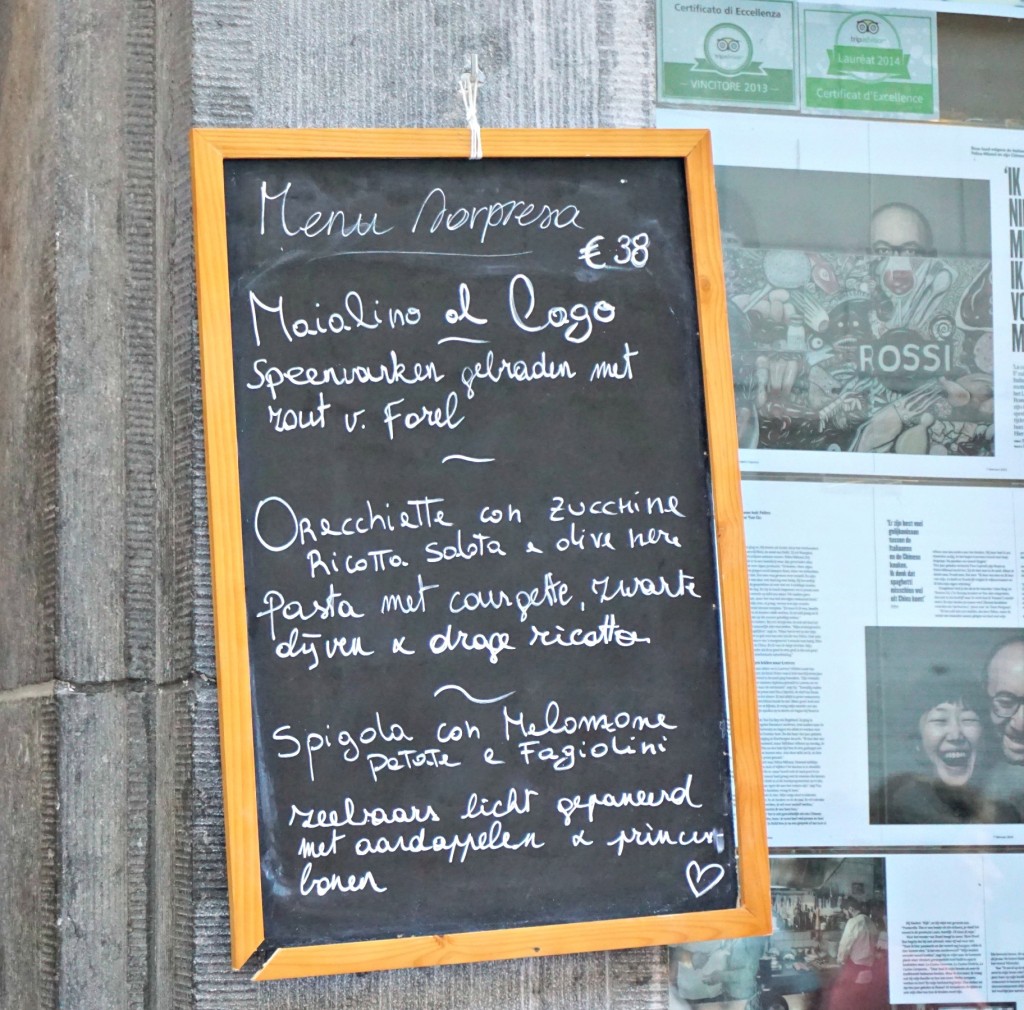 Before the 3 courses, the chef prepared a complimentary tasting sample made of artichoke, Prosciutto di Parma and mozzarella cheese.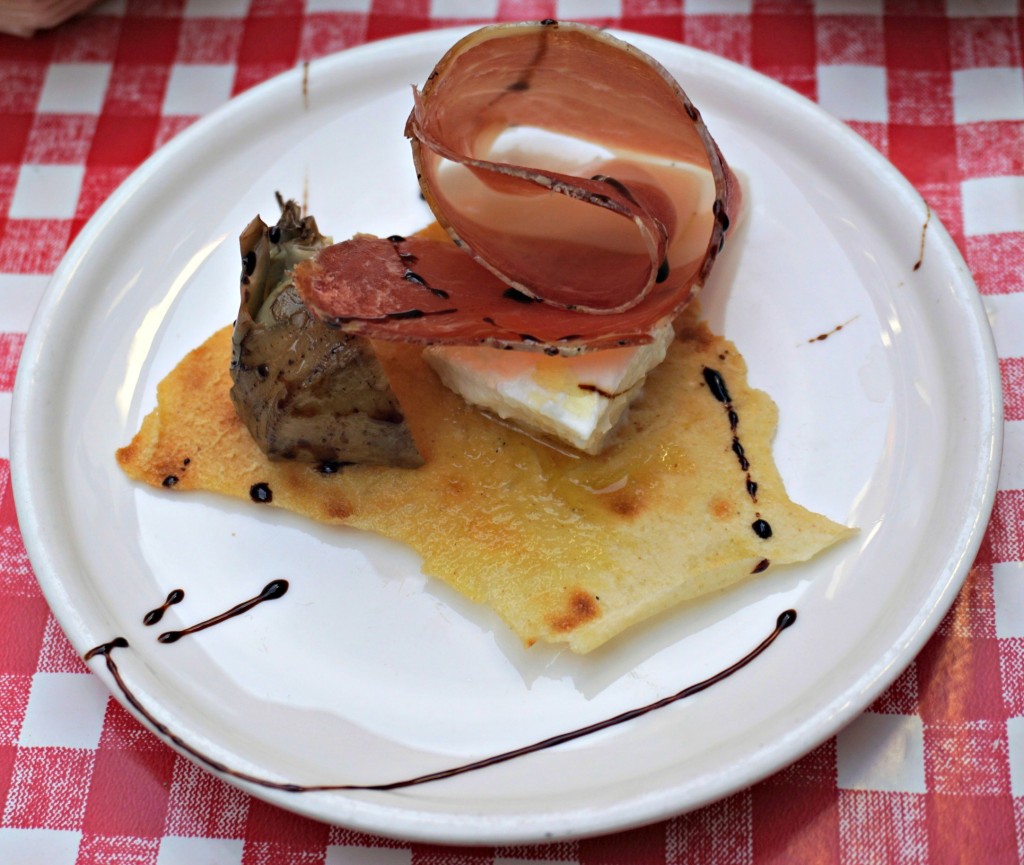 Three Course Meal
The first course was absolutely delicious! It was Chef Felice's original twist on vitello tonnato, with cold sliced pork replacing the veal, served on a bed of arugula covered with a thin layer of a creamy sauce. What a refreshing treat at the end of a hot summer day!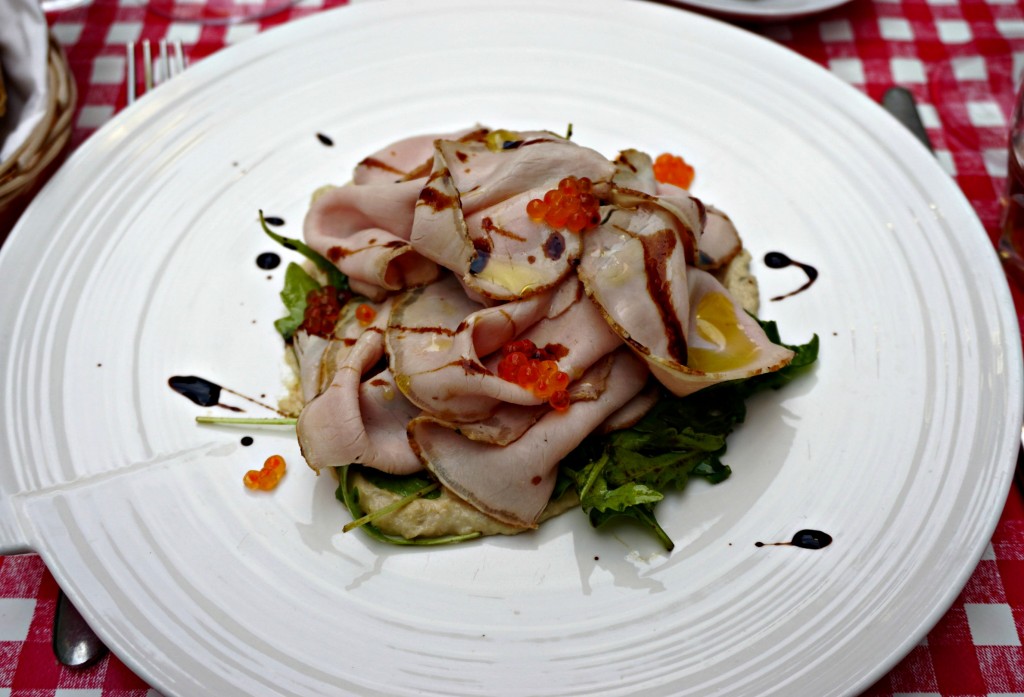 The second course, Oriecchette Pasta with Zucchini and grated dried Ricotta, was my absolute favorite. This pasta dish seemed to melt slowly in my mouth, which was a blessing because it gave me time to enjoy the flavor.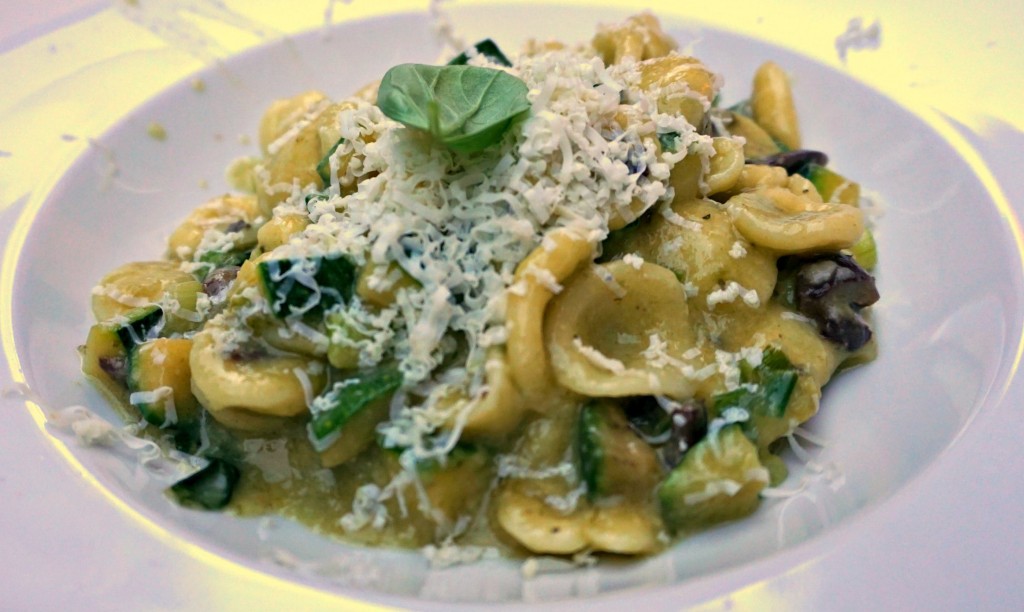 The third course, the main course, featured lightly breaded sea bass served over an eggplant sauce and accompanied by potatoes and fresh green beans. The preparation was simple to allow the quality of the ingredients to stand on its own.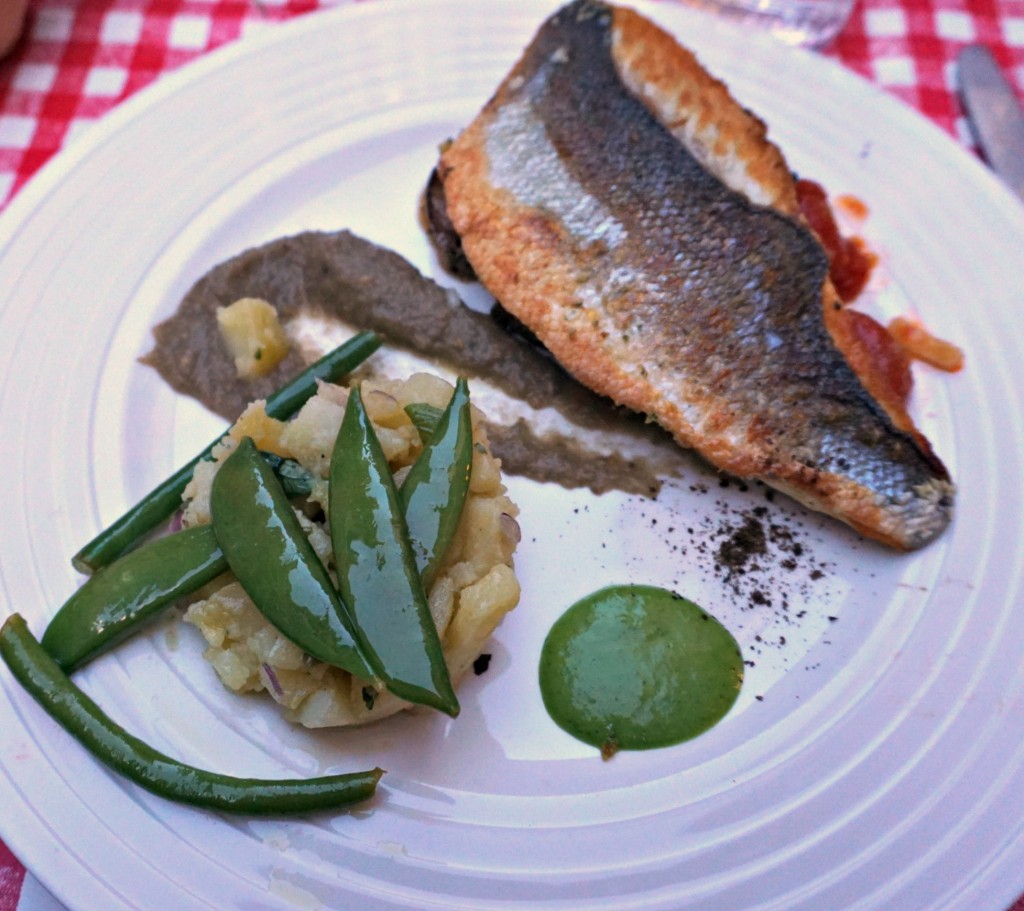 As you can see from the photos above, the serving size of each dish was generous.
Thank goodness that we were not rushed through this meal so we could enjoy each dish on its own.
Dessert
Though we were completely satisfied at the end of this meal, we indulged ourselves with a dessert, much in the same vein as the rest of the meal: simple, attractive and yummy! It was ricotta cheese with strawberries covered with balsamic vinegar reduction.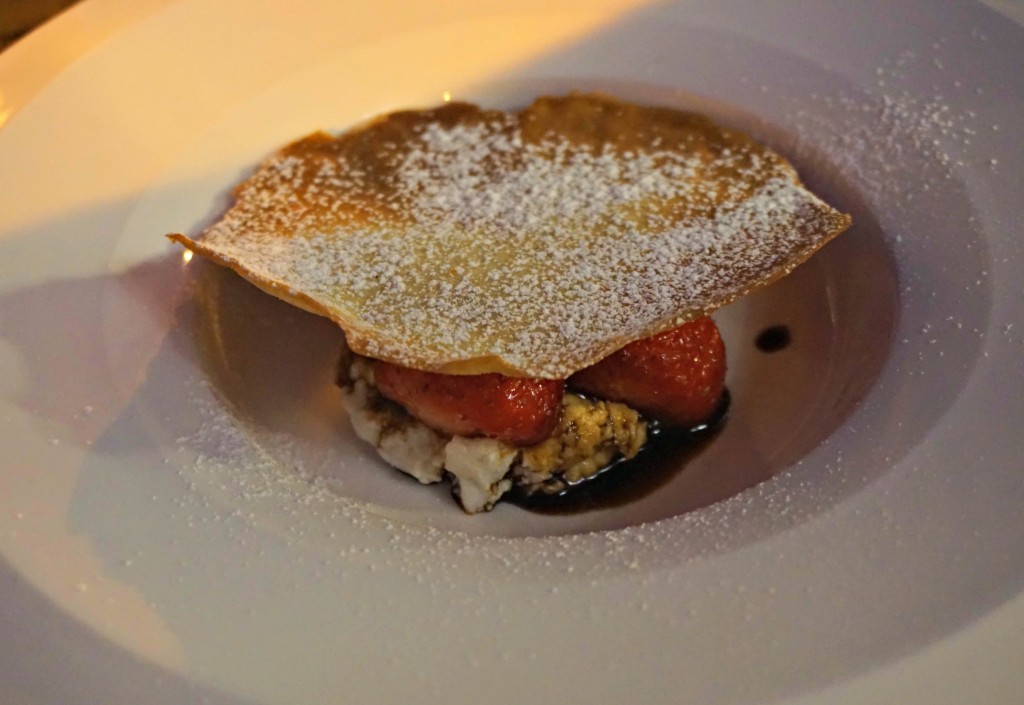 Of course, every good meal ends with espresso (at least in my book, no matter what time of day or night), served the Italian way.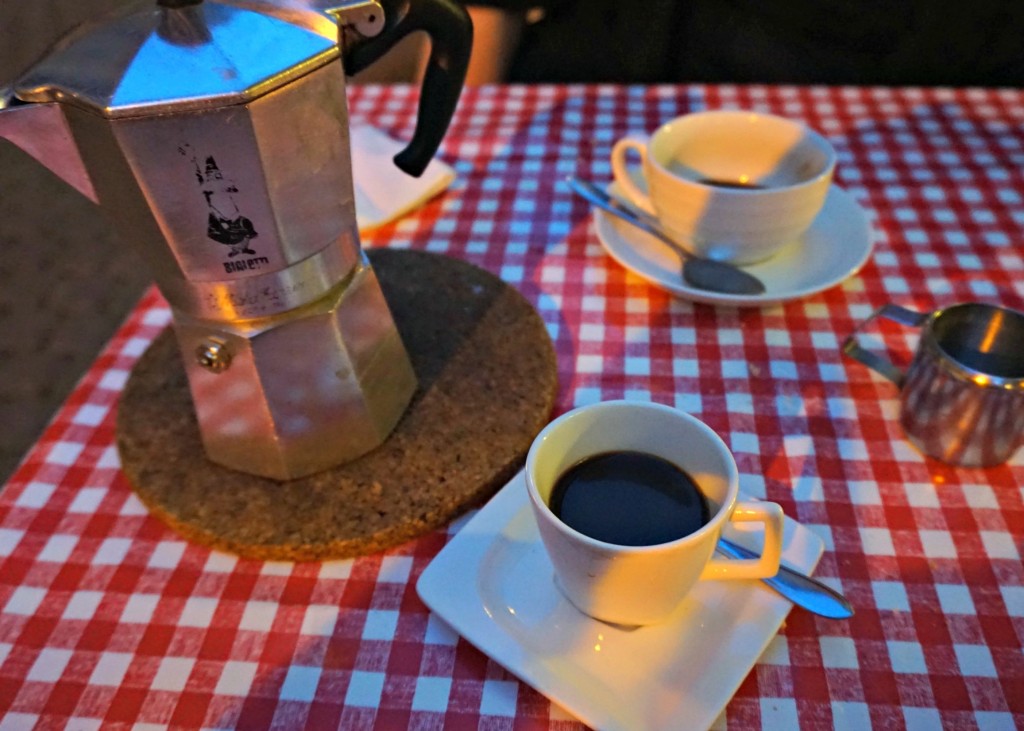 Tasty and Fresh Food
The food at Ristorante Rossi was absolutely tasty and fresh. Yet, the food was not the only thing that made Ristorante Rossi so special. The service was managed by two persons (for about 60 meals), who were friendly, helpful and efficient. They helped make the evening memorable.
The Owner's Touch
However, what really makes Ristorante Rossi truly stand out is its owner and chef, Felice Miluzzi, who makes his imprint on every aspect of this restaurant, yet has time to go from table to table greeting the guests and inquiring how they are enjoying their evening. It appeared that he was assisted by only one other person in the kitchen to prepare all the meals (at least at time of service), meanwhile he remained calm with a smile throughout the evening. Felice comes from Rieti in the center of Italy and has been running this restaurant for the past 7 years. He's married to a charming woman from China, who is a fellow food blogger.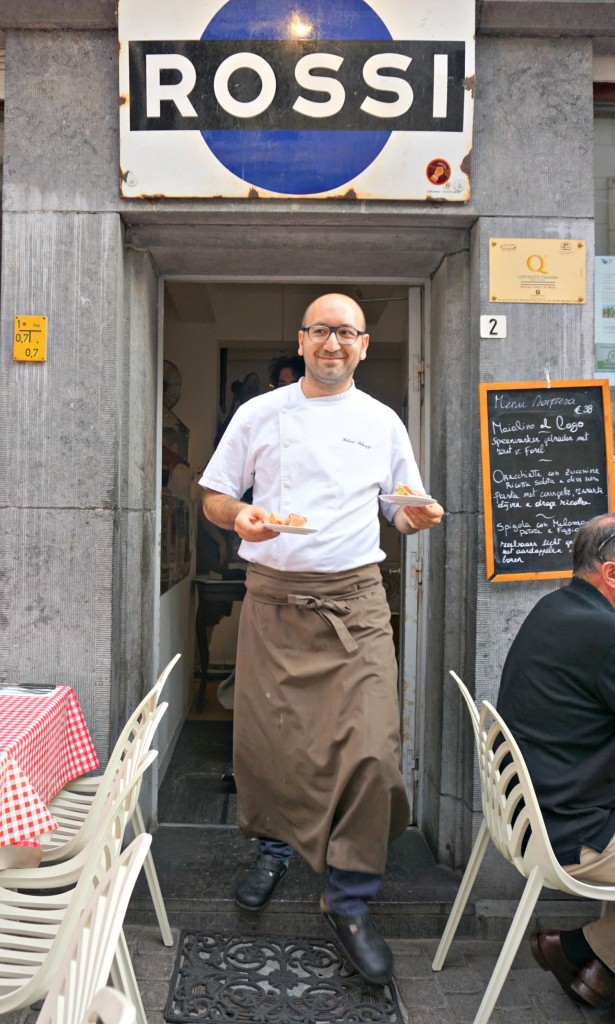 Recommendation
I would recommend this restaurant without hesitation. You will receive fresh, tasty food prepared from quality seasonal ingredients, served with a smile, at a reasonable price. By limiting the choices on the menu, Felice is able to provide you with such an experience at good value.
Ristorante Rossi is open Tuesday to Saturday from noon to 14:00 and from 19:00 to 22:00. Please visit their website for more information and for reservations, which are strongly recommended.
If you go to this restaurant, please share your comments below…and send my regards to Felice!