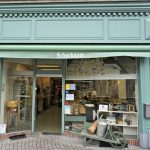 What Makes the Kaaswinkel Schockaert so Amazing?
Accidental Discovery
As I was headed to a meeting in Mechelen (Belgium), I was drawn by the view inside the cheese shop Kaaswinkel Schockaert.  Even in the rain with an umbrella over my head and my eyes directed towards the ground, a long counter displaying more than 100 cheeses caught my attention.   I had to go inside and take a peak.
Cheese counter view from street
Cheese counter looking towards…
Read More