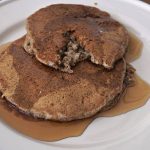 (Skip to Recipe)
How to Make Vegan Pancakes even Healthier

Family Tradition
My son is visiting me from Belgium.  This morning he asked for pancakes for breakfast. Pancakes are probably my kids' favorite dish of mine for breakfast.
When they were small I would often make them on Sunday mornings.  I always tried to make them healthy(ish) by using whole wheat and rye flours along with all purpose flour.  Sometimes I would add rolled oats, ground flaxseed, bananas or some other nutritious ingredient.  Usually I added buttermilk, yet sometimes in a crunch I added yogurt instead.
Wh…
Read More