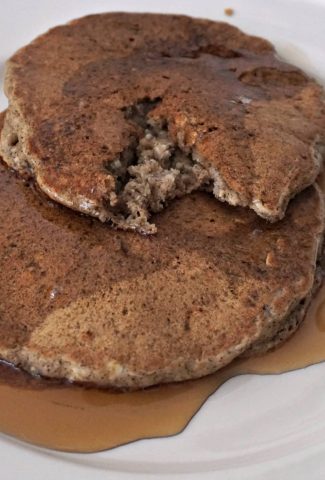 How to Make Vegan Pancakes even Healthier
Family Tradition
My son is visiting me from Belgium. This morning he asked for pancakes for breakfast. Pancakes are probably my kids' favorite dish of mine for breakfast.
When they were small I would often make them on Sunday mornings. I always tried to make them healthy(ish) by using whole wheat and rye flours along with all purpose flour. Sometimes I would add rolled oats, ground flaxseed, bananas or some other nutritious ingredient. Usually I added buttermilk, yet sometimes in a crunch I added yogurt instead.
While my kids (now all grown up) topped their stack of pancakes with maple syrup imported from one of our trips to the United States, I typically added jam or a fruit spread.
Last weekend I prepared pancakes my traditional way for my son, his friend, my nephew and my brother. They gobbled them up like old times.
Tofu Vegan Pancakes
This morning I wasn't planning on making pancakes. I didn't therefore have all the ingredients in my kitchen. Yet when my son gives me those eyes and asks in his most charming tone for Daddy's pancakes, how can I say "no"?
What ingredients to use?
I improvised with the ingredients at hand. With the ricotta cheese and eggs in my refrigerator, I could have made a vegetarian version of pancakes. Most pancakes are indeed vegetarian, so no excitement with this choice.
I decided, however, to go vegan by using tofu to replace the eggs in the recipe. I have used tofu to replace eggs in omelettes before with excellent results. No one even noticed that I had not used eggs. So why not now?
How much time to prepare the Tofu Vegan Pancakes?
In the same time it takes me to make my traditional pancake recipe, I prepared a batter using tofu, flour, oil, and agave syrup. I used a blend of flours (whole wheat, all purpose and rye flours) with a little bit of rolled oats and ground flaxseed. Feel free to create your own combination of flours and grains while keeping the same basic overall quantity of flours used for the batter.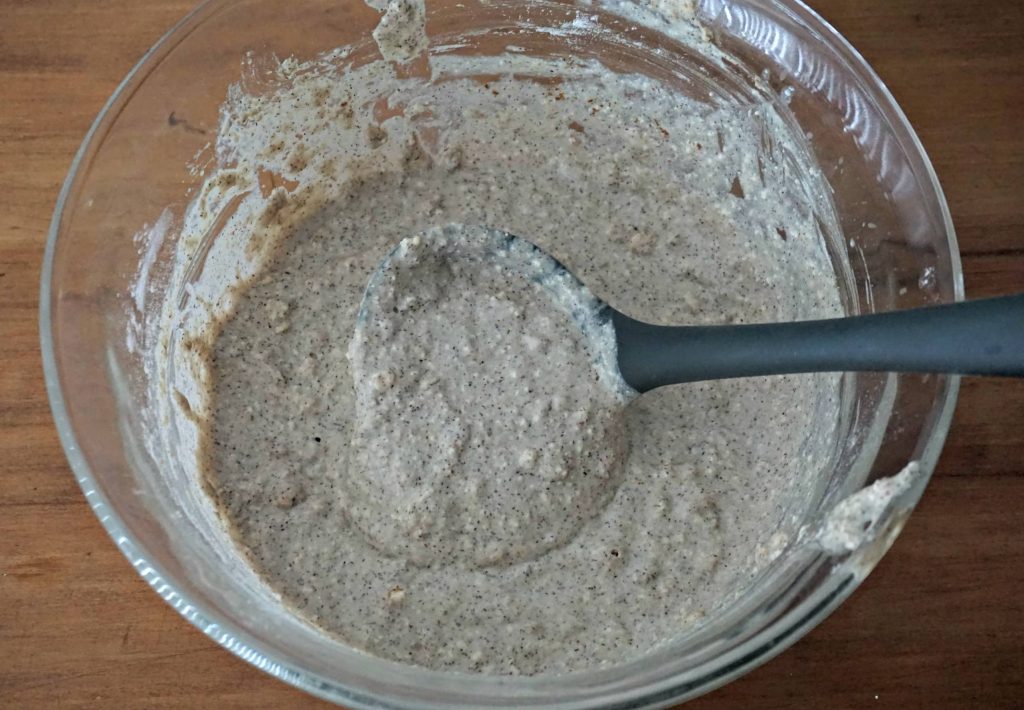 After letting the batter sit a couple minutes, I cooked them the same way as I would my traditional pancakes.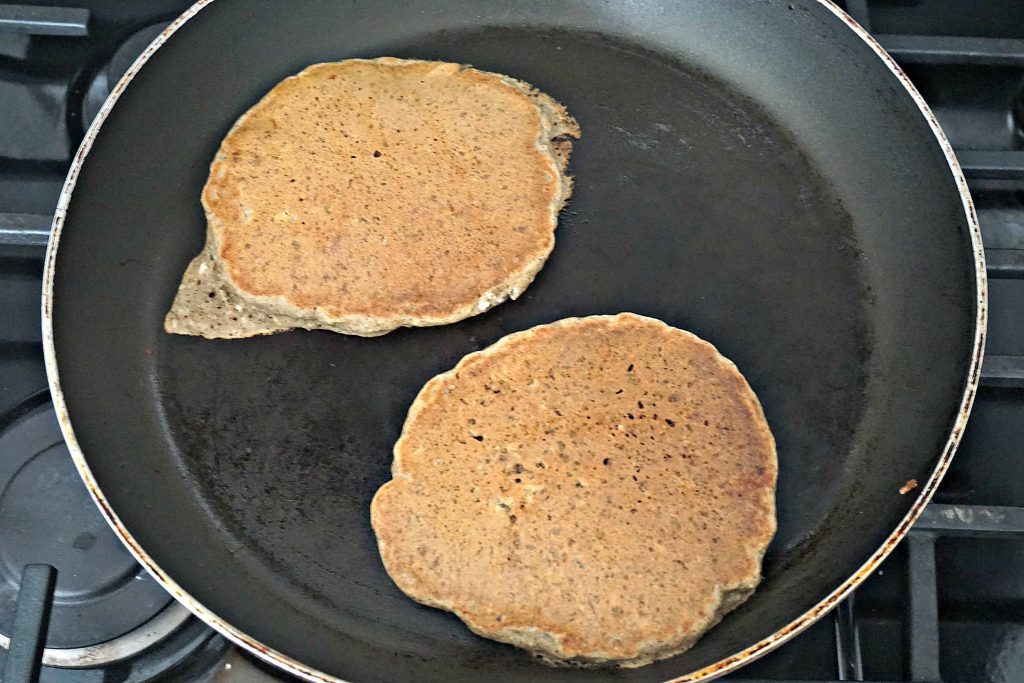 After flipping the pancakes over in the pan, they were ready to serve. I usually start serving the pancakes as I continue to make them in the skillet.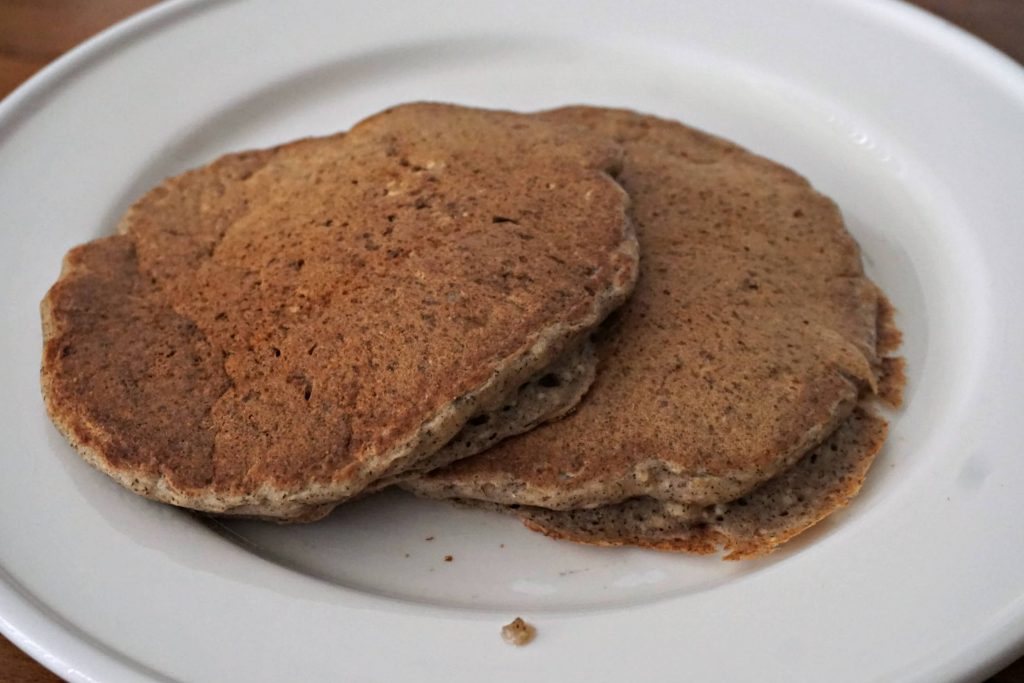 How to eat the Tofu Vegan Pancakes?
My son loves maple syrup on his pancakes. He often pours a lot on the first pancakes and then mops up the rest of the syrup with the next pancakes to be served. I prefer a fruit jam, especially raspberry, blackberry or apricot jam, on my pancakes.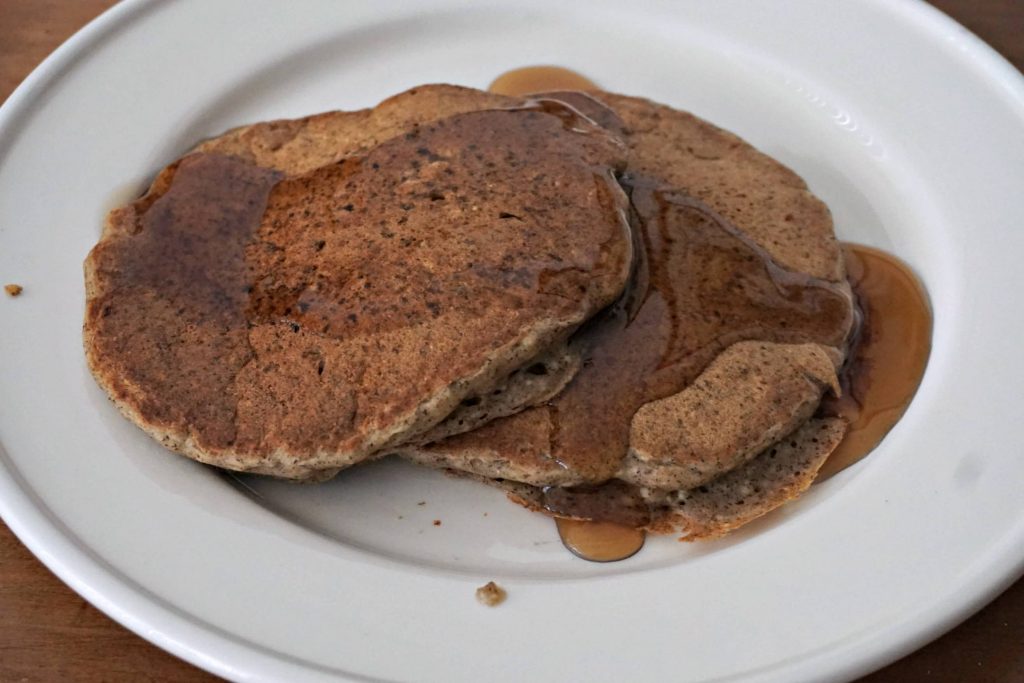 How did the Tofu Vegan Pancakes taste?
We both enjoyed these Tofu Vegan Pancakes this morning. Neither of us could really taste a difference from the traditional pancakes. A couple hours later we noticed, however, that our bellies felt much lighter than we eat the traditional pancakes prepared with dairy products.
Try making the Tofu Vegan Pancakes for your family. You will be happy to know that your family is eating a healthy breakfast. Your family will be pleased with the taste and probably not even notice the difference in flavor.
Please share this recipe with your friends and leave your comments below. Don't forget to rate this recipe so other readers will also know how yummy they taste!



Healthy Tofu Vegan Pancakes
These Tofu Vegan Pancakes are a healthy way for your family to start the day. Everyone will enjoy the full taste of the pancakes while you appreciate how nutritious they are! The servings mentioned below are for individual pancakes weighing about 90g / 3oz.

Servings: 8 pancakes
Ingredients
8 oz tofu firm (net weight)
2 cups almond milk or other plant-based milk
2 tbsp vegetable oil
2 tbsp agave nectar or equivalent of another natural sweetener
1/2 cup all purpose flour unbleached (see notes)
1/2 cup whole wheat flour (see notes)
1/3 cup rye flour (see notes)
2 tbsp flaxseed ground
2 tbsp rolled oats
1/4 tsp salt
1/2 tsp baking powder
2/3 tsp baking soda
1 dash cinnamon
Instructions
Drain the tofu. Squeeze the tofu in your hands or in a strainer to remove excess water.

Add the tofu, almond milk, vegetable oil, and agave syrup in a bowl. Use a hand blender to mix the ingredients together until relatively smooth.

Mix the flours (oats, ground flaxseed, etc.) with the salt, cinnamon, baking soda and baking powder.

Add the dry flour mixture to the wet mixture. Blend together gently. Do not mix very long as you do not want to gluten in the flour to start developing as this will make for elastic pancakes.

Let the batter sit a couple minutes as you prepare your pan. Lightly oil your pan with vegetable oil or oil spray. I usually pour a little in the pan and then use a paper towel to wipe off the excess oil. I use the oiled paper towel later between pancake servings to reapply a little oil to the pan.

Put the pan over a medium heat on the stove. Make sure the heat is not too hot or else you will burn the pancakes. Once the pan is hot enough, pour in some batter using a ladle. You can test if the pan is hot enough by dropping in a tiny amount of batter to see if it holds its shape and begins to cook. I usually make 2 pancakes at a time in my large frying pan.

Once bubbles begin to show on top of the pancakes, use a spatula to turn them over. Continue to cook a couple minutes before serving them.

Continue to cook the pancakes in this manner until you have finished all the pancake batter.

Enjoy the pancakes with your favorite toppings, such as maple syrup, honey, agave nectar, jam, fresh fruit, or anything else you might prefer. Do not use honey if you want them to be vegan.
Notes
 Use any combination of flours, grains or nut meal.  The combination described above is merely an example.  Try your own mixtures while maintaining the same basic quantity of dry ingredients.
If your batter is too liquidy, add a bit more flour, grains or nut meal.  If your batter is too thick, add a little more liquid, such as milk made from nuts or seeds.
Nutrition
Nutrition Facts

Healthy Tofu Vegan Pancakes

Amount Per Serving (90 g)

Calories 237 Calories from Fat 63

% Daily Value*

Fat 7g11%

Saturated Fat 0.5g3%

Polyunsaturated Fat 2g

Monounsaturated Fat 3g

Sodium 251mg11%

Potassium 81mg2%

Carbohydrates 37g12%

Fiber 6g25%

Sugar 5g6%

Protein 9g18%

Vitamin A 0IU0%

Vitamin C 0mg0%

Calcium 0mg0%

Iron 0mg0%

* Percent Daily Values are based on a 2000 calorie diet.