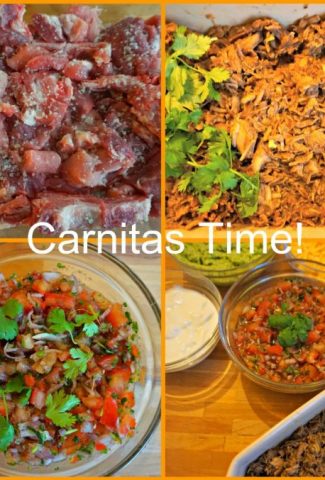 Jump to Recipe
How can you make the Tastiest Carnitas?
Carnitas are the Latin American version of shredded or pulled pork. Cuts of fatty pork shoulder and layers of pork belly are braised together slowly over the stove to create delicious, juicy meat with a slightly smoked flavor. Most chefs use the fat from the pork to enhance the flavor of this yummy dish. I however remove as much fat as possible from the pork before putting it on the stove. Removing the fat makes this dish more healthy and no less tasty. Try for yourself!
I love that this whole carnitas dish can be prepared in a single Dutch oven, making the clean-up so much easier!
Your options for serving carnitas are endless. With rice in a bowl is a simple way to enjoy your carnitas. In a tostada-style salad if you are looking for more vegetables and a fresher choice. In a sandwich if you have leftovers and want to take your food to go. Or my favorite, with tortillas (corn tortillas preferably) with rice, beans, shredded cheese, fresh tomatoes, guacamole, salsa, and sometimes even sour cream.
Carnitas is an ideal dish to make when hosting friends and family. It can easily be prepared in advance and then reheated at time of serving. Or put it on the stove to cook a couple hours before dinner time and focus on other details. The side dishes and toppings can also be arranged in advance, helping to make this a carefree meal.
The real fun begins though when the carnitas are served. All the toppings are placed in the middle of the table and then passed around. Everyone can thus choose the toppings they like.
Prepare this recipe as soon as possible and find your favorite way to eat carnitas. Then please let me know in the comments below what you think about this recipe and your preferred way to enjoy carnitas.
My recipe was inspired in part by David Lebovitz' Carnitas recipe.
Tastiest Carnitas North of the Border
Pork shoulder braised slowly in a Dutch oven until it becomes tasty and juicy shredded pork.
Ingredients
2

tbsp

olive oil

2

onion

2

kg

pork shoulder

2

tsp

salt

1

tsp

ancho chile

grounded

1

tsp

chili powder

1/2

tsp

cinnamon

1/4

tsp

cumin

3

cloves

garlic

2

bay leaves

110

ml

orange juice

110

ml

lime juice

500

ml

water
Instructions
Prepare Pork
Cut off excess fat of pork. Cut pork into pieces about the 1 inch / 2 cm long.

Put the cut pork pieces along with the bones into a bowl with a cover. Add the salt and make sure that all pieces are covered. Watch out to remove small bones as these can get lost in the cooked pork. Cover the bowl and put in the refrigerator for a couple of hours (up to 8 - 10 hours at most). You can skip this part (as I have many times).

About 15 minutes before cooking the meat, remove the pork from the refrigerator. Pat the pork with a paper towel to remove excess salt.
Cooking the pork
Put the oil in the Dutch oven (or large cast iron skillet with a cover). Turn on the heat to medium -high. Add the onions and simmer about 5 minutes until the onions are softer and golden.

Add the cut pork (along with the bones) and brown the meat for 5-8 minutes. You want the meat to be brown on the outside.

Reduce the heat to low. Add the garlic and let cook about 30 seconds. Add all the spices (ancho chile, chili powder, cinnamon, and cumin) as well as the bay leaves. Mix and let simmer for about 1 minute.

Add the orange and/or lime juice(s) with the water. Mix well. Cover and let cook about 2 hours. Mix from time to time. If it becomes a bit dry, add more water. Start checking if it's done after 1 1/2 hours, as it may take less time. It's ready when the meat starts falling off of the bones. If you have too much water, remove cover and continue cooking at low heat to let water evaporate.

Remove all the bones. Make sure to remove any small bones remaining. Although adding the bones creates a bit of extra work, I think the flavor they give as well as the health benefits of cooking meals with bones at least once a week are well worth the trouble.

The carnitas will be ready to serve at this point. However, if you like your carnitas more crispy or caramelized, you can spread the meat out on a baking pan and put it under the broiler about 5 minutes. This step is optional.

Serve the carnitas as you wish, with the side dishes put on the table for everyone to serve. Enjoy!
Nutrition
Nutrition Facts
Tastiest Carnitas North of the Border
Amount Per Serving
Calories 424
Calories from Fat 198
% Daily Value*
Fat 22g34%
Cholesterol 168mg56%
Sodium 684mg30%
Potassium 933mg27%
Carbohydrates 5g2%
Protein 49g98%
Vitamin A 0IU0%
Vitamin C 0mg0%
Calcium 0mg0%
Iron 0mg0%
* Percent Daily Values are based on a 2000 calorie diet.