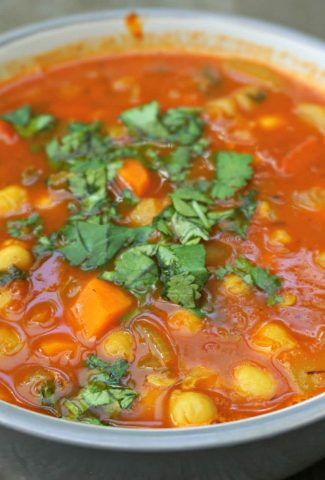 Jump to Recipe
How do you feed the soul along with the body?
Comfort foods somehow feed our bodies while making us feel protected and warm inside. They feed our soul along with our body. What is it about comfort foods that make them so satisfying at all levels? For me it's food that nourishes, teases my tongue and somehow reaches the child inside me, the child that wants to feel protected.
When my daughter was feeling ill with a lingering cold a few days ago, she asked me to make a soup that I had made about 6 months ago with tomatoes and chickpeas (garbanzo beans to some people). I remembered the soup and how tasty it was, especially with the addition of lime juice. But I could not remember where I found the recipe.
With a few hundred cookbooks in my home and tens of thousands of recipes on Pinterest, you may not be surprised that a single recipe could be hard to find again. Yet, surprisingly the memory of a recipe is usually tied to another memory of its source. In this case, however, I tried looking in all the usual places, without any success. So, I decided to try to recreate this healthy tomato chickpea soup using some of the recipes found along my search as inspiration.
North African inspiration
Most of the recipes I looked through seemed to be one version or another of harira, a traditional soup in North Africa, namely Morocco and Algeria, served daily during Ramadan as well as other times of the year. Harira generally consists of tomatoes, lentils, chickpeas, herbs and spices, lemon juice as well as vegetables, chicken, beef or lamb. In short, harira meets all the criteria of comfort food. It nourishes and sustains people during their month of fasting.
The tomato chickpea soup recipe below however is only loosely inspired by harira. This healthy vegan soup contains no lentils or meat and uses lime instead of lemon juice. Of course, if you prefer adding any of these items into your soup (replacing the lemon juice for the lime juice), go ahead. Soups should always inspire the chef to create something new using the ingredients at hand.
The final result for this tomato chickpea soup? A yummy, comforting and healing soup for my daughter to help her overcome her cold.
Another Version
A year later, I was feeling congested as if I was coming down with a cold. I wanted to attack the cold head on before my guests came to eat over the weekend. A few friends were coming for dinner Saturday night and then family was expected on Sunday morning for brunch.
I generally followed the recipe below, except I omitted the celery and added a knob of fresh ginger and a piece of turmeric both minced finely, as well as about four tomatillos quartered. For the liquid, I added some leftover V8-style juice and some water to replace some of the vegetable broth. After tasting the soup, I left out the fresh lime juice as the flavor was just perfect. The tomatillos give a little sour taste that replaces some of the sourness you would get from the lime juice. You could of course add some lime juice in your bowl if you like.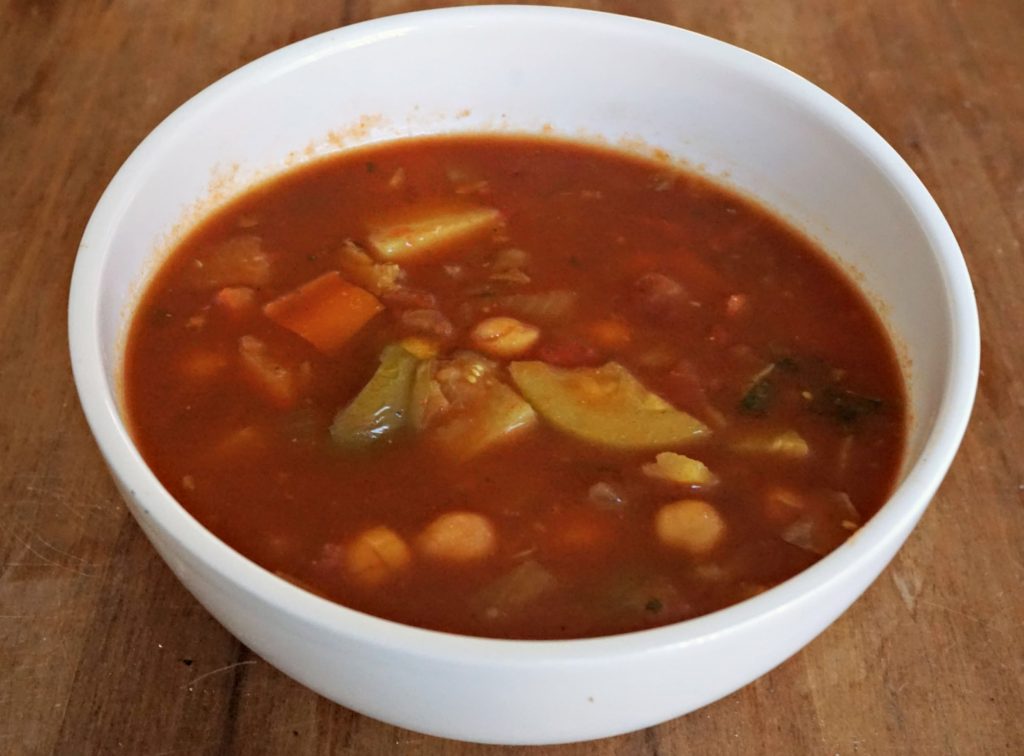 I add this postscript to my earlier post to encourage you to try your own variations. There is no one way to make this soup. I provide this recipe as an inspiration whenever you need to combat a cold or seek warmth and nourishment.
Don't wait for an excuse to make this soup. It would be comforting to you whenever you need it. And it only takes about a half hour to prepare from start to finish!
Share this recipe with your friends and please leave your comments below. Spread the comfort.
Loosely inspired by the Harira recipe in the book Sundays at Moosewood Restaurant
Tomato Chickpea Soup
A vegan soup loosely inspired by the North African soup, harira, that feeds your body and soul.
Ingredients
3

tbsp

olive oil

450

g

onion

3

celery

stalks

2

carrots

1

red bell pepper

2

potato

small

1

garlic

large

2

tsp

turmeric

ground

1/4

tsp

cayenne pepper

ground (see notes)

2

tsp

coriander seeds

ground

1

tsp

cinnamon

ground

800

g

tomato

whole canned or equivalent fresh

2500

ml

vegetable broth

(see notes)

450

g

chickpeas

(garbanzo beans)

1

zucchini

large

salt and pepper

4

tbsp

lime juice

(2 limes)

coriander - cilantro

(cilantro) chopped (see notes)

3

tbsp

hot sauce

(optional) (see notes)
Instructions
Chop the onions, celery, carrots, potatoes and red peppers into small pieces.

Pour the olive oil in a large casserole over a medium heat. When the oil's hot, add the onions and celery. Continue to cook the onions and celery for a few minutes until the onions become translucent.

Add the chopped carrots, potatoes and red bell pepper as well as the spices and continue to cook about 5 minutes longer stirring regularly. In the last minute add the minced garlic clove.

Add the tomatoes, zucchini and vegetable broth. Continue to cook until the vegetables are almost tender.

Mix in the chickpeas, (hot sauce), salt and pepper and cook a few minutes. Add the lime juice and adjust flavors. Turn off the heat.

Add chopped fresh coriander (cilantro) on top before serving.
Notes
Depending on how spicy you like your soup, you can:
add more cayenne or replace it with some chili flakes or chopped chili pepper.  Be careful however not to substitute 1:1 as chili flakes and chili peppers give more heat than ground cayenne pepper.  Chili pepper should be added early enough so it gives full flavor to the soup.
adjust the amount of salsa that you use, if you do.  There are so many kinds of hot sauce ranging from mild to very hot.  For my soup, I used some leftover red enchilada sauce so the quantity mentioned above is for this kind of mild spicy sauce.  The red enchilada sauce rounded out the flavors really well.  If you want to be more traditional, try finding some harissa (a North African red chili pepper paste).  You will need to reduce the quantity used or else the hot sauce will overpower the flavor.  You want to enhance, not overpowre, the flavor.
If you replace the vegetable broth with vegetable bouillon, add the bouillon cubes at the same time as the spices before adding the same amount of water.
In this recipe, I used lime juice and coriander (which was really tasty!).  You could also opt for lemon juice instead of the lime.  If you do use lemon, you might add some chopped parsley and mint on top of the soup when serving.
Nutrition
Nutrition Facts
Tomato Chickpea Soup
Amount Per Serving
Calories 134
Calories from Fat 45
% Daily Value*
Fat 5g8%
Sodium 682mg30%
Potassium 514mg15%
Carbohydrates 21g7%
Protein 4g8%
Vitamin A 0IU0%
Vitamin C 0mg0%
Calcium 0mg0%
Iron 0mg0%
* Percent Daily Values are based on a 2000 calorie diet.