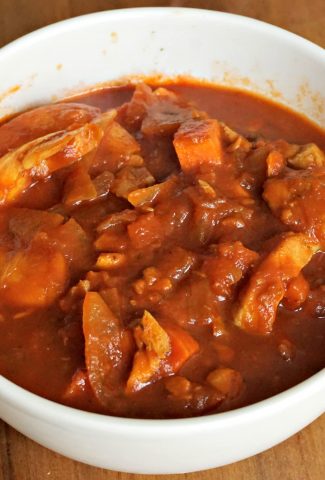 How to make a Quick Tasty Tomato Fish Soup
Tomato Fish Soup is one of my favorite soups at home and in restaurants. There are so many ways to make fish soup, some simple, others a little more complicated. This recipe is super easy to make in less than an hour.
You can make this Tomato Fish Soup in a single pot, making your clean up afterwards much easier. All you need to do is put a casserole on the stove over a medium heat. Add an onion, a few garlic cloves and spices. Then pour in a can of whole tomatoes, mix and let simmer until tomatoes break down. Finally throw in a mixture of fish and shellfish, whatever you choose. Select firm fish that will retain its shape without falling apart, such as cod, monkfish, or bass. And voilà your Tomato Fish Soup is prepared and ready to serve.
Yesterday, I discovered that Pavillions supermarket sells the leftover fish trimmings for only $2.47. What a bargain! Same quality as the whole fish yet a load less expensive. So I bought a pound of fish trimmings and decided to make this Tomato Fish Soup. Lucky for me, the trimmings included a combination of cod, salmon and tilapia fish. as well as large shrimp.
I also bought a pound of large shrimp to go in my soup. I love adding mussels and clams, yet this time I decided to keep it simple.
The soup featured in the photo was a bit thick, just as I like it. If you prefer a thinner soup, just add a little more water and perhaps add a bit more spices.
Comforting and Flavorful
I always find Tomato Fish Soup to be super comforting as well as tasty. I love its simplicity. The flavors blend together without any one ingredient overpowering the others. If you have any leftovers, the taste of the soup will be even better the next day when you reheat it since the flavors have had more time to mix together.
Tomato Fish Soup is also quite elegant, perfect for a special meal with a special someone. Although Tomato Fish Soup is easy to make, it looks as if it took a lot of effort.
Try making Tomato Fish Soup for someone special in your life and see their reaction. You will love how quick and tasty this Tomato Fish Soup can be.
Like most other recipes on this blog, this Tomato Fish Soup is intended to be a starting point. Let your inspiration guide you with the choice of herbs and spices you use. You can choose a Mediterranean version with bay leaves, oregano and parsley. Or a spicier version with cumin, coriander, chili flakes or cayenne powder, and saffron. It's up to you how spicy or flavorful you want your Tomato Fish Soup.
Tomato Fish Soup is wonderful as a main course. You do not need anything else, except perhaps some good bread to sop up the remaining juices in your bowl.
Remember to share this recipe with all your friends and to come back and give it a rating.



Tomato Fish Soup
A Tomato Fish Soup that is so tasty and comforting. It's also quick and easy to prepare in about a half hour. Your family will love this soup.

Servings: 6 people
Ingredients
1 tbsp olive oil
1 onion large chopped
4 cloves garlic minced
1 tsp cumin ground
1/2 tsp coriander seeds ground
1/4 tsp cayenne pepper or for more heat chili flakes (see notes)
1/4 tsp turmeric ground
1 pinch saffron (pinch = about 8 threads of saffron) (optional)
110 ml white wine
800 g tomatoes whole peeled canned
500 ml water
500 g fish cut in cubes (see notes)
500 g shellfish (shrimp, scampi, mussels or clams)
Instructions
Chop the onion.

Pour olive oil into a large casserole over a medium heat. Once casserole is hot, add the chopped onions.

Simmer the onions a few minutes until they are translucent.

Add minced garlic and continue to simmer another minute.

Add the dried spices and herbs. Continue to simmer a minute or two. (Fresh herbs and spices should be added at the last minute.)

Add the white wine and stir. Simmer a few minutes. The white wine should clean the bottom of the casserole

Add the tomatoes and continue to simmer with the casserole uncovered until the tomatoes break down into a sauce.

Add the water and bring it to a boil. Turn down the heat slightly.

Add the cut fish and shellfish. Continue to simmer until the fish becomes opaque and shellfish are cooked (shrimp should be opaque; the mussels and clams should have their shells open).

If you are using fresh coriander, add it in the bowls as you serve it. Enjoy it!
Notes
 Feel free to make this soup as spicy as you would like.  Instead of cayenne powder, you can add red chili flakes, or chili peppers.
I try to use about half fish, half shellfish.  You can use any ratio you like, but try to use a variety.  Use firm fish, such as cod, monkfish or bass.  For shellfish, try shrimp, scampi, mussels, and clams.  Each will add their own flavor to the soup.
Nutrition
Nutrition Facts

Tomato Fish Soup

Amount Per Serving

Calories 244 Calories from Fat 45

% Daily Value*

Fat 5g8%

Saturated Fat 0.5g3%

Polyunsaturated Fat 1g

Monounsaturated Fat 2g

Cholesterol 199mg66%

Sodium 309mg13%

Potassium 943mg27%

Carbohydrates 10g3%

Fiber 2g8%

Sugar 5g6%

Protein 38g76%

Vitamin A 0IU0%

Vitamin C 0mg0%

Calcium 0mg0%

Iron 0mg0%

* Percent Daily Values are based on a 2000 calorie diet.