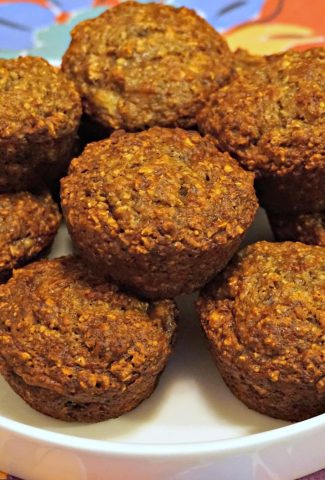 How to Turn Banana Muffins Vegan?
I have made banana muffins many times and many ways. Often, the recipes included some kind of dairy products, such as butter, milk, buttermilk, yogurt or sour cream.
Several months ago I shared my recipe for Banana Muffin Bliss which included a single egg. In my post I suggested how to make the muffins vegan by replacing the egg.
Yesterday I was in the mood for banana muffins and decided to make a vegan version. Of course, it was easy and quick. In less than an hour I had a dozen yummy Vegan Banana Oat Muffins.
Although the recipe for these Vegan Banana Oat Muffins is largely inspired by my earlier recipe for Banana Muffin Bliss, I thought a new post featuring a vegan version of muffins would reach people who search only vegan recipes. Non-vegans would not be able to tell the difference in taste or appearance between the vegan and non-vegan banana muffins.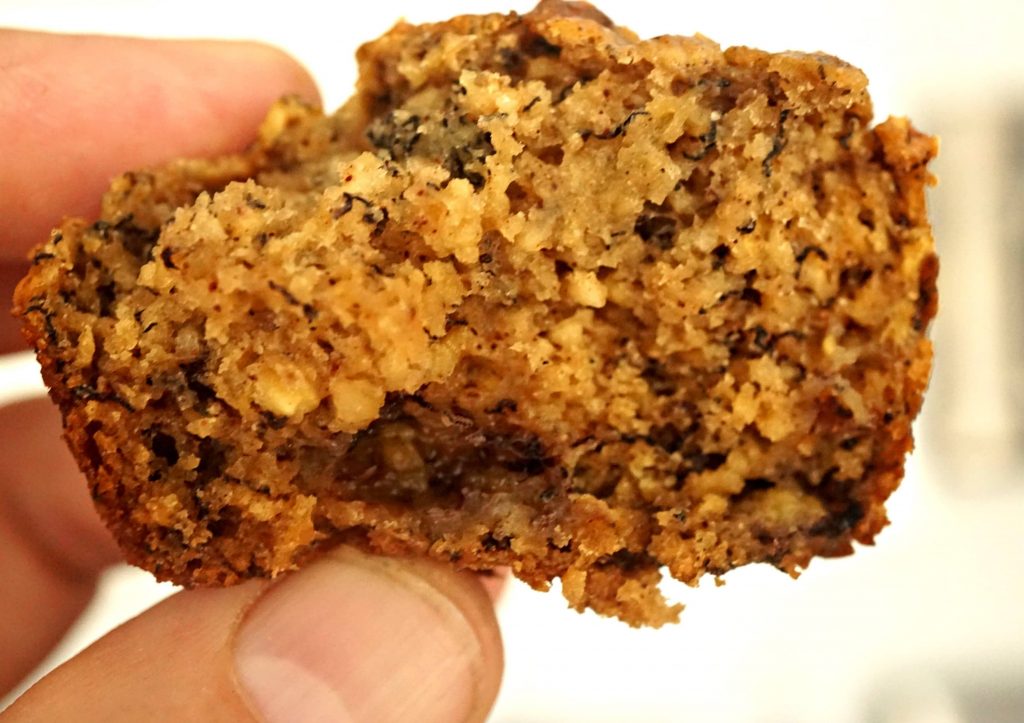 Feel free to add walnuts, pecans, or dairy-free chocolate chips. You can also experiment with the blend of flour or bran that you use.
I hope that you will enjoy the simplicity of these Vegan Banana Oat Muffins and will share the recipe with your friends.
Vegan Banana Oat Muffins
These moist Vegan Banana Oat Muffins can be made in less than an hour and will be a perfect healthy snack for your family.

Servings: 12 muffins
Ingredients
1 tbsp flaxseed ground
3 tbsp water warm
1 1/2 cup bananas mashed
1/2 cup applesauce
4 tbsp vegetable oil or walnut oil
2/3 cup brown sugar
1 cup rolled oats ground into flour
1/2 cup all purpose flour
1 tsp cinnamon
1 tsp vanilla extract
1 1/2 tsp baking powder
3/4 tsp baking soda
2 oz walnuts crushed (optional)
1/3 handful rolled oats (optional)
Instructions
Preheat the oven to 180°C / 375°F.

Mix the ground flaxseed with the warm water and let sit about 10 minutes. In the meantime continue other steps.

Add the vegetable oil and mix a bit more.

Add the brown sugar, bananas, applesauce, and vanilla extract. Mix lightly together until all ingredients are blended together.

In another mixing bowl, add the ground oat flour, all purpose flour, oat cinnamon, salt, baking soda and baking powder. Mix together.

Fold gently the dry mixture into the wet mixture. Be careful not to overmix. Add the rolled oats if you are adding these.

Either put a paper liner in each muffin cup or lightly oil each muffin cup. Fill 2/3 of each muffin cup with the muffin batter. Put the muffin tin in the oven.

Bake about 20 to 25 minutes or until the muffins are golden brown on top. Remove the muffin tin and let cool about 10 minutes before removing the muffins from the baking tin.
Notes
You may substitute whole wheat flour for the all purpose flour.  You may also substitute some of the oat flour with other flour, such as whole wheat flour.  Feel free to also mix other grains and flours, while maintaining the same total volume.
Nutrition
Nutrition Facts

Vegan Banana Oat Muffins

Amount Per Serving

Calories 235 Calories from Fat 54

% Daily Value*

Fat 6g9%

Saturated Fat 1g6%

Polyunsaturated Fat 2g

Monounsaturated Fat 3g

Sodium 155mg7%

Potassium 160mg5%

Carbohydrates 42g14%

Fiber 3g13%

Sugar 18g20%

Protein 4g8%

Vitamin A 0IU0%

Vitamin C 0mg0%

Calcium 0mg0%

Iron 0mg0%

* Percent Daily Values are based on a 2000 calorie diet.