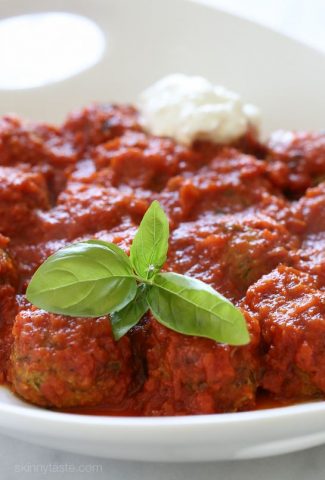 What makes this recipe for Vegetarian"Meatballs" so popular?
This recipe for Vegetarian Zucchini "Meatballs" by Gina at Skinnytaste has gone viral on my Pinterest boards since I posted it yesterday. I have not seen such a reaction to a recipe in a long time, if ever.
I can think of at least 6 reasons this Vegetarian Zucchini "Meatballs recipe has become an instant hit:
One, it's zucchini season so many people are looking for recipes using zucchini, especially if they grow their own zucchini in their gardens.
Two, it's vegetarian, therefore appealing to non-meat eaters who like this traditional meal of "meatballs" or merely want a lighter version of this traditional meal.
Three, it's by Skinnytaste, a name which implies that the recipe will lead to you becoming "skinny".
Four, the photos of the vegetarian zucchini meatballs are attractive, whetting your appetite for these luscious balls of flavor.
Five, the recipe is fairly straightforward to prepare, making it an easy substitute for the real thing.
Six (and Seven), it's an economical dish to prepare and sure to appeal to everyone at the table, adults and kids alike. A good way to get your kids to eat more vegetables without them really knowing it.
Do you really need more than 6 reasons to prepare this yummy vegetarian dish? You don't even have to wait until Meatless Monday and can prepare it any day of the week you want!
If you do prepare Vegetarian Zucchini "Meatballs", please share your comments below with us.