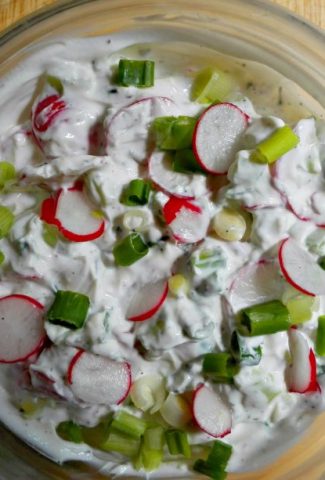 Spring was in the air on my lunch table
A couple days ago I was home for lunch on my own and wanted to make something special yet easy. I had a few eggplants, carrots, red peppers, cucumbers, green onions, and much more.
I was really in the mood to make a typical Belgian spread made principally with fromage blanc, green onions and radishes. You add a little salt and pepper to these ingredients and you basically have your spread. I also wanted to make baba ganoush with the eggplants. So what did I do?
I made both! Here I share the recipe for the Yogurt Spread with Radishes and Green Onions. Click here for my recipe and photos for the baba ganoush. Below you will see a photo of the entire spread prepared today for lunch.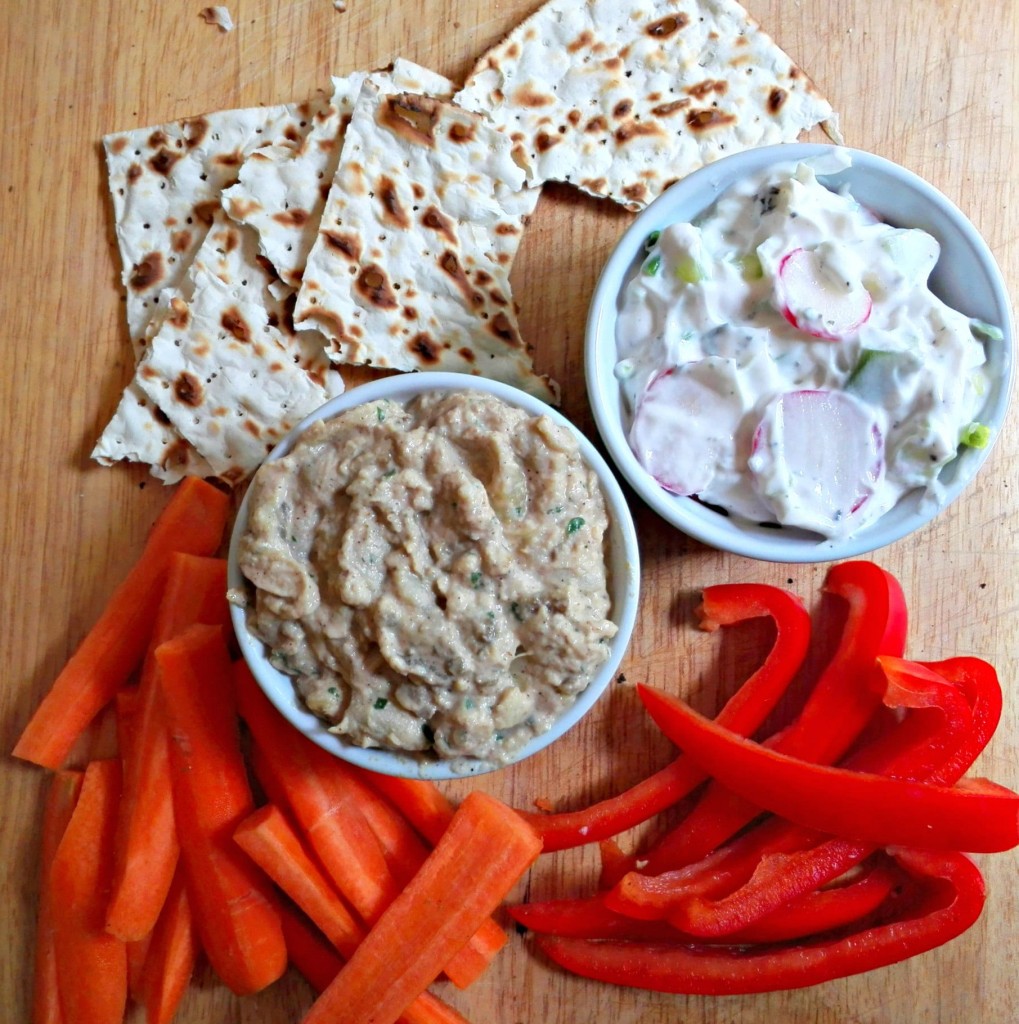 What is fromage blanc?
It would be too easy just to leave you with the short recipe above, so let me share some more information about fromage blanc. Besides being available in full-fat, low-fat and non-fat versions, a slightly different version is also made under the name of maquée. Maquée has a less smooth consistency than the fromage blanc generally available in the stores. Many farms in the region make their own fromage blanc or maquée for personal or local consumption.
No good translation for fromage blanc exists in English because it's not quite identical to anything found outside of Northern France and Belgium. I've heard it compared to sour cream, quark, and cream cheese, yet it is none of these products but can be substituted for all of them with little change in a recipe. I have used fromage blanc, for instance, to substitute sour cream in my cheesecakes, banana breads, and many other dishes. Personally I would not think of substituting it for cream cheese because the consistency is not quite as thick as cream cheese. I have not yet needed to substitute it for quark, but have used it interchangeably over the years with yogurt in recipes.
After all that background information on fromage blanc, I must confess to using Greek yogurt instead of fromage blanc when I prepared my spread the other day. With Greek yogurt it tasted great and had fewer calories and fat. The yogurt also enabled me to use the items in the refrigerator at the moment. In the recipe below, please feel free to use either fromage blanc or Greek yogurt. You might also try mixing sour cream with a little cream cheese.
How can I serve this Yogurt Spread with Radishes and Green Onions?
This Yogurt Spread with Radishes and Green Onions can be spread on toast or crackers, or used as a dip for raw vegetables. The proportions given in this recipe should give you an idea. Please use your imagination and judgment in making this tasty and light dish. It is enjoyed as is, partly because of its simplicity, but it can also be made more sophisticated with some added herbs, garlic, cream and/or milk. I have even added diced cucumbers in it. Another option would be to leave the ingredients separate to prepare sandwiches or toasts by spreading the yogurt (with salt and pepper added) and then putting sliced radishes and chopped green onions on top.
Enjoy this spread as a light lunch, as an appetizer or as a snack.
If you like this appetizer, try this Russian Radish Cucumber Salad recipe from a fellow blogger Peter's Food Adventures. Discover numerous other tasty recipes on his site.
Please give me your comments below and share this recipe with your friends.



Yogurt Spread with Radishes and Green Onions
A springtime yogurt spread with radishes and green onions to be spread on toast, crackers or veggies.

Servings: 2 people
Ingredients
400 g Greek yogurt or fromage blanc (from full fat to non-fat as you prefer)
6 radishes the quantity is really up to the density that you want
4 green onions the quantity will depend on density and taste you want
salt to taste
black pepper to taste
Instructions
Gather the ingredients together. Remove the greens from the radishes and save for a salad or soup. Wash the radishes and green onions.

Slice the radishes thinly. Chop the green onions, including the green parts.

Put the sliced radishes and chopped onions in a bowl. Add the yogurt.

Mix the ingredients together. Add salt and pepper. If you find it too thick, you can also add a little milk and/or cream. This is the time to add any other ingredients (garlic, chives, etc.) you want. See notes
Notes
Use your judgment on the proportions of yogurt, radishes and green onions. The combination will depend on how fresh or "oniony" you wan the spread to taste. *The serving size is really hard to estimate because it depends how you use it and what will accompany this dish. I put two persons if two people sat down to put this on their toast for lunch or supper. However, if you have other spreads along with this one, it can obviously go further. The total quantity is about 600 grams / 1 lbs, 5 oz. Take this into account when looking at the nutritional label. For this recipe I calculated the nutrition label on the basis of using low-fat Greek yogurt.
Nutrition
Nutrition Facts

Yogurt Spread with Radishes and Green Onions

Amount Per Serving

Calories 161 Calories from Fat 36

% Daily Value*

Fat 4g6%

Saturated Fat 3g19%

Polyunsaturated Fat 0.03g

Monounsaturated Fat 0.01g

Cholesterol 13mg4%

Sodium 368mg16%

Potassium 104mg3%

Carbohydrates 11g4%

Fiber 1g4%

Sugar 9g10%

Protein 21g42%

Vitamin A 0IU0%

Vitamin C 0mg0%

Calcium 0mg0%

Iron 0mg0%

* Percent Daily Values are based on a 2000 calorie diet.