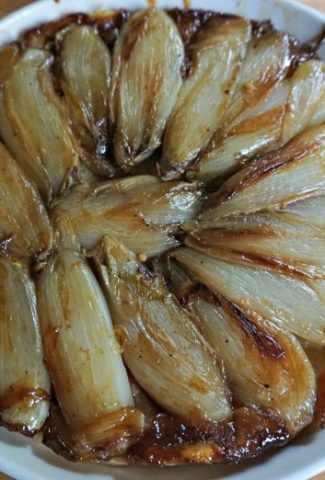 How can I use Belgian endive in a new way?
Belgian endive, known as chicory in the United Kingdom, chicons in the French-speaking part of Belgium and witlof in the Dutch-speaking part of Beligum, is generally prepared only a couple different ways. OK, this is a bit of an exaggeration, but not much.
The most common ways Belgian endives are prepared are raw mixed in a salad, braised in olive oil with a little garlic as a side dish, or chicons gratin (braised Belgian endives wrapped in ham and covered with a Mornay sauce). Belgian endives mix great with pork (any kind of bacon or ham), Roquefort or blue cheese, walnuts and root vegetables (especially beets).
Don't get me wrong, I love Belgian endives all year long. After 25 years in Belgium I can prepare them with my eyes closed (OK, almost). So when I saw a recipe for a Belgian Endive Pie (tarte tatin aux endives), I jumped at the opportunity to try something new. Gee, I am so glad that I did try it. The final result was absolutely yummy!
How to make Belgian Endive Pie
Belgian Endive Pie only takes about 1 hour to make from start to finish. First, you need to braise the Belgian endives in a pan. Second, you put the braised Belgian endives in a pie tin with a little brown sugar and butter, then cover it all with a pie crust dough. Third, you bake the pie in the oven for about 20 to 25 minutes. Last, take the pie out of the oven and turn it over onto a clean platter and serve. Easy, right?
I'd recommend serving a Belgian Endive Pie with a salad, soup or other vegetable side dish. It makes a wonderful main dish for a weeknight supper for two. A Belgian Endive Pie can also be one of several dishes at a brunch or a family supper.
I decided to make a Belgian Endive Pie along with a Tomato Tarte Tatin (aka tomato pie or in French tarte tatin aux tomates) and a simple green salad for four people. The end result: no stress, tasty and enjoyed by all. Follow this link to learn how to make a Tomato Tarte Tatin.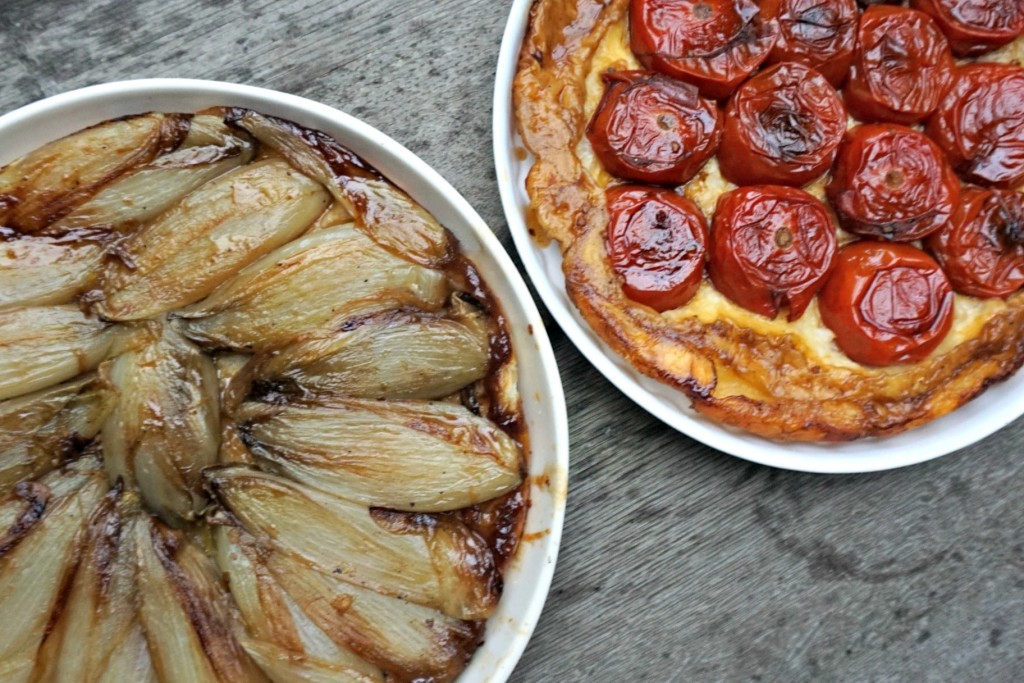 Try this Belgian Endive Pie soon and share your comments. Please share this recipe with your friends.
If you are looking for more ideas for savory pies, look at my Quiches and Savory Tarts! board on Pinterest by clicking on this link.
Belgian Endive Pie
A savory pie to serve for a casual intimate meal when you are looking for something simple and yummy.
Servings:
6
people (see notes)
Ingredients
300

g

pastry crust

homemade or store-bought

1000

g

Belgian endive

100

g

butter

salt and pepper

2

tbsp

brown sugar

curry powder or garlic

pinch
Instructions
Wash the Belgian endives. Remove outer leaves. Cut the Belgian endive in half lengthwise or cut horizontally in slices. (If you cut horizontally, watch that the slices don't fall apart as you cook them).

Melt 75 grams of butter in a pan over a medium heat. Add the Belgian endives, salt and pepper and sautee until the endives become tender (about 30 minutes. Turn over to get all sides sauteed but be gentle since endives have a tendency to fall apart (like onions) when cooked.

Preheat oven to 180 C / 350 F. Put 2 tbsp of brown sugar in the bottom of your pie dish. Spread about 25 g of butter in pieces with the sugar. Place the Belgian endives (cut side facing up) along the bottom in a decorative way.

Prick the pastry crust dough several times. Place the pastry crust dough over the Belgian endives and fold the crust into the inside of the dish. Do not put the crust over outside edge of the dish or else you will have a hard time turning the pie out after it is cooked.

Put the pie dish in the oven and cook about 20-25 minutes or until the pie crust is golden brown on top.

Remove pie from oven and let cool about 10 to 15 minutes before turning it over onto a clean platter. I sometimes use another pie dish of the same size to place over and then turn upside down.
Notes
At the end of sauteing the Belgian endives add a pinch of curry powder or about 1/2 clove of garlic to round out the flavors without overpowering the other flavors.
The number of servings will depend how you present the Belgian endive pie.  As a main course, it will serve 2 or 3 people with some vegetable side dishes.  However, if you serve it as an appetizer or at a brunch, you can cut it in 8 pieces.  I chose 6 servings as the reference here because it can be cut in 6 generous slices.
Nutrition
Nutrition Facts
Belgian Endive Pie
Amount Per Serving
Calories 337
Calories from Fat 216
% Daily Value*
Fat 24g37%
Cholesterol 81mg27%
Sodium 97mg4%
Potassium 584mg17%
Carbohydrates 29g10%
Protein 5g10%
Vitamin A 0IU0%
Vitamin C 0mg0%
Calcium 0mg0%
Iron 0mg0%
* Percent Daily Values are based on a 2000 calorie diet.