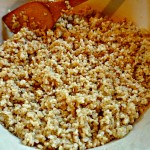 How do you make brown sushi rice to replace ordinary white sushi rice?
Tips by Mark Bittman
Brown sushi rice has a slightly nutty flavor compared to white sushi rice, yet provides added nutritional value.  Once you learn how to make brown sushi rice, as described in the recipe below, you will see it is well worth the extra effort.
Mark Bittman's book How to Cook Everything is one of my go-to references when I begin searching for a recipe. It's amazing the wonderful variety and depth of choices to be found in this essential book. Mark Bittman often presents a classic recipe yet will also s…
Read More