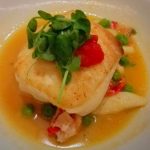 Is Ocean Prime worth the cost?
A place to celebrate special occasions
On my father's 85th birthday evening, we choseOcean Prime, a restaurant where none of us had been in Beverly Hills . My mother had just heard about it from a friend who raved about their beautiful bar area. We thought we'd try it and booked a reservation.
Ocean Prime Beverly Hills is part of a national chain of restaurants, which is expanding further its reach in California later this year.
The space for the restaurant, bar and terrace is quite large, yet welcoming. When we arrived at the reception desk I felt as if …
Read More