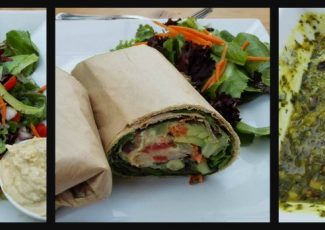 What is all the hype about Kreation Juice Kafe in Venice Beach (Los Angeles)?
Walking around Santa Monica and Venice Beach in Los Angeles County always takes me down memory lane to summer (and school) days with friends. (I won't mention how many years ago this was.)
A childhood friend and I hung out together in the late afternoon and evening. We strolled along 3rd Street Promenade in Santa Monica, which is always a fun place to watch people. Third Street Promenade has definitely changed from the time I used to come there as a child with my grandmother. Now shops, restaurants, street entertainment and drinking establishments line both sides of the street.
After a walk along Venice Beach enjoying the salt air and sunshine, we headed to Abbot Kinney Boulevard to find a place to eat dinner. My last time here was in September 2014 at the monthly food truck fair, which attracts throngs of people, including movie stars like Marcia Gay Harden and Tony Goldwyn. Window shopping and walking on Abbot Kinney is always a good pastime since it features interesting shops and restaurants.
We ended up at Kreation Juice Kafe, an organic restaurant and juice bar. They serve breakfast all day as well as salads, wraps, kabobs (aka kebabs), and sandwiches. As their name suggests they also serve a variety of cold-pressed juices. Check out their menu yourself.
Kreation Juice Kafe
Location

Atmosphere

Food

Service

Price/Quality Ratio
Summary
Kreation Juice Kafe has a minimalist earthy atmosphere, a limited menu featuring fresh vegan dishes, and average service. It's located in a prime place on Abbot Kinney Boulevard in Venice, California.
Cold-pressed juices seem to be the new trend in Los Angeles. Everywhere cold-pressed juices are being offered at extraordinary prices. Most of the juices at Kreation Juice Kafe cost between $7.95 and $10.95 for a single serving (before tax and tip). What justifies such a high price? Cold-pressed juices apparently taste like fresh juice and preserve more nutrients than other bottled juices which must be pasteurized (i.e., by heat). Cold-pressed juices meanwhile do not offer more nutrients than fresh juice extracted immediately before being served. At Kreation Juice Kafe the cold-pressed juice is prepared in advance and sits in a sealed bottle waiting to be purchased. At those prices, I'd prefer a tall glass (or pitcher!) of freshly-prepared juice.
The food at Kreation Juice Kafe is very tasty and healthy, my kind of combination. With such a large menu, there is surprisingly less variety than it would appear. Many items are presented 2 or 3 different ways. For instance, my friend ordered the Hummus Garden Wrap and I ordered the Hummus Garden Salad. I also ordered the Ash Soup as a starter. The Ash Soup contained lentils, quinoa, barley, garbanzo beans, spinach and herbs. The Ash Soup was unusual (in a positive sense), hearty and healthy. The hummus on the wrap and the salad on the other hand was very bland. The hummus would benefit from some tahini, lemon juice and garlic. Even a little cumin or sumac would help give it some taste.
For an organic healthy-style restaurant, Kreation Juice Kafe disappointingly does not cater to vegans. While the menu indicates if a dish is gluten free, no mention is made for vegan items. Kreation Juice Kafe apparently has not given vegans much thought when creating their menu.
If I were searching for a vegan restaurant near the beach, I'd much rather go to Cafe Gratitude on Rose Ave in Venice Beach (or to one of their other locations). Cafe Gratitude is one of my favorite vegan restaurants in Los Angeles. Cafe Gratitude has a pleasant minimalist decor as well as an extensive and creative menu offering exclusively vegan food at fair prices.
However, if I were searching a restaurant that offers both vegan and non-vegan dishes, I'd recommend Hugo's in West Hollywood (or one of its other locations). Hugo's has one of the best menus I've seen. For almost each dish on Hugo's impressive menu, the customer can choose if they want it prepared vegan or vegetarian style, or with some kind of meat as the protein. The menu also mentions if a dish is gluten-free and provides choices in this respect as well. I love Hugo's because I can go there with anyone and we can each eat how we want and be happy with our choice. No one needs to make accommodations for anyone else. The food is also very tasty and the prices reasonable.
I'd really appreciate receiving from you recommendations of other restaurants in Los Angeles that have a variety of vegan options. Please share with your friends and give me feedback in the comments below.