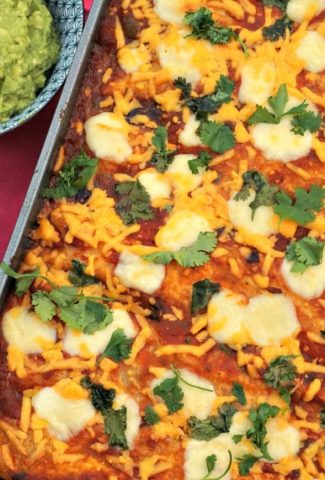 Why not make these tasty chicken enchiladas for Cinco de Mayo?
Or any other time of the year?
These Chicken Enchiladas will be an instant crowd-pleaser. Ideal for a family supper, a potluck, a welcome gesture for a new neighbor moving in, or any other happy occasion.
Preparing Chicken Enchiladas in Belgium
Making Mexican (really Tex-Mex) food when you are living in Belgium is not as easy as it is when you live in the US (or of course in Mexico). In Belgium, you may not even be able to find some ingredients, which is why I have to adapt by substituting some ingredients with items easier to find here.
This recipe however loses nothing in flavor, contains ingredients that are easy to find almost any where, and is a bit lighter on your waistline (check out the nutrition label below). I'd recommend trying this recipe wherever you may live. There's no need to be in Belgium to try it.
Homemade Red Enchilada Sauce to Enhance these Chicken Enchiladas
I strongly suggest you make the Red Enchilada Sauce featured in an earlier post here. Frankly, I think it's the best! The Red Enchilada Sauce does not take much time to make, tastes so much better than any store-bought sauce you may buy, and is probably more healthy and light. But don't take my word on this, try it yourself!
Preparation in Advance
You can make these Chicken Enchiladas up to 2 days in advance if you put them in the refrigerator and up to 3 months in advance if you put them in the freezer (see instructions below in the recipe). Prepare several portions in advance, store them in the serving sizes you will need, and then just heat them up when you are ready to serve them. Or wrap them up in a lunch size for your kids or yourself to take to school or work.
You can also prepare some of the ingredients in advance to speed up the final cooking time at the time of serving. Preparing these in steps will make these Chicken Enchiladas a stress-free meal during the week.
However, if you don't prepare these in steps in advance, you can still make and serve them in about 45 minutes if you make the Red Enchilada Sauce in advance or use store-bought sauce. Alternatively, they are ready in approximately 1 1/2 hours if you make the sauce at the same time.
How to Serve the Chicken Enchiladas
Serve these Chicken Enchiladas with several choices of toppings so everyone can add what they like. Putting everything on the table makes it more fun and friendly. Typical choices of toppings are guacamole, salsa, and sour cream. We usually put chopped fresh tomatoes out unless I've just made some fresh salsa. Don't forget the hot sauce for people who like even more spice.
Leftover Chicken Enchiladas are better reheated before eating. However, who can wait? I usually just eat them up cold the next day. I like them cold and am usually too hungry or too impatient to reheat them.
Alternative Dishes
For a vegetarian alternative, try my Vegetarian Enchiladas recipe. It has full flavor despite being vegetarian.
During the summer try Mango Salsa for a more fruity or sweet option. You can even try the Grilled Chicken with Mango Salsa found in the same recipe as an option for guests who prefer a Paleo or Gluten-Free dish.
Please share these recipes with your friends and family and let me know what you think in the comment area below. Que aproveche!
Chicken Enchiladas
These tasty chicken enchiladas are an instant crowd-pleaser.
Ingredients
1

tbsp

olive oil

2

red onion

2 1/2

lbs

chicken breasts diced in 1/2 inch cubes (1 cm)

without bones and skin

5

oz

green bell pepper

24

oz

black beans or kidney beans

either from can or made by you in advance

12

flour tortillas

corn tortillas are great too

12

oz

mozzarella

4

oz

cheddar cheese

3/4

portion

red enchilada sauce

see notes below

salt

black pepper

1

handful

coriander - cilantro

chopped to sprinkle on top when serving
Instructions
See the photo here of my red enchilada sauce. If you make the red enchilada sauce yourself, you should make this before starting the rest of the preparation.

Preheat oven to 375 F / 180 C.

Pour 1 tbsp olive oil in the pan over a medium flame. Add the chopped red onions and cook them for 2-3 minutes before adding the cubed chicken breast, the sliced green peppers, and a dash of salt and pepper.into the pan. Continue cooking this mix for about 6-8 minutes more until the chicken is cooked. (See notes below)

On each tortilla spread some red enchilada sauce to cover about 3/4 of the tortilla. Add 2 tbsp chicken mix, approximately 1 tbsp of beans and a handful of cheese. Roll the tortilla and put it with the fold part downwards into a Pyrex-type casserole dish.

Continue for the other tortillas until you finish the ingredients. If you have extra chicken or beans you can put them on top of the casserole dish. Don't worry if you need more than one casserole dish to fit all the enchiladas. In our home we make 2 casserole dishes (one bigger than the other). We eat the big dish for supper and the small dish the next day (if there's any left!).

Put the casserole in the oven and cook at least 25 minutes or until the top of the casserole is lightly brown and the cheese is melted good. Take out the casserole and sprinkle on the coriander / cilantro. Serve and enjoy with the toppings of your choice presented in separate bowls.
If prepared in advance
If you want to make them in advance, cook the enchiladas as described above for 20 minutes. Once cooled completely, you can either wrap the enchiladas (whole or in portions) with aluminum foil sealing the entire dish for up to 3 months, or put in the refrigerator in a sealed container for up to 2 days. When you want to reheat, just take the enchiladas out directly from the freezer or refrigerator and cook for 45 minutes (from freezer) or 30 minutes (from refrigerator).
Notes
Make the whole portion of the red enchilada sauce as you may want extra at the table or when serving. It's also nice if you reheat leftovers the next day. You can prepare the chicken as described above or by boiling in hot water, poaching it, or grilling it in the oven. All ways are good, but the way included in the recipe will not require any other dishes to be cleaned later. See the chicken cooking time chart in the Tips and Tools section. The nutrition label below takes into account the nutritional value of my red enchilada sauce.
Nutrition
Nutrition Facts
Chicken Enchiladas
Amount Per Serving
Calories 479
Calories from Fat 153
% Daily Value*
Fat 17g26%
Cholesterol 87mg29%
Sodium 1053mg46%
Potassium 665mg19%
Carbohydrates 42g14%
Protein 39g78%
Vitamin A 0IU0%
Vitamin C 0mg0%
Calcium 0mg0%
Iron 0mg0%
* Percent Daily Values are based on a 2000 calorie diet.