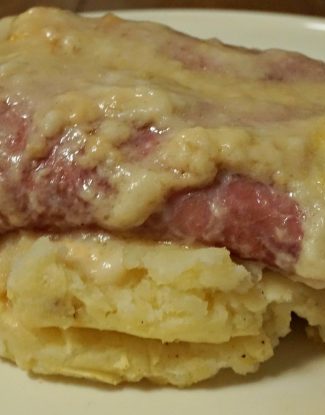 What are chicons au gratin?
Chicons au gratin is a Belgian national dish consisting of braised Belgian endives (aka chicons) wrapped in slices of baked ham and covered with a Mornay sauce and some grated cheese. Steaming hot with a creamy cheesy sauce, chicons au gratin is comfort food par excellence. The bitter Belgian endives mixed with the sweet baked ham also make a winning combination. Chicons au gratin is probably my daughter's all-time favorite dish.
How much time does it take to make chicons au gratin?
Chicons au gratin is wonderful for a friendly family-style meal. There's nothing fancy about this dish, yet it appears as if the cook made a big effort. Do not get me wrong, it does take a little time to braise the Belgian endives, prepare the Mornay sauce and then assemble the casserole before putting the dish in the oven to bake. It takes about the same time as preparing a lasagna before putting it in the oven.
To reduce the fuss at time of serving this yummy dish, you can braise the Belgian endives and prepare the Mornay sauce in advance, for example, the day before.
Or if you prefer, bake the chicons au gratin casserole in advance and then keep it for another day. If you choose to bake the dish in advance, remove the baked casserole from the oven about 5 to 10 minutes before completion. Then let it cool off completely. At this point you may put it in the refrigerator for a couple days before reheating it later. You may also freeze the baked casserole for about a month before reheating it. In this way, chicons au gratin is similar to lasagna.
To learn how to braise Belgian endives and examples of how these braised goodies may be used, follow this link.
How to serve chicons au gratin
Traditionally chicons au gratin is prepared with mashed potatoes. I cook and serve the mashed potatoes separately. Some people, however, prefer to put the mashed potatoes on the bottom of the casserole dish and then place the wrapped Belgian endives and the Mornay sauce on top. Either way it's delicious.
I would love to hear from you on how your family makes this dish (if they do). Try this recipe and let me know what you think. Remember to share this recipe with your friends using the share buttons below.
Chicons au gratin Belgian
Chicons au gratin is a traditional Belgian dish that is pure yummy delight during the winter as it provides comfort and warmth.
Ingredients
Mornay Sauce
Other Ingredients
500

g

ham

baked and sliced (See notes)

30

g

cheese

grated (same mix as in Mornay sauce)
Instructions
Wash the Belgian endives and slice them in half (in the length).

Prepare according to the instructions found at https://belgianfoodie.com/recipe/braised-belgian-endives/

Put the braised Belgian endives in a colander over a bowl and let drain excess liquid. Keep the liquid for later step.

Prepare 1 recipe of Mornay sauce according to the instructions found at https://belgianfoodie.com/recipe/mornay-sauce/.

Use a spatula to remove some of the excess liquid from the Belgian endives (with the little bits remaining) and add it to the Mornay sauce. Mix. Watch not to put too much liquid inside or else the Mornay sauce might become too thin.

Spoon some Mornay sauce on the bottom of your casserole dish so that it is about 2/3 covered.

Wrap each half of Belgian endive in a slice of baked ham. Wrap tightly without breaking the ham. Put each Belgian endive seam side down in a casserole dish. Depending on the size of the slice of ham (and how much you like ham) you might use a half slice for each half Belgian endive.

Continue wrapping each half of Belgian endive in the same way and place each rolled Belgian endive close beside the others. Continue in this way until all Belgian endives and ham are used. If you have too many Belgian endives or slices of ham, just add them to the casserole. A little extra of either ingredient won't hurt. You can prepare either 1 or 2 casseroles dishes. I often place 2 layers of rolled Belgian endives in a single casserole dish.

Spread some sauce on top of each layer of rolled Belgian endives. Sprinkle a little of the extra grated cheese on top of each layer of Belgian endives. Keep any extra sauce to serve with the mashed potatoes at the table.

Preheat oven to 200°C (375°F). Place the casserole dish(es) in top half of the oven. Cook about 40 minutes or until the top is lightly browned.

Serve the casserole of chicons au gratin with mashed potatoes and any remaining Mornay sauce.
Notes
Try to avoid overly sweet baked ham (such as honey ham) as they may dominate the finished dish.  I enjoy it with Prosciutto di Parma ham, except the slices of Parma ham often break as you wrap them around the Belgian endives.  If you don't mind a less attractive dish, try it sometime. If you cannot find Belgian endives or do not like them, replace the Belgian endives with white celery or even cauliflower.
Nutrition
Nutrition Facts
Chicons au gratin Belgian
Amount Per Serving
Calories 423
Calories from Fat 261
% Daily Value*
Fat 29g45%
Cholesterol 59mg20%
Sodium 1161mg50%
Potassium 806mg23%
Carbohydrates 21g7%
Protein 21g42%
Vitamin A 0IU0%
Vitamin C 0mg0%
Calcium 0mg0%
Iron 0mg0%
* Percent Daily Values are based on a 2000 calorie diet.