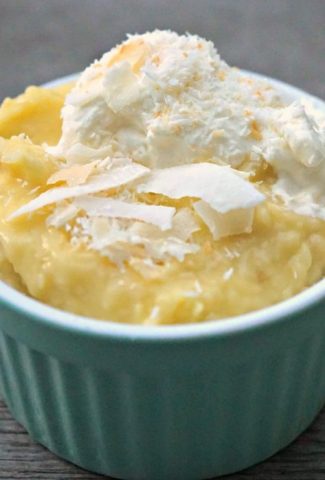 (Cliquez ci-dessous pour la version française de la recette)
What makes Coconut Cream Pudding such an Ideal Yummy Dessert?
The Joys of a No-Fuss Dessert
After preparing a fairly elaborate main course for lunch guests, sometimes I do not want to put a lot of effort in making a dessert. This is especially true for a casual family Sunday lunch. Sunday mornings are intended for sleeping a bit late and languishing in bed before summoning all my will power to get out of bed. Late Sunday mornings (when I've finally gotten out of bed and out of my bedroom) I love to cook something. Anything to get my creative juices flowing. My favorite dishes for Sunday remain homey, comfort-food-type food that sets the scene for a family meal.
Sunday is also my time to prepare dishes that benefit from slow cooking, marinading or rising. While the ingredients gather flavor I'm able to go to the gym for exercise, prepare other courses, or just relax. Cooking helps create the mood and rhythm of my Sunday.
A Dessert for a Special Occasion
A couple Sundays ago, I had invited my Belgian mother and her beau for a Sunday lunch. I wanted to make something special that shows how much I appreciate them, yet did not have a lot of time for preparation. I decided to make one of my family's favorites (like many of the other recipes featured on this site), crusted salmon accompanied by a fresh salad. Follow this link to discover more about how to prepare crusted salmon.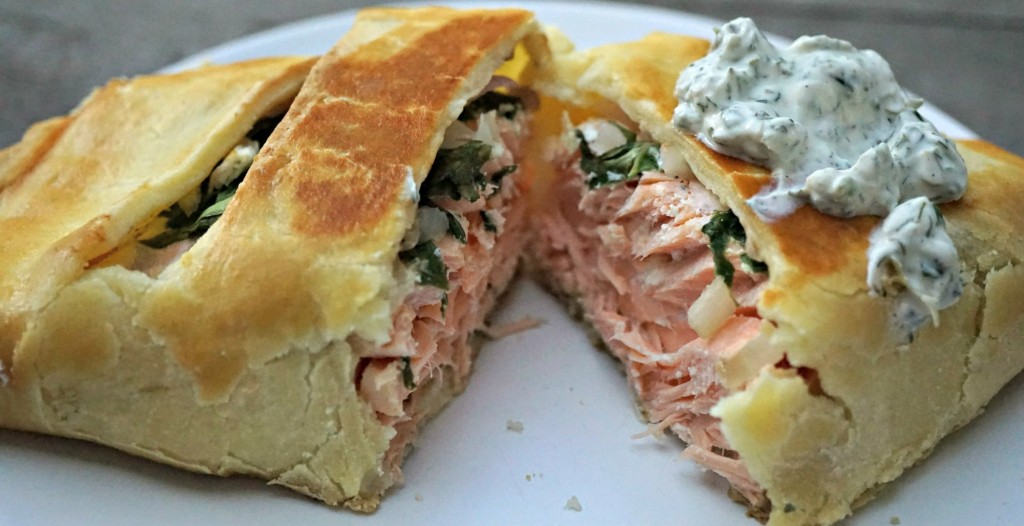 What's better after such a simple elegant meal than an equally no-fuss dessert full of flavor? I had wanted to try a Coconut Cream Pie recipe I've ogled for quite some time from the book Handheld Pies – Dozens of Pint-Size Sweets & Savories by Sarah Billingsley and Rachel Wharton (Chronicle Books 2011). Although their version calls for a pastry crust bottom covered with coconut cream and whipped cream, I didn't want to serve pastry crust since I was already using the same pastry crust for my crusted salmon. I decided to modify the recipe slightly by reducing the amount of sugar and using store-bought Ladyfingers instead of the pastry crust.
How to Serve Coconut Cream Pudding
The true flavor of coconut makes this Coconut Cream Pudding a hit. The taste of coconut cleanses your palette while not overpowering the flavors of the other dishes.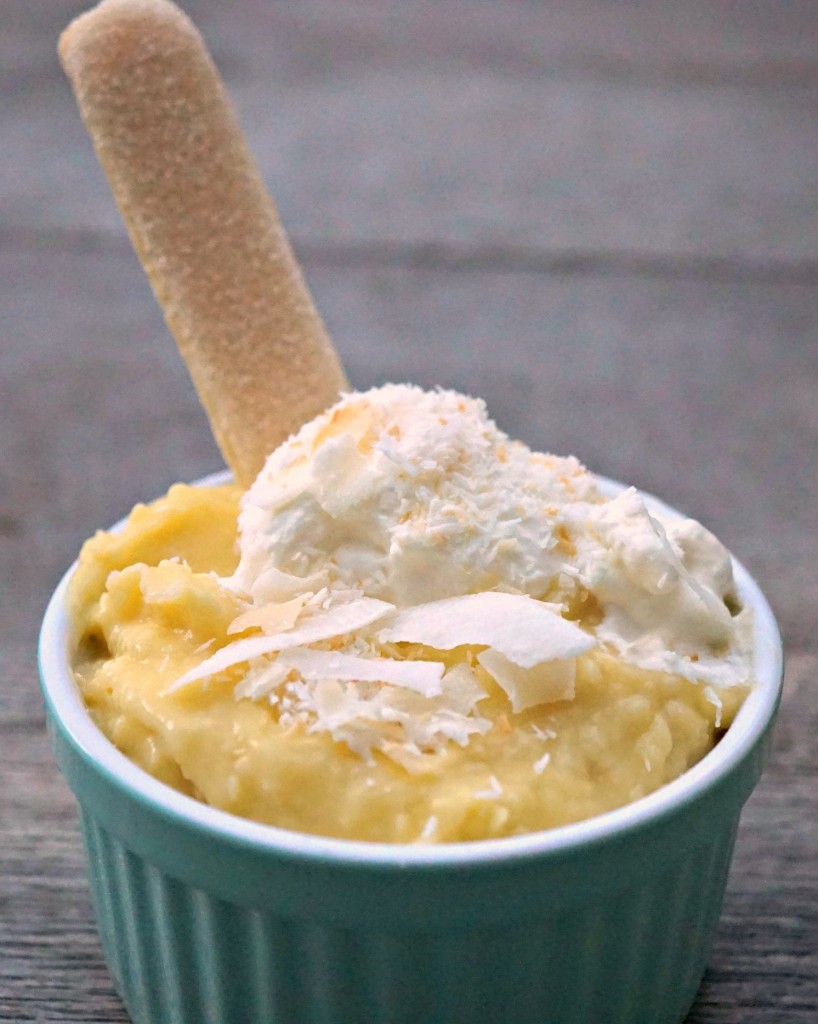 This Coconut Cream Pudding can be served many ways. Served cold on top of pastry crust, as suggested in the above book, with Ladyfingers or another kind of cookie, such as coconut or almond macaroons, or even some chocolate chips, shavings or sauce. But don't worry, it's also yummy served on its own with some toasted coconut flakes on top. In the recipe below I suggest serving it with whipped cream on top. You can also gently fold the whipped cream into the pudding if you want a lighter dessert. Any way you choose, you and your guests will love this pudding and want more!
Share this recipe with your friends on your favorite social media platforms. And please don't forget to rate this dessert and leave me your comments below.
(Cliquez ci-dessous pour la version française de la recette)
Coconut Cream Pudding
Serve Coconut Cream Pudding as a simple elegant dessert full of authentic flavor. This yummy dessert will wow your friends and family.
Ingredients
Coconut Cream Pudding
1.5

cups

coconut (unsweetened)

shredded or flaked (or both)

4

egg yolks

1.5

cups

milk

whole or lowfat

1.5

cups

coconut milk

undiluted

1/3

cup

raw cane sugar

(see notes)

5

tbsp

instant tapioca flour

or cornstarch

1/4

tsp

salt

1

tsp

vanilla extract
Sweet Whipped Cream
1

cup

heavy cream

1

tbsp

raw cane sugar

or fine white sugar
Instructions
Coconut Cream Pudding
Spread the coconut on a lined baking sheet and then put it in an oven at 325°F / 165°C. Let the coconut toast about 5 minutes. You may need less time if you use shredded coconut rather than flaked coconut. Make sure shuffle the coconut while toasting and avoid it burning. Toasting enhances the flavor, but is not absolutely necessary. Put the coconut aside.

Pour the milk, coconut milk, raw can sugar, tapioca flour (or cornstarch) and salt in a pot over a stove on medium heat.

Stir the mixture in the pot as it cooks about 5 minutes or until it starts to boil on the edges. Remove from heat.

In a separate bowl, whisk the egg yolks together.

Add about 1/2 cup (120 ml) of the hot milk mixture slowly into the egg yolks as you continue stirring in order to temper the eggs.

Take the egg yolk mixture and slowly mix it into the hot milk mixture while stirring.

Return the combined mixture onto the stove over a medium heat. Continue cooking while stirring about 5 minutes or until the mixture thickens and begins to bubble.

Remove from the heat. If you want an extra smooth consistency, you can pass the pudding through a fine strainer. This step is not absolutely necessary and I would skip it.

Add the vanilla and about 2/3 of the toasted coconut. (Reserve the remaining 1/3 for putting on top of the dessert servings). Mix gently.

Pour the pudding into a large serving bowl or into smaller individual serving bowls. Cover with plastic wrap to avoid a crust forming on top. Since the pudding is hot, there is usually some condensation that develops on the inside of the plastic wrap so don't worry.

Let the pudding cool down before putting it into the refrigerator to chill. If you put it immediately into the refrigerator there will be more condensation. Leave to chill a few hours or a couple days. (I've served it after about 90 minutes and it was slightly warm yet very tasty!)
Sweet Whipped Cream
Make sure the heavy cream you use is very cold. Pour the heavy cream into a metal or glass bowl. Use an electric mixer (preferably) to whip up the cream. As the cream starts to develop some volume, add the sugar as you continue to mix. Mix until soft peaks form.
Serving
When you are ready to serve the Coconut Cream Pudding, let your inspiration guide you. I've given you some suggestions above and it is up to you whether you'd like to assemble the servings with bits of pastry crust on the bottom, with chocolate or almond shavings along with the remaining toasted coconut on top, or with whipped cream (in addition to the other options or on its own). You can also mix in some Ladyfingers or macaroons or even mix in the whipped cream into the pudding to give a more airy finish.

Serve and enjoy!
Notes
I'm not fond of overly sweet desserts.  I therefore recommend following the amount of sugar indicated above.  If you prefer you can add a little more sugar into the pudding and/or into the whipped cream.  Or you can add something sweet like chocolate, macaroons, etc., to give an additional sweet alternative. I made the pudding with half shredded coconut and half coconut flakes.  I recommend using the flakes on top of the coconut cream pudding when you serve it, as the texture is lovely. Note: the Nutrition Facts does not include the whipped cream or the Ladyfingers as these are purely optional and provided here as an example.
Nutrition
Nutrition Facts
Coconut Cream Pudding
Amount Per Serving
Calories 443
Calories from Fat 306
% Daily Value*
Fat 34g52%
Cholesterol 115mg38%
Sodium 98mg4%
Potassium 85mg2%
Carbohydrates 29g10%
Protein 6g12%
Vitamin A 0IU0%
Calcium 0mg0%
Iron 0mg0%
* Percent Daily Values are based on a 2000 calorie diet.
;