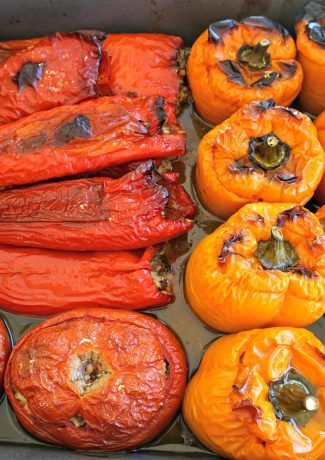 What Makes this Recipe for Greek Stuffed Peppers and Tomatoes Genuine?
Months ago my friend, Diamantis, described how his wife, Thomais, made the absolute best Stuffed Peppers and Tomatoes (in Greek known as Gemista). In fact, his accolades of his wife's wonderful cooking and his invitation for me to come learn at her side first gave me the idea to embark on my Journey to Greece.
Why not spend time in Greece learning local and family recipes from such a good cook? I'd enjoy some long-deserved vacation while gathering materials for my blog. Ok, twisting my arm was perhaps not so difficult. I was certainly a willing participant.
Since I arrived last month, Thomais has been kindly showing me some of her recipes. Fortunately I'm staying a couple more weeks so will be able to still learn a few more recipes before I leave. Or as I often joke with Diamantis and Thomais, maybe I'll still be here at Christmas! They have definitely made living here in Xanthi and in Greece very attractive.
Thomais herself has certified the authenticity of this recipe for Greek Stuffed Peppers and Tomatoes. She promises it's a recipe she's learned from her mother and other fine cooks in Greece. Now with her permission I'm sharing it with all of you.
Why are Stuffed Vegetables such a Regional Phenomenon?
In countries in Central and Eastern Europe, the Caucasus, the Mediterranean region as well as in the Middle East, families make stuffed vegetable dishes all year long. Cabbage in the winter; peppers, eggplant, zucchini and tomatoes during the spring and summer; and mushrooms and squash during the fall, to name the most common.
One of my favorite dishes growing up was my mother's sweet and sour cabbage. (I'll have to share this recipe with you some time.) However, it was not until later that I discovered the world of stuffed vegetables that I now adore so much.
Many recipes for stuffed vegetables seem to come from the regions mentioned above. Other parts of the world also share such traditions. Yet, when I view the few hundred recipes available on the Belgian Foodie® Pinterest board Stuffed Vegetable Recipes, most recipes come from those regions. Check the recipes for yourself by following this link.
One reason stuffed vegetables are a bigger phenomenon in those regions is their deep-rooted tradition of gardening and eating the vegetables produced. I've seen over the past weeks in Greece people receiving fruit or vegetables from a family member or a friend with a garden. Even some restaurants source part of their vegetables and other produce from friends or family who grow these items themselves.
When you grow your own vegetables and all of a sudden have a large stock of peppers, for instance, you find a way to use them. You use some peppers for your own dishes. Preserve others for future use by freezing, pickling or canning them. And you give the rest away to friends and family.
How do you Prepare Stuffed Vegetables?
What Ingredients are needed for Stuffed Vegetables?
Families customarily use seasonal vegetables and fill them with local ingredients, such as grains, meat, other vegetables and perhaps nuts and/or fruit. Some recipes contain cheese inside or on top of the stuffed vegetables. Sauces may cover the top of the vegetables as they cook or as a cold addition at time of serving. The herbs and spices used to prepare stuffed vegetables will vary according to regional and family preferences. In short, locally-sourced ingredients usually find their way into this tasty and well-balanced homey dish.
Stuffed Vegetables vs. Rolled Leaf Vegetables
You may also roll leaf vegetables. Stuffed grape leaves, known outside of Greece as dolmas, for example, are an iconic Greek dish. While dolma originally referred only to stuffed vegetables, the term sarma described rolled leaf vegetables. Nowadays the terms dolma and sarma are often used interchangeably to describe both stuffed and rolled vegetables.
Steps for Preparing Stuffed Vegetables
The steps for preparing stuffed vegetables are fairly straight forward. Generally, you first prepare the filling for the vegetables, either on the stove if it is cooked or in a bowl if added raw. Second, you clean the vegetables to be stuffed and cut them in the form to be filled. Third, you place the filling into the vegetables, which are afterwards placed in a baking dish. You will need to add liquid to the bottom of the baking dish. Fourth, you will cook the vegetables in the oven about 30 minutes before serving them.
Usually in less than an hour you can prepare and serve delicious stuffed vegetables to your family and friends. For those of you wanting to plan ahead, you can make the filling in advance and then add it later when you prepare your meal. Leftovers (if you have some) may be reheated and eaten in the couple days following your meal.
If you like, serve these cooked Greek Stuffed Peppers and Tomatoes with some crumbled feta cheese or with a modified tzatziki sauce (basically a tzatziki sauce without garlic) to add on top of the cooked vegetables. However, stuffed vegetables served without anything on top will be completely tasty.
Please share this recipe for Greek Stuffed Peppers and Tomatoes with your friends so they can also enjoy this traditional comfort food.
Greek Stuffed Peppers and Tomatoes
Greek Stuffed Peppers and Tomatoes are a traditional dish often enjoyed during the spring and summer, yet are delicious all year long. Generally a serving for each person is two vegetables if enjoyed as a main course.

Servings: 8 people
Ingredients
Filling
2 tbsp olive oil
2 onions medium (or a bit less)
500 g ground veal (or beef if necessary)
1 tbsp tomato paste
500 g tomatoes chopped (fresh or canned) (see notes)
2 handfuls flat leaf parsley finely chopped
2 pinches mint (spearmint) dried (about 3 times more if fresh)
pepper
salt
water
Vegetables
8 bell pepper (see notes)
6 wax pepper (see notes)
2 beefsteak tomato
2 tbsp olive oil
salt
Stuffing Vegetabes
16 tbs arborio rice or Carolina rice uncooked (see notes)
200 ml water
2 tbsp olive oil
Instructions
Filling
Put a pan over high heat over the stove. When hot, pour the olive oil in the pan.

Add minced onions to the pan. Continue to cook about 2 to 3 minutes.

Add the ground veal, mix and continue over the high heat until completely brown and cooked.

Reduce the heat to medium. Add the chopped tomatoes (fresh or canned) and the tomato paste. Mix and continue to cook about 2 minutes.

Add the chopped parsley, mint, salt and pepper.

Add enough water to cover the meat mixture completely. Remove from stove.
Vegetables
Clean the peppers and beefsteak tomatoes. Cut the tops off the peppers. Empty the vegetables. Discard only the tops of the wax peppers and the insides of both wax and bell peppers. You will need the tops of the bell peppers later. Keep the insides of the beefsteak tomatoes (to add at time of other chopped tomatoes in the filling)

Put a little olive oil and salt inside each of the hollowed vegetables.
Stuffing Vegetables and Baking
Add the uncooked rice to the meat filling. (If the vegetables are bigger than normal, add a bit more rice).

Stuff each vegetable until 2/3 full. Place the tops on the bell peppers.

Place the vegetables in a baking dish. You want them to be snug so they don't fall over.

Pour olive oil on top of the vegetables. Add the water to the bottom of the baking dish.

Place in an oven preheated to 200°C / 400°F (uncovered). Cook about 25 - 30 minutes until the skins of the peppers start becoming black (so you can remove them more easily).

Optional: If you want to remove the skins of the peppers, carefully remove them. Or else you can serve with the skins and let anyone who wants to remove them to do it himself / herself.

Serve 2 stuffed vegetables per person.

Optional: You can serve them with crumbled feta cheese on top or with some modified tzatziki sauce (tzatziki without garlic). If you add the feta cheese reduce the salt slightly in the recipe for the filling.
Notes
Add the flesh of the tomatoes removed to the tomatoes added to the meat mixture.
You can use all colors of peppers for your dish.  The traditional choice would be tomatoes and green bell potatoes, However, some people prefer the mild flavor of the yellow, medium flavor of the red pepper or the stronger flavor of the green peppers.  In general, the green wax peppers are more mild than the green bell peppers.  The choice of color is therefore a question of preference.
Greeks generally use Carolina rice which is similar to Arborio rice used for risotto, but perhaps slightly softer.
Nutrition
Nutrition Facts

Greek Stuffed Peppers and Tomatoes

Amount Per Serving

Calories 393 Calories from Fat 135

% Daily Value*

Fat 15g23%

Saturated Fat 3g19%

Polyunsaturated Fat 2g

Monounsaturated Fat 9g

Cholesterol 51mg17%

Sodium 180mg8%

Potassium 1011mg29%

Carbohydrates 50g17%

Fiber 6g25%

Sugar 13g14%

Protein 18g36%

Vitamin A 0IU0%

Vitamin C 0mg0%

Calcium 0mg0%

Iron 0mg0%

* Percent Daily Values are based on a 2000 calorie diet.