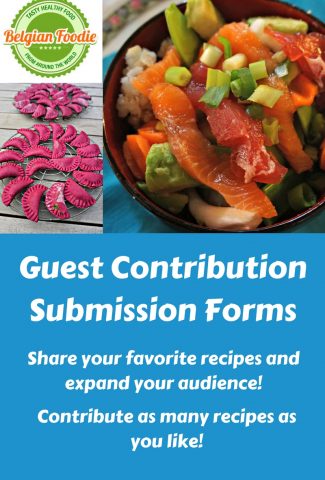 Welcome to this Guest Contribution Submissions Page!
I am so pleased you have decided to share one of your favorite recipes on the Belgian Foodie® site.
Please use the two forms below to provide your biographical and background information (first form) as well as your favorite recipe (second form). In the first form, you may also provide the story behind your recipe or any other text to introduce your recipe, as you would for any blog post.
While you are not obliged to fill out the first form, you are required to fill out the second form to add your recipe. The personal information you share through the first form will allow readers to get to know you as an author and to find more of your recipes.
You will be notified as soon as your recipe has been approved and ready for publication.
For more information on the submission procedure and criteria, please review the following description. If you have any questions, please use the Contact form to reach me. Thanks again for your wonderful contribution!
Form 1 – Guest Contribution and Bio Summary (Optional)
[ap-form]
[ap-form-message]
Form 2 – Recipe (Required)
[ultimate-recipe-submissions]
[hide]
Guest Contribution Submission Forms
[/hide]