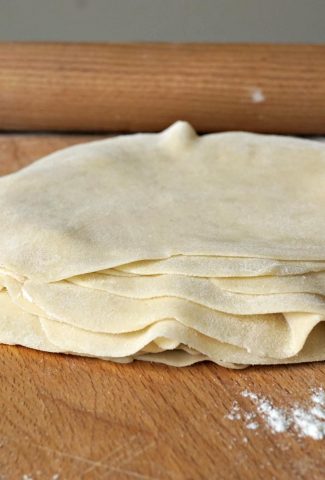 Why Make Your Own Handmade Wonton Wrappers?
Wonton wrappers are known by several names: dim sum wrappers, dim sum skins, and dumpling skins, among the most common Yet in the end this single basic Handmade Wonton Wrapper recipe will help you prepare yummy dim sum dumplings to eat steamed, grilled or fried.
There are other types of dough for other types of dim sum. To make make buns you will need a dough with a leavening agent, such as yeast or baking powder. For dumplings to boil in wonton soup, you will need a sturdier dough usually made with eggs added. Last there is a transparent dough to make delicate steamed dumplings that allow you to see the filling inside.
When you can find basic wonton wrappers easily in most major cities, why bother to make your own? Here are the top 5 reasons that come to mind:
First, it takes only a couple minutes to prepare the dough.
Second, kneading the dough is a real pleasure as the dough become so smooth and soft.
Third, you can control the quality of the ingredients you use to prepare your own Handmade Wonton Wrappers.
Fourth, you surely have all the ingredients (flour, water, salt, and vegetable oil) on hand at all times so can make a batch of Handmade Wonton Wrappers whenever you need them. If you are like me, your package of store-bought wonton wrappers are probably in the freezer so difficult to use at the last minute.
Fifth, it's so much fun to roll out each wonton wrapper before you fill it with the mixture of your choice.
I love making Handmade Wonton Wrappers because they must be the easiest of any dough to prepare and I enjoy so much how they feel when stretching them out. Last week, I made some Vegan Pumpkin Dumplings, which in recent years have become one of my fall favorites! Try them and see what you think!
I have made Handmade Wonton Wrappers with some whole wheat flour (1/3 whole wheat flour to 2/3 white flour). These whole-wheat Wonton Wrappers were good but not as easy to stretch as the basic Handmade Wonton Wrapper recipe below.
Another time I made chicken dumplings with a peanut sauce using Handmade Wonton Wrappers prepared with turmeric. The turmeric gave the wonton wrappers a yellow tint without really adding much flavor.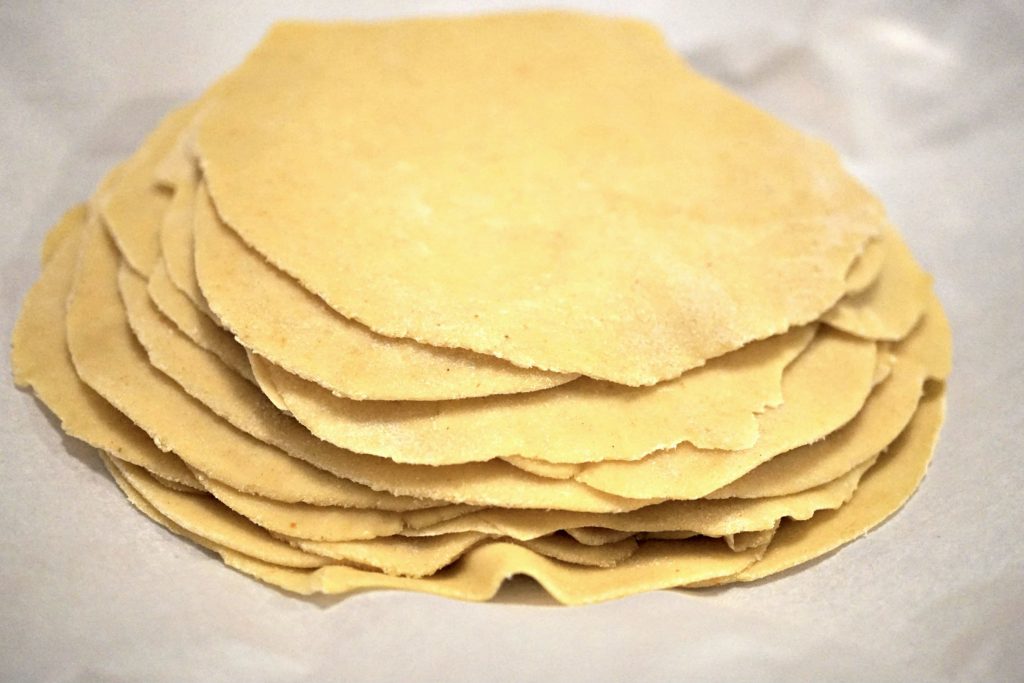 Try making your own Handmade Wonton Wrappers the next time you want to make homemade dumplings. If you make too much dough, you can freeze the unrolled dough or a pile of individual rolled Handmade Wonton Wrappers for future use.
Need more ideas for dim sum recipes, there are currently almost 400 recipes on my Pinterest board Dim Sum – Potstickers – Dumplings – Asian. Just click on this link to find inspiration for your next meal. Or discover 5 Uses for Wonton Wrappers presented by kitchn as appetizers or quick meals.
Don't forget to share comments about your experiences with this basic Handmade Wonton Wrapper recipe or dim sum in general. I'd love to read about your creations and see photos. Please share this recipe with your friends.
Handmade Wonton Wrappers
Wonton Wrappers are easy and fun to make by hand. Instead of buying store-bought Wonton Wrappers, try making your own.
Ingredients
350

g

all purpose flour

115

ml

boiling water

60

ml

water

cold (room temperature)

1

pinch

salt

1

tbsp

vegetable oil

neutral flavor
Instructions
Preparing the Dough
Put the flour in a mixing bowl. [Optional: at this point you can add 1/2 teaspoon of spices, such as ground ginger, curcuma, red pepper, matcha tea, or ground coriander, if you want to flavor or color your dough.]

Pour the boiling water onto the flour and begin mixing with a wooden spoon until you get a rough dough.

Add the salt and cold (room temperature) water. Continue to mix with the wooden spoon until the dough comes together.

Knead the dough about 5 minutes to make it elastic and smooth. If the dough is too sticky, add a little more flour. If the dough is too dry, add a little more water. Try adjusting with only a little flour or water at a time.

Pour the vegetable oil into the mixing bowl or on a hard clean surface. Roll your dough into the oil and continue kneading until the oil becomes incorporated. When you are done, the dough should feel like an ear lobe (soft and smooth). [Optional: at this point you can add some fresh herbs, such as coriander or mint, with 1 tablespoon of water to add flavor].

Optional: Roll the dough in plastic wrap and leave it to sit or put in the refrigerator about 30 minutes. This step is not absolutely necessary but does help to roll out the dough better. You can even leave the dough up to a couple of days in the refrigerator before rolling it out.
Rolling out the Dough
Roll the dough out into a long log form with a diameter of about 1 cm (1/2 inch). You might need to cut it in half and roll each one out into a log.

Slice the dough into 32 individual pieces of about the same size. I usually cut in half, then cut that space in half, then cut those spaces in half until I get 32. If you end up with another number, do not worry. Your Wonton Wrappers will be a bit smaller or bigger than mine.

Put some flour down on a hard surface. Take one piece in your hand and roll into a ball. Use a rolling pin to make the disk flat. You want the dough to stretch but not break. I usually take the rolled out piece of dough in my hand and stretch it LIGHTLY from the center to the outside like you would a pizza dough. Be careful.

Put the finished Wonton Wrapper onto a floured surface or non-stick surface and continue rolling out each piece in the same way. If you do not need 32 wrappers, you can either freeze the unrolled part of the dough in plastic wrap or roll out the dough and then freeze the pile of unused Wonton Wrappers in plastic wrap. These will keep a while, but it's recommended to use within 1 to 2 months. Just take them out a couple hours in advance to defrost before using.

Use the Wonton Wrappers as instructed in your recipe. Enjoy!
Nutrition
Nutrition Facts
Handmade Wonton Wrappers
Amount Per Serving
Calories 43
Calories from Fat 4
% Daily Value*
Fat 0.4g1%
Sodium 9mg0%
Carbohydrates 8g3%
Protein 1g2%
Calcium 0mg0%
Iron 0mg0%
* Percent Daily Values are based on a 2000 calorie diet.