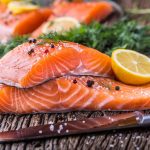 What Super Foods to Eat to Stay Healthy
We all wonder what we need to eat to stay healthy.  Everywhere we look there's advice on a new diet to follow, the latest foods to eat to live forever, and the required physical exercises to do to stay in shape.
All this information can be a bit overwhelming and confusing.  Fortunately, here's an infographic created by Susan Conley at Cook the Stone summarizing a list of superfoods to add to your diet, along with their health benefits.
Click the infographic above to discover more images depicting the health benefi…
Read More