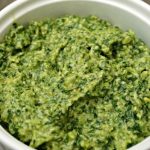 (Skip to Recipe)
Wild Garlic Pesto on Pasta is a Springtime Favorite

Memories Triggered by Wild Garlic
The sense of smell can trigger strong memories, no matter how faraway they may be.  Wild garlic, also known by many other names, such as ramps, spring onion, ramson, wild leek, bear's garlic, and wood leek, is probably my most faithful olfactory trigger.  Wild garlic is not actually a variation of garlic, but rather a variation of leek.
At 16 years old I lived on a farm in Belgium as an exchange student.  Farm life was different in almost every way from my life in Los Angeles….
Read More