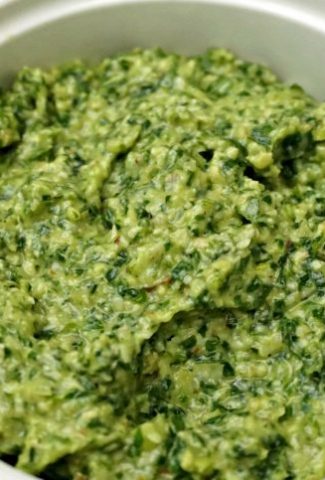 Wild Garlic Pesto on Pasta is a Springtime Favorite
Memories Triggered by Wild Garlic
The sense of smell can trigger strong memories, no matter how faraway they may be. Wild garlic, also known by many other names, such as ramps, spring onion, ramson, wild leek, bear's garlic, and wood leek, is probably my most faithful olfactory trigger. Wild garlic is not actually a variation of garlic, but rather a variation of leek.
At 16 years old I lived on a farm in Belgium as an exchange student. Farm life was different in almost every way from my life in Los Angeles. After school I'd walk home to the farm, a few kilometers from the train station. The last stretch of my walk brought me through a woody area filled with wild garlic during spring. Wild garlic favors shady, humid areas, like woods. This strong onion-like smell seemed to linger in the air for months.
Whenever I smell wild garlic now my memories go back to this extraordinary year as an exchange student living in the countryside. It was a happy time when I felt more centered with my feet firmly on the ground.
New Memories of Wild Garlic
One of my first posts last year described a long walk taken with a friend in the park behind my house to gather some wild garlic. Follow this link to read more about this wonderful spring day. Gathering wild garlic can be a delightful excuse for taking a walk in a wooded area during spring and breathing in the fresh air.
This year I've been enjoying making a lovely wild garlic pesto that blends magically with pasta. Pasta with a dollop of Wild Garlic Pesto makes a tasty, healthy and quick lunch or supper.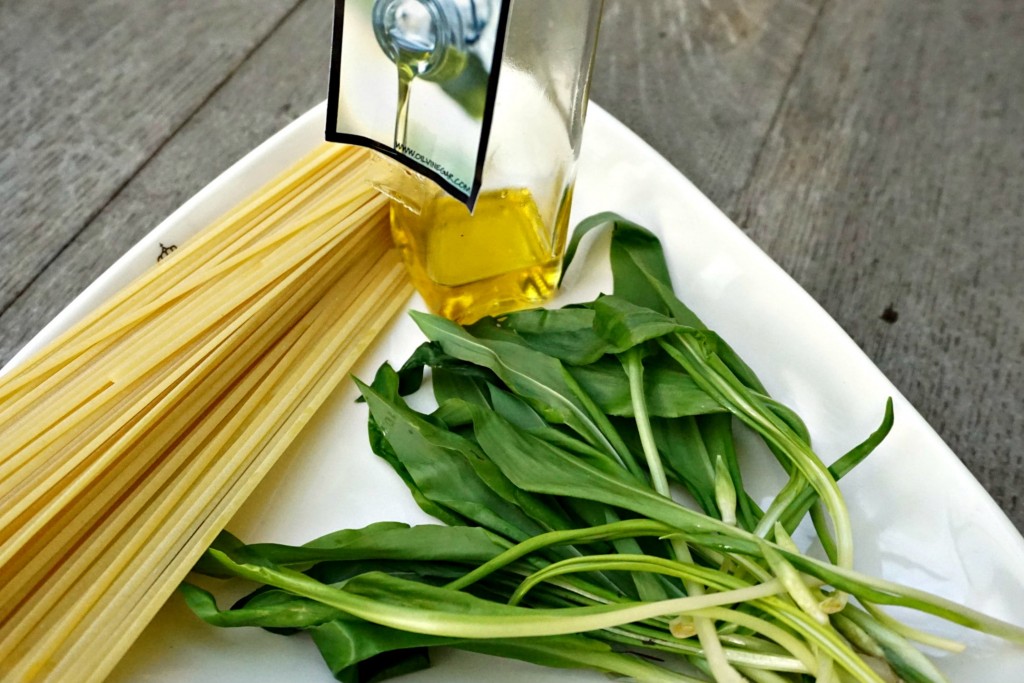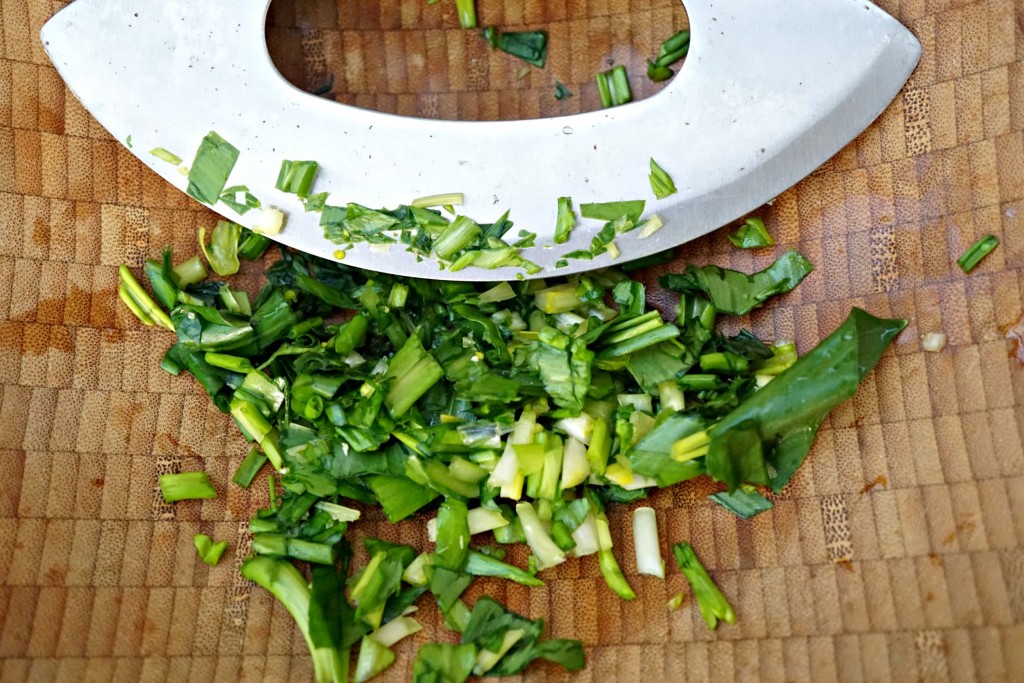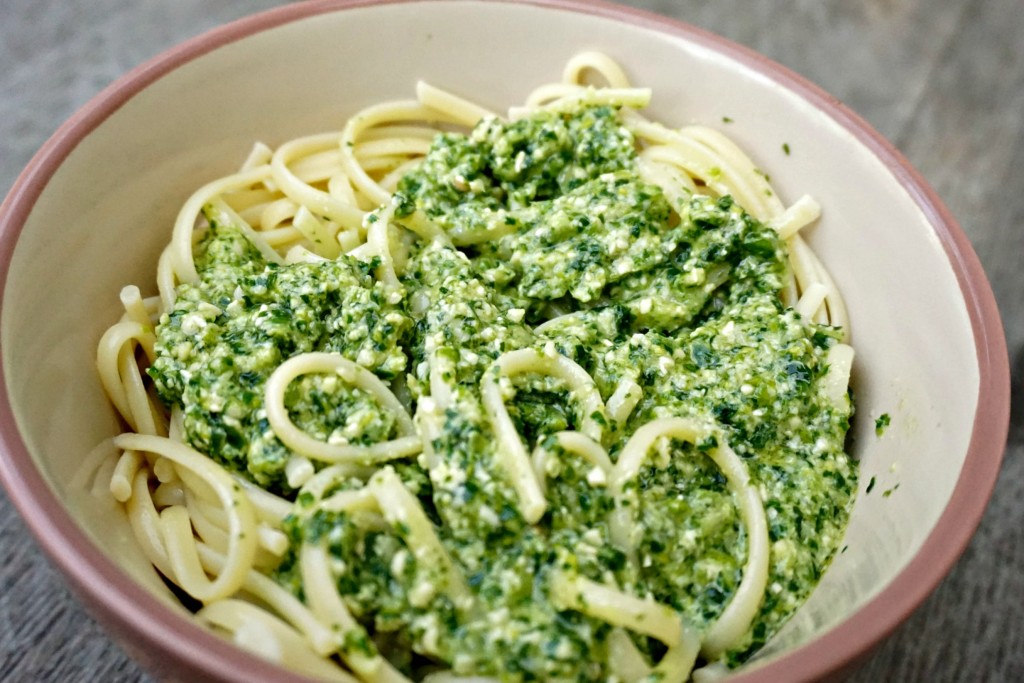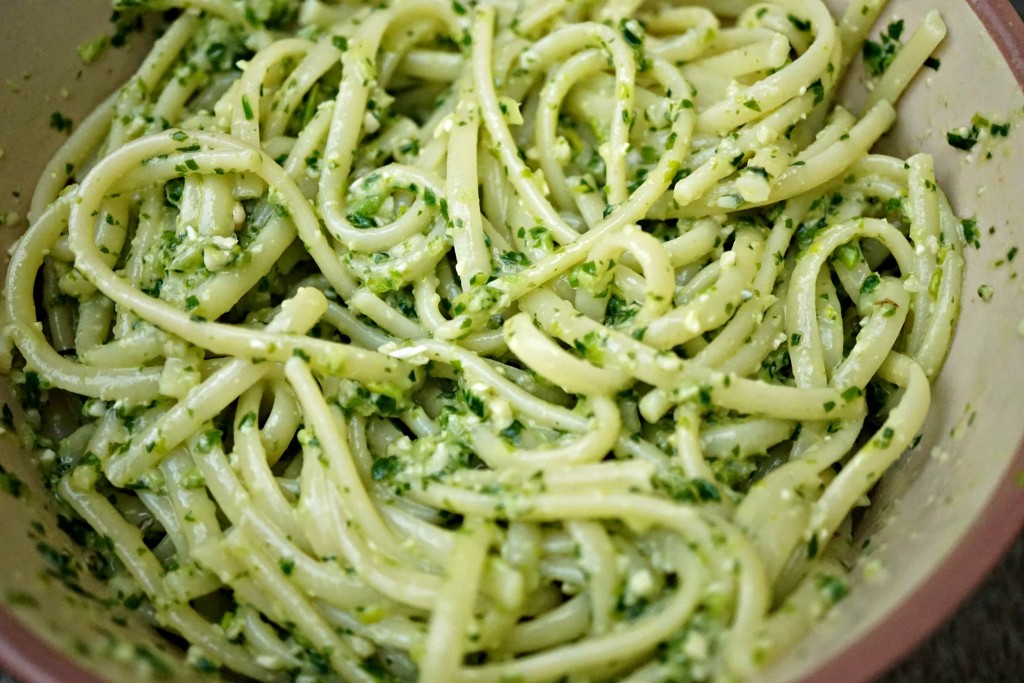 Create Your Own Wild Garlic Pesto
Enjoy a taste of spring by experimenting with wild garlic. For my Leek Quiche with Wild Garlic recipe, a few wild garlic leaves adds a subtle flavor that elevates the quiche to a new high.
Wild Garlic Pesto can be used to spread on bread for sandwiches, as a first layer or a topping for pizza, or any other dish you may imagine creating. Stir a teaspoon or two of Wild Garlic Pesto into some hot vegetable soup at the last minute to bring out more flavor. If you are lucky to have a little Wild Garlic Pesto leftover, try different ways to enjoy it.
Taste some Wild Garlic Pesto this spring and discover its wonderful smell and distinct flavor when used fresh. If you find the garlic taste too strong for you, feel free to blend in some other greens into your pesto to dilute the flavor. Arugula, spinach leaves, escarole lettuce, to name a few other greens, are each a good choice for reducing the garlic flavor of this pesto.
Click on the links below to share this recipe with your friends on your favorite social media platforms. Please remember to use the comment area below to share your feedback. I'd appreciate if you would also rate this recipe after trying it.
Wild Garlic Pesto
Wild Garlic Pesto triggers the memories of past spring times and will soon become an annual tradition in your family. One portion of this wild garlic pesto will cover at least 500g (1lb 2oz) of pasta.
Ingredients
100

g

wild garlic

leaves chopped (see notes)

40

g

pine nuts

or walnuts grounded

50

g

Parmesan cheese

finely grated (See notes)

40

ml

olive oil

salt

pepper
Instructions
By Food Processor and By Hand
Remove any stray or wilted leaves. Remove the outside layer around the white ends of the wild garlic leaves. You remove these layers in the same way as you would for green onions or leeks. Wash the wild garlic leaves and strain to remove excess water.

Grate the Parmesan cheese. For this I prefer using the fine mesh on the strainer so the cheese blends better with the other ingredients. See note below re: Parmesan cheese.

If you want a more nutty flavor in your pesto, toast the pine nuts in a pan over a medium heat on the stove or in the oven. Be careful to move the pine nuts around regularly to avoid them burning. This should only take a few minutes. If you don't want to enhance the taste of the nuts, you can skip this step. Grind the pine nuts (or walnuts) using a coffee grinder or using a rolling pin over a sealed plastic bag containing the nuts.
By Food Processor
Put the first three ingredients into the bowl of the food processor. Turn the food processor on about 10-20 seconds or until these ingredients start to blend.

Add the olive into the bowl as you continue to process the ingredients. The olive oil should be added gradually.

Continue to process until you have the consistency that you like. Add salt and pepper to taste . Now it's ready to use.
By Hand
You can use a pestle and mortar or a chopping board to prepare the ingredients. Start with a little salt and some of the wild garlic leaves. Start pounding down or chopping finely. Add some olive oil along with more wild garlic leaves. Continue in this fashion until the consistency is pretty much as you like.

Add the grounded nuts and grated Parmesan cheese and continue mixing together until you have the consistency that you want.

Add salt and pepper to taste . Now it's ready to use.
Notes
1. If you find the garlic taste too strong for you, feel free to blend in some other greens into your pesto to dilute the flavor.  Arugula, Spinach leaves, escarole lettuce, to name a few other greens, might each be a good choice for reducing the garlic flavor of this pesto.  If you use other greens, still add the same total quantity of greens to make this pesto.
2. You may not need all the Parmesan cheese indicated in the recipe.  The amount indicated is an average.  You might want less or more.  I'd recommend starting with about 20% less than what's indicated and then add more finely grated Parmesan cheese until you get the taste you want.  You can also make the pesto with less cheese and then put additional grated Parmesan cheese in a bowl on the table when you serve.  Each person can thus have the amount of cheese they want.
Nutrition
Nutrition Facts
Wild Garlic Pesto
Amount Per Serving
Calories 205
Calories from Fat 171
% Daily Value*
Fat 19g29%
Cholesterol 9mg3%
Sodium 249mg11%
Potassium 13mg0%
Carbohydrates 4g1%
Protein 6g12%
Vitamin A 0IU0%
Vitamin C 0mg0%
Calcium 0mg0%
Iron 0mg0%
* Percent Daily Values are based on a 2000 calorie diet.