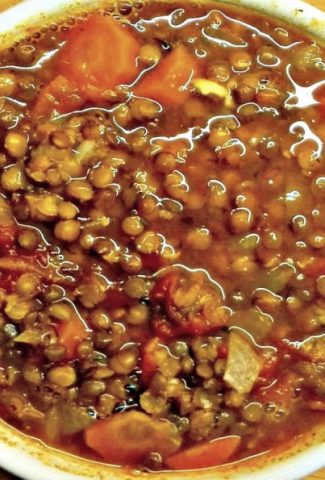 A Vegan Lentil Tomato Soup sure to please the whole family!
Lentils are Inexpensive and Nutritious!
Lentils are considered to be one of the healthiest foods available. They are also one of the least expensive sources of protein and other nutrients vegans need in their diet. Adding lentils to soup is a simple way to get the nutrition you need. Preparing this Lentil Tomato Soup will therefore be a tasty way to get the protein you need.
I enjoy all kinds of lentils: brown, green, yellow, and red. Brown lentils tend to hold their shape better in soups. Yet, adding a handful of red or yellow lentils to a soup will make your soup healthier and thicker while not changing the taste very much.
Making Lentil Tomato Soup
This yummy healthy Lentil Tomato Soup can be made in less than an hour start to finish. It will bring you and your family the nutrition it needs at a budget price. My family loves this lentil tomato soup, especially in the winter when it warms the body along with the soul.
This delicious soup is vegan and gluten-free. To discover more vegan tomato-based soups, follow this link.
Prepare this Lentil Tomato Soup soon for your family and let me know how they like it. It can easily be doubled for larger groups or reduced by half if you are making it for 1-2 persons. Thanks for sharing this recipe with your friends and passing on your comments below.
Lentil Tomato Soup: Vegan
A healthy and inexpensive vegan lentil tomato soup for you and the family.
Ingredients
2

tbsp

olive oil

500

g

onion

200

g

carrots

100

g

celery

4

cloves

garlic

300

g

brown lentils

750

g

tomato

fresh or canned tomatoes - gross weight

3000

ml

water

3

cubes

vegetable bouillon

or a little more according to your taste

2

bay leaves

1

tsp

thyme

add more thyme and other herbs, such as oregano, if desired

2

tsp

salt

1/4

tsp

black pepper

1 1/2

cups

brown rice (cooked)

add more if you like. See notes
Instructions
Put the olive oil in your pot over a medium flame. Add the onions and sauté them for a couple minutes before adding the carrots and celery. Continue to sauté the vegetables another couple minutes before adding the garlic.

Add the lentils and stir until they are covered in the oil. Stir while leaving the pot on the flame 1-2 minutes. Then add tomatoes, the bay leaves, bouillon cubes and the water. Cover the pot and bring to a boil, at which time reduce the heat to low flame and let it simmer for more or less 30 minutes (until the lentils are cooked yet still a little firm).

I recommend cooking the rice separately according to the instructions for your rice (generally 2 times the volume of water for 1 volume of uncooked brown rice). You can cook the rice in the soup by adding it at the same time as the lentils but the rice will remain more firm if you prepare it separately.

Add the salt and pepper according to your taste. Enjoy your meal!
Notes
Add the salt at the end since the lentils will cook better without salt.  You can then adjust the salt according to final taste.
1 1/4 cups / 200 g of uncooked brown rice makes 1 1/2 cups / 240 g of cooked brown rice.
Nutrition
Nutrition Facts
Lentil Tomato Soup: Vegan
Amount Per Serving
Calories 209
Calories from Fat 36
% Daily Value*
Fat 4g6%
Sodium 679mg30%
Potassium 318mg9%
Carbohydrates 43g14%
Protein 12g24%
Vitamin A 0IU0%
Vitamin C 0mg0%
Calcium 0mg0%
Iron 0mg0%
* Percent Daily Values are based on a 2000 calorie diet.