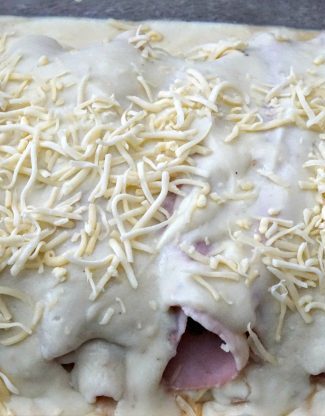 What is a Mornay Sauce?
A Mornay sauce is essentially a bechamel sauce with a combination of cheese melted in. Some know the bechamel sauce by its less elegant name of white sauce. Bechamel sauce definitely sounds better, even if it's basically only milk, flour and butter with a little salt, pepper and nutmeg. That's it!
Traditionalists add an egg yolk to give it more creamy consistency (and reduce the amount of flour used). Yet I don't think it's necessary. I also often use olive oil instead of butter to improve its health benefits and make it vegan if I'm going that way.
With a Mornay sauce, at the end you add a combination of grated cheese, usually made up of Gruyère, Emmental, and Parmesan, or any single cheese. White cheddar or other cheeses can be used if you are feeling less conventional. A Mornay sauce is a wonderful base for any Mac and Cheese dish!
Vegans can replace the cheese and milk called for in this recipe with a nut-based alternative. They should also use olive oil instead of butter.
Try this sauce soon and let me know what you think. Feel free to season it a bit differently if it suits your dish. Thanks for sharing this recipe with your friends.



Mornay Sauce
A simple sauce to give a comfort feeling to many dishes looking for creamy yumminess!

Servings: 1 liter
Ingredients
Roux
100 ml olive oil or equivalent in butter
60 g all purpose flour (or non-gluten alternative)
Sauce
1000 ml milk low fat (or other if you prefer) - See notes
100 g cheese grated (Parmesan, Emmental and/or Gruyère)
1 pinch nutmeg freshly grated or ground
white pepper or black pepper if you don't care it's not pure white
2 dashes salt to taste
Instructions
Roux
Mix the olive oil and the flour together in a small bowl until you have a grainy paste. This paste is called a "roux" as it will help thicken a sauce as it cooks. Some people like it thicker than others and start with 1/1 olive oil to flour ratio. I use less flour here yet my sauce ends up thick enough, especially if you will add it to a dish that will bake further in the oven.

Put a sauce pot over a medium flame. Add the roux mixture into the heated pot and stir. Continue until it starts boiling (small bubbles) (2-3 minutes).
Sauce
Add cold milk (see notes) and whisk the ingredients together making sure it is smooth. Continue stirring from time to time until the milk begins to boil gently (small bubbles on the edges.

Add the salt, pepper and nutmeg to taste.

Reduce heat to low flame and continue heating the mixture in the pot until you reach the thickness that you like. Remember it will thicken further when you add the cheese and even more if you use this sauce in a casserole that will cook more time in the oven.

Remove the pot from the stove. Add the grated cheese and stir until melted and the sauce is smooth.

Adjust seasoning and use.
Notes
With a Béchemel sauce or any sauce made from a Béchemel sauce, it is essential to start with cold ingredients (butter and milk) and only add the milk when the roux is hot (slightly boiling). The combination of hot-cold is required to get a smooth consistency. This sauce can be made vegan, gluten-free or more rich if you like.   If you use low fat or nonfat milk you might need to cook a little longer to get the thickness you like OR need to add a little more flour.  
Nutrition
Nutrition Facts

Mornay Sauce

Amount Per Serving (1031 g)

Calories 1968 Calories from Fat 1323

% Daily Value*

Fat 147g226%

Saturated Fat 43g269%

Polyunsaturated Fat 12g

Monounsaturated Fat 86g

Cholesterol 163mg54%

Sodium 1768mg77%

Potassium 1739mg50%

Carbohydrates 98g33%

Fiber 2g8%

Sugar 57g63%

Protein 62g124%

Vitamin A 0IU0%

Vitamin C 0mg0%

Calcium 0mg0%

Iron 0mg0%

* Percent Daily Values are based on a 2000 calorie diet.