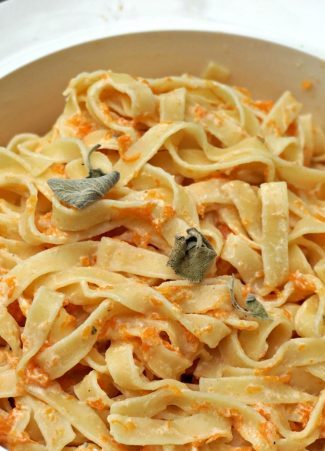 Pumpkin Sage Pasta: an Autumn Seasonal Favorite!
As the years pass, time seems to go by faster and faster. Thankfully, a few dishes each season help mark the time and leave us with fond memories. The past ten years, Pumpkin Sage Pasta (pasta with a pumpkin-sage sauce) has been one of my family's favorite dishes each autumn. It's tasty, healthy and easy to make. In short, a perfect combination.
I usually prepare this yummy dish with nests of De Cecco Pappardelle egg pasta. One box of 500 g (18 oz approximately) feeds 3 adults with robust appetites. However, the same portion can feed up to 6 people with smaller appetites.
For today's recipe I used De Cecco Tagliatelle egg pasta since their Pappardelle was not available. I've tried this pumpkin-sage sauce with many different kinds of pasta over the years and prefer the width of the Pappardelle noodles. Yet, this pumpkin-sage sauce will taste great with any kind of pasta. Italians are fairly attentive about the kind of sauce to be paired with a particular type of pasta. Long wide noodles, such as Pappardelle, Fettucine and Tagliatelle, are customarily paired with a thicker, less smooth sauce. Long skinny noodles, such as Spaghetti, Linguine, and Vermicelli or twisted pasta, such as Fusili or Strozzapreti, require a lighter smoother sauce. For more information on pairing pasta with the right sauce, consult this list prepared by the BBC Good Food team. If you are expecting Italian guests for any pasta dish, be careful to match the sauce to the right pasta shape.
Fresh pumpkin is used for this recipe. I usually cook the pumpkin in a pot over the stove with a little bit of water. After removing any excess water, I then add the other sauce ingredients to the same pot, as it makes for an easier clean-up and saves time. Yet, if you have extra time you can roast the pumpkin in the oven ahead of time to bring out slightly more flavor.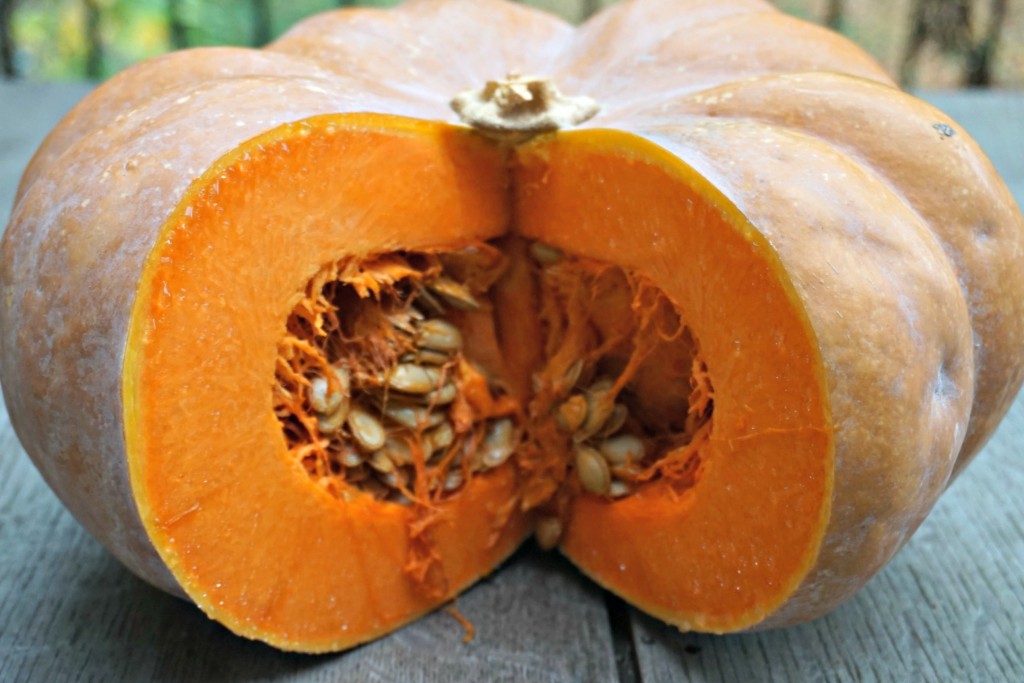 You can try to use canned pumpkin as a substitute for fresh pumpkin. Although I have never tried making this dish with canned pumpkin, as it is generally unavailable outside of the United States, I would imagine the final dish would have less color and flavor. At least, with canned pumpkin you can make this family favorite all year long. If you do try this Pumpkin Sage Pasta with canned pumpkin, please share your experience below in the comments.
Try this tasty Pumpkin Sage Pasta while fresh pumpkin is still available this season. It will soon become one of your family's favorite dishes and you will look forward to next autumn to prepare it again. Please share this recipe with your friends using the buttons below and leave me your comments.
If you would like to try other savory pumpkin recipes, check out my recipes for Pumpkin Tomato Lentil Soup (vegan) and Pumpkin Risotto (vegetarian). Enjoy!
Pumpkin Sage Pasta
Pumpkin Sage Pasta will soon become a family Autumn favorite, as it's tasty, healthy and easy to prepare!
Ingredients
Pasta
350

g

pasta

Pappardelle or Tagliatelle (dried)
Pumpkin Sauce
300

g

pumpkin puree

1 2/3 of this amount raw

150

g

ricotta cheese

6

sage

dry leaves (crumbled).

50

g

Parmesan

grated

25

g

Pecorino cheese

grated

black pepper

or white pepper

salt
Instructions
Cook Pasta
Boil water to cook dry. Typically put 1 liter (approximately 1 quart) of water per 100 g of dry pasta to be cooked. Cook the pasta according to instructions. Drain the pasta in a colander and reserve about 1/4 cup of the water for the pumpkin sauce if needed.

While cooking the pasta, prepare the Pumpkin-Sage Sauce.
Pumpkin-Sage Sauce
Remove skin from pumpkin and cut into cube size pieces. Put the pumpkin pieces in a pot with the water. Put the pot over a medium flame and cover. Continue to cook 12 to 15 minutes or until the pumpkin can be pureed with a fork. Check every few minutes that there is a little water on the bottom of the pot. Add a little water if needed.

Break down the pumpkin with a fork or wooden spoon. Stir until fairly smooth, but no need to be totally smooth. Italian usually serve Pappardelle or Tagliatelle pasta with a rustic or chunky sauce.

Reduce the heat to low, add the crumbled sage leaves and the ricotta cheese. Stir further until blended. Cook gently about 2 minutes over low heat.

Remove pot from stove. Add the grated cheese and stir until blended. If the sauce needs more liquid, add a little of the water used to cook the pasta. The pasta water will help the sauce adhere to the pasta as well as give you the consistency that you need. Add salt and pepper according to taste and add a little more sage if needed.
Serving
Pour the pumpkin sauce over the cooked pasta (after drained of course). Serve with some additional grated Parmesan cheese on the side for your guests to add to their plate. Enjoy!
Notes
If you do not like sage, try with another dried herb, such as thyme.
Nutrition
Nutrition Facts
Pumpkin Sage Pasta
Amount Per Serving
Calories 306
Calories from Fat 99
% Daily Value*
Fat 11g17%
Cholesterol 39mg13%
Sodium 624mg27%
Potassium 406mg12%
Carbohydrates 36g12%
Protein 16g32%
Vitamin A 0IU0%
Vitamin C 0mg0%
Calcium 0mg0%
Iron 0mg0%
* Percent Daily Values are based on a 2000 calorie diet.