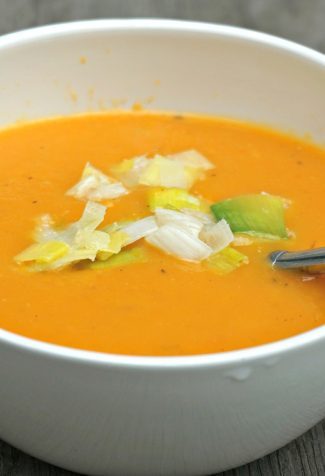 What makes this Pumpkin Soup so Sublime?
Every autumn I make pumpkin soup so many different ways. I prefer pumpkin soup with spices that give a little heat, such as cumin, cayenne, and turmeric. When I make a spicier version of pumpkin soup, I usually add an apple to soften and round out the flavors. Sometimes coconut milk serves the same purpose.
In Belgium, however, people generally prefer a creamy milder version of pumpkin soup. They usually add a little cream, milk or butter in the last minutes to add richness. This recipe for Pumpkin Soup with Roasted Garlic features more flavor than the usual creamy soup while the flavors remain subtle. Yet, it has no cream, milk or butter and relies only on the pumpkin itself to give its smooth consistency. The result is a soup that is simply sublime!
Often I prepare this tasty soup with fresh pumpkin, peeled and chopped into large pieces. I add them directly to the pot over the stove with the other ingredients. However, if you have more time and want even more flavor you can roast the pumpkin with its skins still on in the oven. It will take about an hour to roast the pumpkin, depending on the size of the cuts of pumpkin. The soup, nevertheless, will still be yummy even if you do not roast the pumpkin.
I shared this recipe on my Facebook profile before I even dreamed of having a food blog. At that time it was rare for me to post recipes, not because I did not want to share, but because my recipes changed each time depending on the ingredients on hand and my mood. I decided however to share this recipe a few years ago because it tasted so delicious. I felt compelled to note it down for safekeeping and of course to share the goodness with others.
What are some other options for this Pumpkin Soup?
This recipe for Pumpkin Soup with Roasted Garlic is vegan, making it a healthy choice for you and your family. I love it the way it is presented here.
If you prefer a creamier version, you can add a little non-dairy cream or milk in the last minutes of cooking. Or for added richness, a drizzle of pumpkin seed oil (or hazelnut or walnut oil) on top of each bowl at the time of serving. Likewise non-vegans can use chicken broth or dairy cream if they like. Feel free to add other ingredients in your soup like coral lentils, sweet potatoes, potatoes, carrots, or other items that inspire you. Frankly, I don't think any of these additions, except perhaps the lentils and pumpkin seed oil, improve the soup, yet wanted to present you some options to consider.
Serve this Pumpkin Soup with Roasted Garlic as a starter next time you receive guests. It would also be perfect for a light lunch or dinner accompanying a sandwich or slice of quiche.
If you would like to try other savory pumpkin recipes, check out my recipes for Pumpkin Tomato Lentil Soup (vegan), Pumpkin Risotto (vegetarian), or Pumpkin Sage Pasta (vegetarian). Enjoy!
Please share below in the comments your creations and experiences with this soup. I'd love to read your feedback and learn from your experiences. Forward this Pumpkin Soup with Roasted Garlic to your friends to share the joy.

Pumpkin Soup with Roasted Garlic
This Pumpkin Soup with Roasted Garlic is simply sublime with subtle flavors. This soup makes a perfect starter or lighter meal accompanying a sandwich or slice of quiche.
Ingredients
2

tbsp

olive oil

2

onion

peeled and chopped

3

leek

white parts only sliced

1750

g

pumpkin

fresh

120

ml

white wine

dry

1

head

garlic

roasted

1

tsp

thyme

dried

1500

ml

vegetable broth

or equivalent in water and bouillon cubes

1

tsp

salt

1/2

tsp

black pepper

freshly ground or white pepper
Instructions
Roasting Garlic
Preheat oven to 200° C / 400° F. Take one head of garlic with the skins on and wrap it in foil. Put the foil ball on a tray in the oven. Cook about 30 minutes until the garlic is soft and slides out of the skins. Roasting the garlic softens its pungency, rendering the flavor of this addition more subtle.
Soup
Prepare the vegetables: Dice the onions into small pieces. Wash the leeks and slice the white parts into large coin size pieces. With a knife remove the skin of the pumpkin. It is easier if you do this by section. Then cut each section into large cubes.

Pour the olive oil in a large pot over a medium heat. When the oil is hot, add the onions. Continue to cook the onions for a few minutes until the onions become translucent.

Add the leeks and continue to cook about five minutes to soften them up and let out flavor.

Add the pumpkin into the pot and continue to cook up to 5 minutes, stirring periodically.

Add the white wine and let it cook and bubble for a few minutes.

Add roasted garlic (without skins), thyme and, if you are using them, bouillon cubes. Let simmer for a minute or two.

Add the vegetable broth (or water if you added the bouillon cubes above). Bring to a boil and then reduce heat and leave to simmer covered for about 30 minutes.

Remove the pot from the heat. If you have a hand blender, use it to blend the soup into a smooth consistency. If you do not have a hand blender, put portions of the soup into a blender and mix until smooth. Continue until all soup is blended.

Add the salt and pepper. Taste and adjust seasoning.

Serve in bowls and, if you like, add some additional sauteed leeks on top as shown in the featured photo. Enjoy!
Nutrition
Nutrition Facts
Pumpkin Soup with Roasted Garlic
Amount Per Serving
Calories 81
Calories from Fat 18
% Daily Value*
Fat 2g3%
Sodium 351mg15%
Potassium 449mg13%
Carbohydrates 14g5%
Protein 2g4%
Vitamin A 0IU0%
Vitamin C 0mg0%
Calcium 0mg0%
Iron 0mg0%
* Percent Daily Values are based on a 2000 calorie diet.