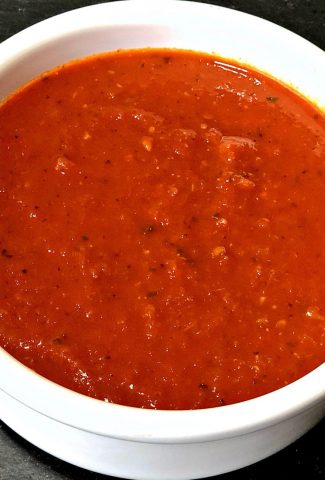 (Cliquez ci-dessous pour la version française de la recette)
Recette Sauce rouge pour enchiladas – fr
Is this the best Red Enchilada Sauce recipe?
You will have to try this Red Enchilada Sauce to find out!
I've tasted many enchilada sauce recipes, including many popular ones on Pinterest. Personally, I find this Red Enchilada Sauce recipe to be simple and somehow more refined and tasty than others.
How Much Time to Make Red Enchilada Sauce?
You can prepare this Red Enchilada Sauce in less than an hour.
How Many Servings Does this Recipe Make?
There is enough sauce in this recipe for sixteen ample-size enchiladas.
What to Do With Extra Red Enchilada Sauce?
I often make a bit more so we have some extra sauce in the house for a few days afterwards to add into other dishes. For instance, I add a little Red Enchilada Sauce into some soup to enhance the flavor. Or put a few tablespoons into a pasta or rice dish to give an extra zing. It's also great to have some extra Red Enchilada Sauce handy to put on a few quesadillas for a quick snack or meal.
This Red Enchilada Sauce also freezes well for a couple months in an airtight container. Prepare some extra so you will always have some ready for an impromptu meal.
How Healthy is this Red Enchilada Sauce?
Looking at the nutritional data provided below or this Red Enchilada Sauce recipe, it also appears to be healthier than many, especially if you reduce the amount of salt used.
Try this enchilada sauce recipe out and let me know what you think! Test it out with these recipes for Vegetarian Enchiladas and Chicken Enchiladas.
Cinco de Mayo is a perfect occasion to test this recipe with some enchiladas. Actually, enchiladas makes a wonderful dish for any meal shared with friends or family.
Please share it with your friends to get their opinions. Remember to share with me below how this recipe compares to other recipes you've tried.
Red Enchilada Sauce
Homemade Red Enchilada Sauce to bring your enchiladas to the next level higher!
Ingredients
1

tbsp

olive oil

150

g

red onion

10

g

garlic minced

1

tbsp

chili powder

1

tsp

cumin

1

tsp

oregano

1/8

tsp

allspice

60

ml

white wine

or dry sherry or lager beer

6

tomato

or equivalent in whole or crushed tomatoes undrained in can. See notes.

120

ml

vegetable broth

1/4 bouillon cube and ½ cup of water

1

tbsp

honey

for a vegan version try agave nectar or organic raw cane sugar

1

tbsp

Worcestershire sauce

1

tsp

salt

1/4

tsp

black pepper

15

g

coriander - cilantro

added at end when preparing the enchiladas or serving sauce

150

g

green bell pepper

Optional. If you want spicier try 1 tbsp of diced jalapeño peppers diced instead of bell pepper See notes.
Instructions
Put the olive oil in your pot over a medium flame. Add the onions and let them sauté for 2-3 minutes before adding the garlic. Continue to sauté the onions and garlic 1 more minute. [If you are adding green bell peppers or jalapeno peppers add them with the garlic and sauté 1 extra minute.]

Add the chili powder, salt, oregano, allspice and bouillon cube if using and mix with the onions and garlic for about 1 minute.

Add the white wine and let simmer 2 minutes.

Add the tomatoes, broth, honey (or agave nectar), Worcestershire sauce, salt and pepper. Bring to a boil and then reduce to low heat and continue to cook covered for about 20 minutes or until the sauce has a good consistency. If there's too much liquid continue cooking uncovered for a little longer until the consistency is good. If the sauce becomes too thick add a little water or broth to arrive at a good consistency.

Use a hand mixer or a blender to blend the sauce into a smooth consistency.

Before serving the sauce or using it for enchiladas, add the fresh coriander (cilantro).
Notes
Six tomatoes is equivalent to 800 g / 24 oz gross tomatoes in a can.
Two bell peppers is equivalent to 150 g / 5 oz diced bell peppers.  The bell peppers or jalapeño peppers are optional, yet make the sauce even better. If you want a more spicy sauce, add a few drops of Tabasco (or your favorite hot sauce) or some red chili flakes or cayenne powder at the time of adding the spices in step 2.
The sauce will remain good in the refrigerator for at least one week and in the freezer for up to 3 months. You can therefore make this sauce in advance to save time if you wish. Use the sauce in other dishes, for example, in a Mexican-style lasagna.
Nutrition
Nutrition Facts
Red Enchilada Sauce
Amount Per Serving
Calories 36
Calories from Fat 9
% Daily Value*
Fat 1g2%
Sodium 193mg8%
Potassium 100mg3%
Carbohydrates 6g2%
Protein 1g2%
Vitamin A 0IU0%
Vitamin C 0mg0%
Calcium 0mg0%
Iron 0mg0%
* Percent Daily Values are based on a 2000 calorie diet.