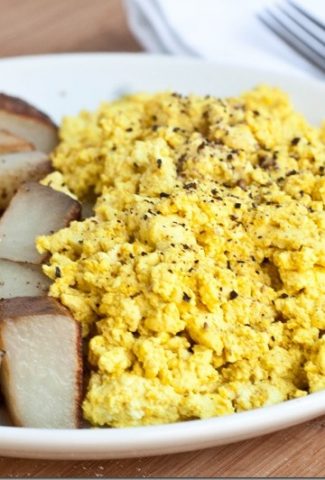 Is Scrambled Tofu an Easy solution for Vegans for Breakfast?
When eating out, why is it so difficult to offer a tofu scramble with the tofu actually blended or broken up to resemble scrambled eggs? Often restaurants instead prepare cubes of tofu sautéed with some vegetables, thereby presenting a dish that does not resemble scrambled eggs.
Actually a vegan version of scrambled eggs should be pretty straightforward to prepare, be quite inexpensive, and require pretty much same ingredients as the tofu cubes often served in restaurants..
How to Prepare a Vegan Version of Scrambled Eggs?
Follow this link to find a recipe for scrambled tofu on the site of The Wannabe Chef. As you will see the ingredients and steps required are fairly easy. Any choice of vegetables can be sautéed first in the pan before adding the tofu mixture. As with scrambled eggs, herbs, spices and veggies can be added to make a large variety of scrambled dishes to satisfy a range of tastes.
Help me spread the word about the ease of preparing a tofu scramble! Hopefully some restaurants will see how simple it is and start offering this dish for their vegan customers! Better yet though, customers can make this dish themselves at home while staying in their pajamas and sipping their coffee with their family.
How About a Vegan Breakfast Wrap?
This vegan version of scrambled eggs can easily be transformed as a breakfast burrito or wrap on the go. Smash some avocado into a guacamole sauce to spread on the tortilla and then add the eggs and perhaps some veggies or your favorite sprouts. Your imagination is the only limit to the possibilities that await you with these tofu eggs and a tortilla!