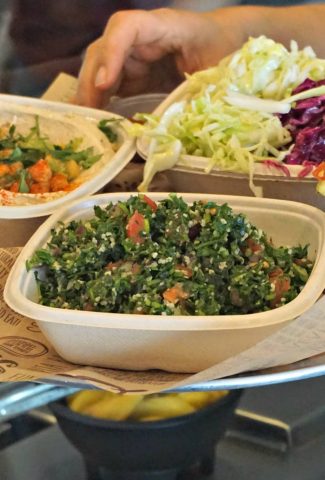 Why is Soom Soom one of my New Favorite Restaurants in Los Angeles?
Kismet led me to Soom Soom
A few weeks ago my son and I dined at Kismet, a new Middle Eastern / Mediterranean restaurant in Los Feliz that received raving reviews in Los Angeles Magazine.
Kismet did not live up to my expectations. Like many trendy restaurants for the moment, Kismet offers small plates intended to be shared. The food was tasty and presented in an attractive way. Yet, nothing wowed me, except their tahini sauce.
My son and I enjoyed our meal, even if we were somewhat disappointed. The prices, however, were too high for what we received. At that price level, there are so many other restaurants I would rather try.
At the end of our meal, we started talking to two gentlemen at the next table. They were also finishing their dinner. We exchanged our thoughts on this new restaurant. We agreed pretty much on all the points. One of the gentlemen, Zahi, owns a couple Middle Eastern / Mediterranean restaurants in Los Angeles and invited us to try the food at Soom Soom, his newest restaurant.
Soom Soom Restaurant
Location

Atmosphere

Food

Service

Price/Quality Ratio
Summary
Soom Soom is located in the heart of Los Angeles, close to fashionable shops and restaurants. It's atmosphere is tasteful for a casual service-at-the-counter restaurant. The Middle Eastern / Mediterranean dishes are fresh, tasty and healthy. Soom Soom's service is friendly and quick. For the quality of food served at Soom Soom, its prices are reasonable.
* Read this Explanation of the Belgian Foodie® Rating System to understand what these numbers signify.
Visiting Soom Soom
A few days later my son and I went eagerly to Soom Soom for lunch. In the following couple weeks I returned twice. Once with my son and a friend, and the last time alone. My comments here reflect my experience on all three visits.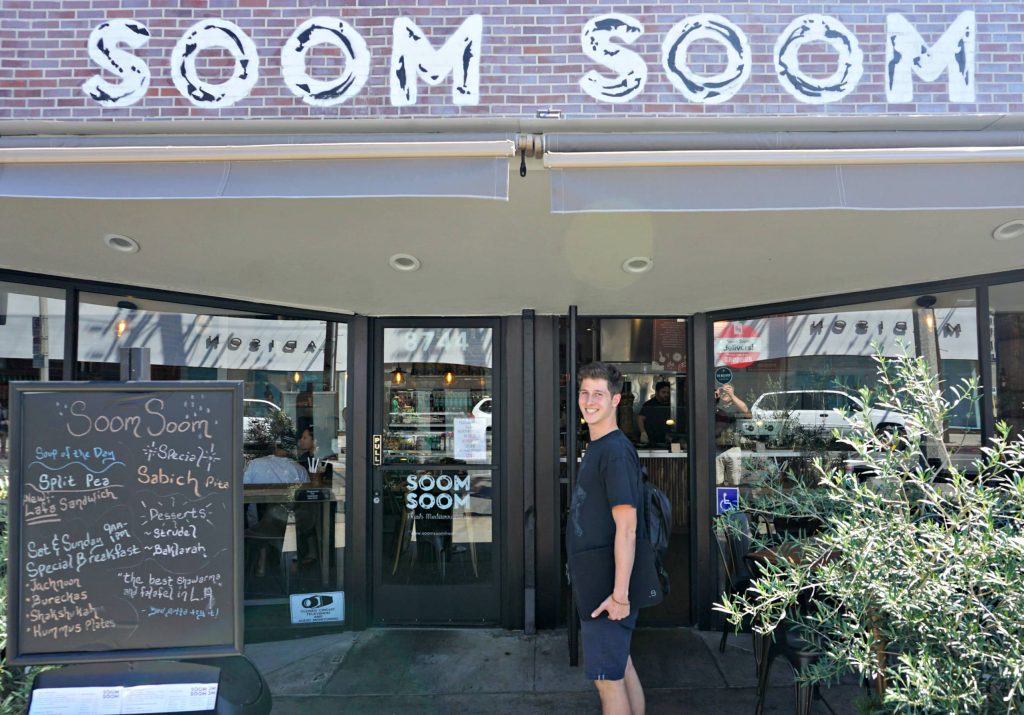 For the more curious, soom means sesame in Hebrew. So the restaurant's name means Sesame Sesame, or as I like to think of it, Sesame Squared, which shows the importance of sesame in this regional cuisine. Try their tahini sauce on your dish. It's delicious!
Location
Soom Soom is located on 3rd Street near Robertson Boulevard, just outside West Hollywood. Along the same side of the street as Soom Soom there are several trendy eating and drinking establishments.
It's across from Cedars-Sinai Medical Center and within close walking distance to shopping on Robertson Boulevard and the Beverly Center. Lots of people walk or drive by during the day. On a Saturday afternoon, however, we found parking very easily on a neighboring street. Otherwise, there's a public parking lot a block or so away on Robertson Boulevard.
Atmosphere
Soom Soom's atmosphere is very casual, yet is decorated very tastefully using many repurposed items.
Outside several tables are set up European-cafe style in an area separated from the sidewalk. On a sunny day (basically every day in Los Angeles) sitting outside is a nice option.
Inside a few tables are arranged in the center with about ten high chairs lined up under a counter by the front window. Customers can dine alone or together with friends. Some customers merely come to gather their food to go.
Food
Food sampling
Zahi Ofengart, the owner, offered us a selection of food to try.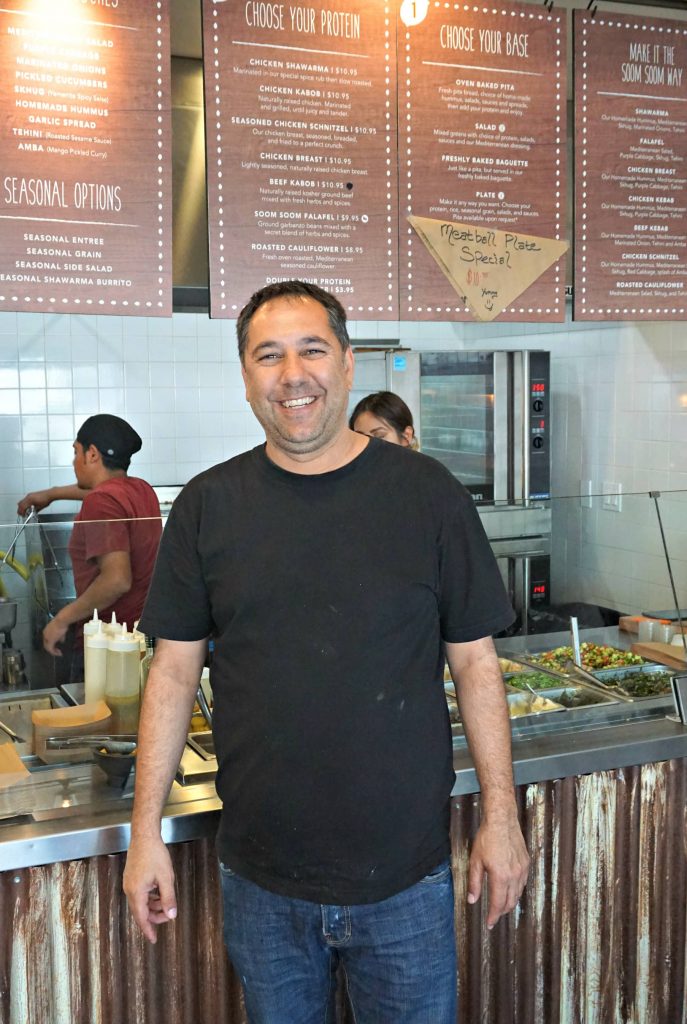 We started with pita stuffed with meat and fillings. My son chose beef shawarma while I selected chicken shawarma.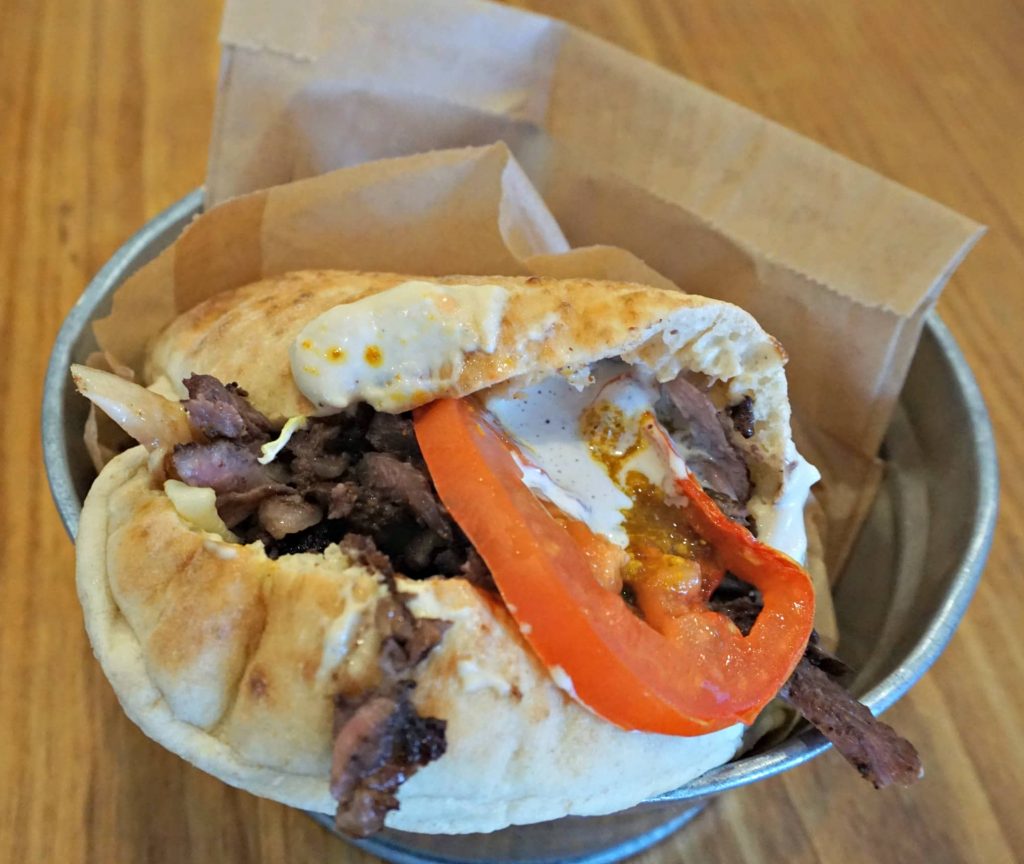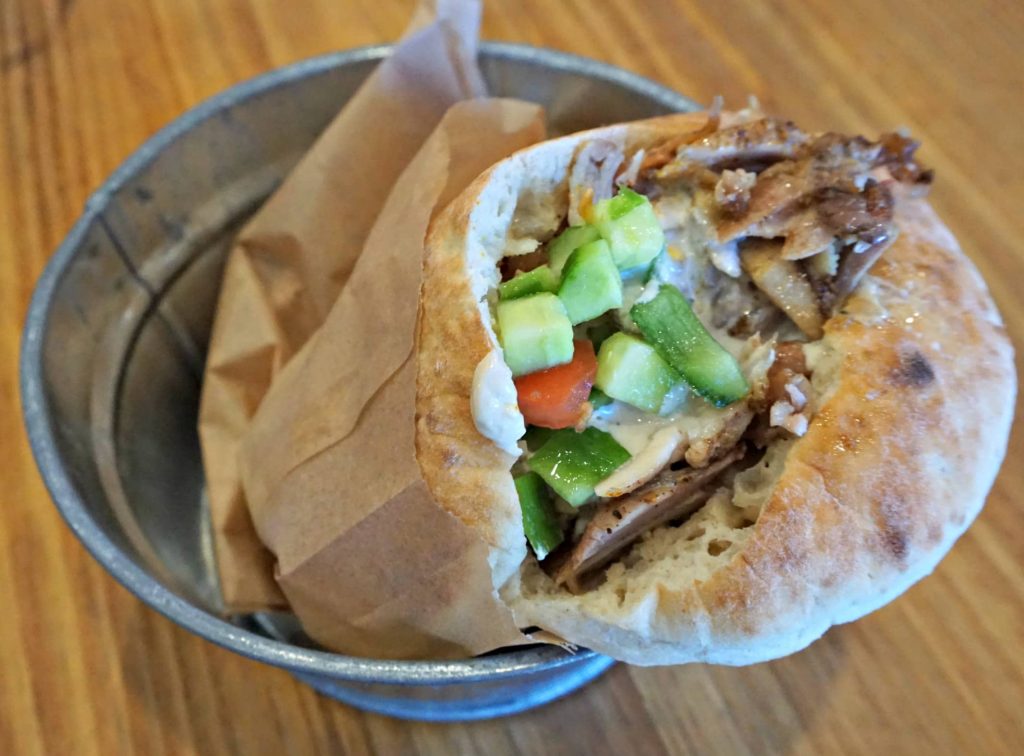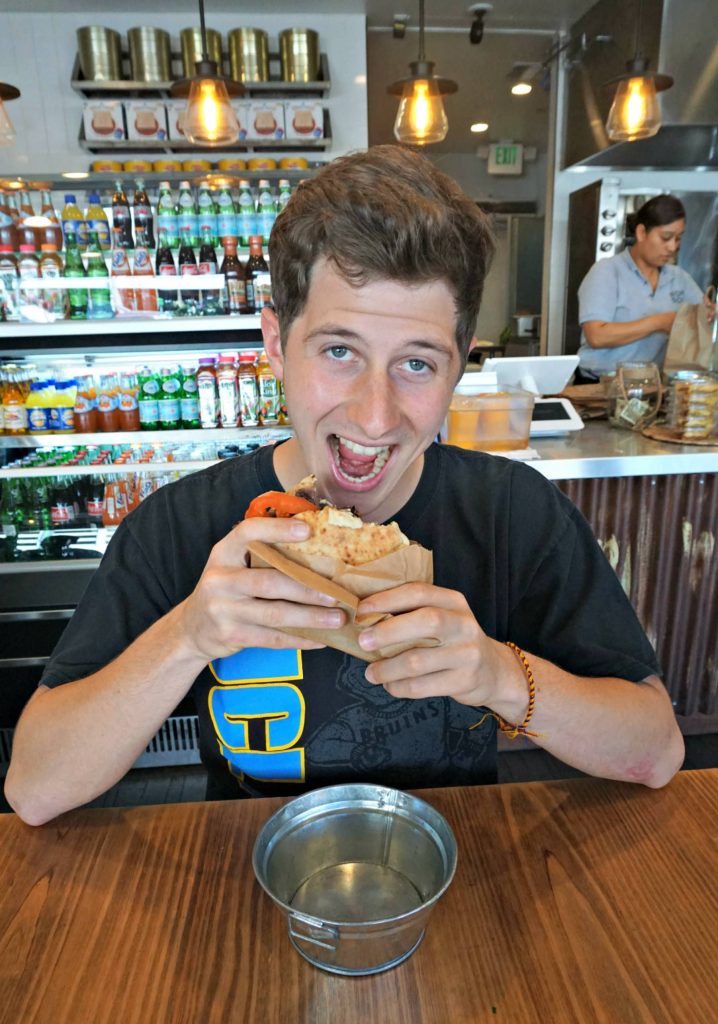 Next we tasted some side dishes, including falafel balls, roasted cauliflower, seasoned eggplant, chicken schnitzel, pickles, Israeli couscous and hummus.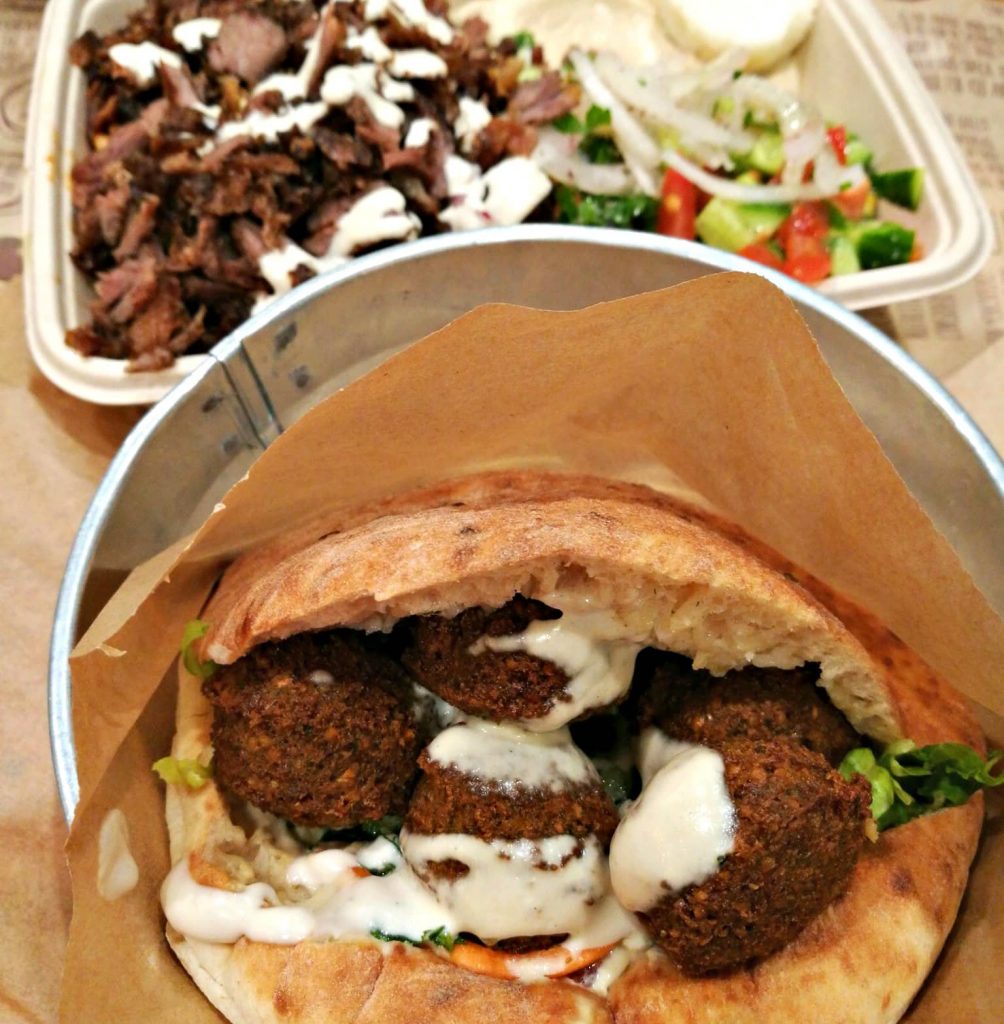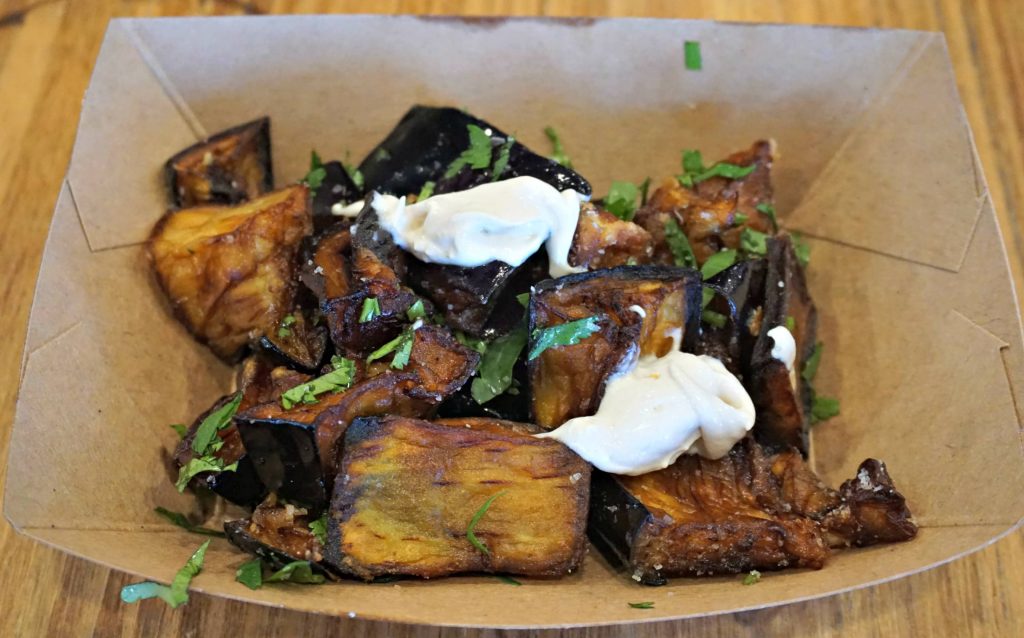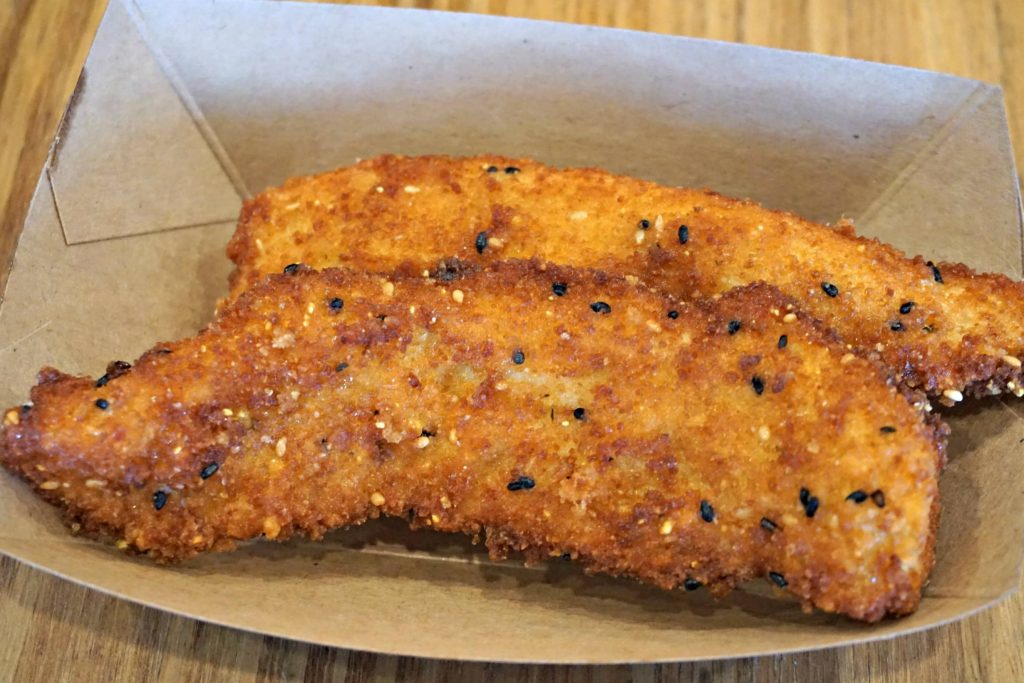 At the end we enjoyed some baklava for dessert.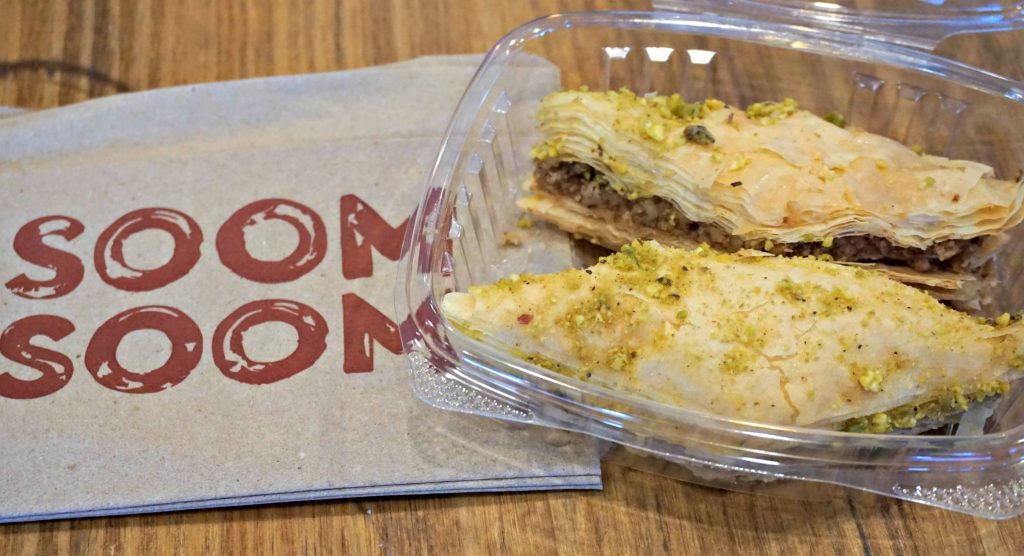 On another visit I tried the chicken kebob in a pita. The chicken was prepared on the grill in front of me. It was juicy and savorous.
All the ingredients were super fresh, tasty and healthy. Never had I tasted such a fluffy pita bread! Apparently it's flown in from Israel. The pita alone is worth a visit to Soom Soom. Everything was delicious. The blend of flavors was perfect.
Menu presentation
On my third visit,I discovered that Soom Soom changed its menu, making it a bit easier for customers to understand their choices. Customers essentially choose to have their meal prepared in a pita bread, on a baguette, wrapped in a lafa (aka Taboon bread), or on a plate. The selection of ingredients is the same, as is the price. It's merely the presentation and way of eating that changes.
Service
Service at Soom Soom is friendly and quick. You order at the counter, unless you've called your order in beforehand. Your dish will be prepared and sometimes cooked in front of you.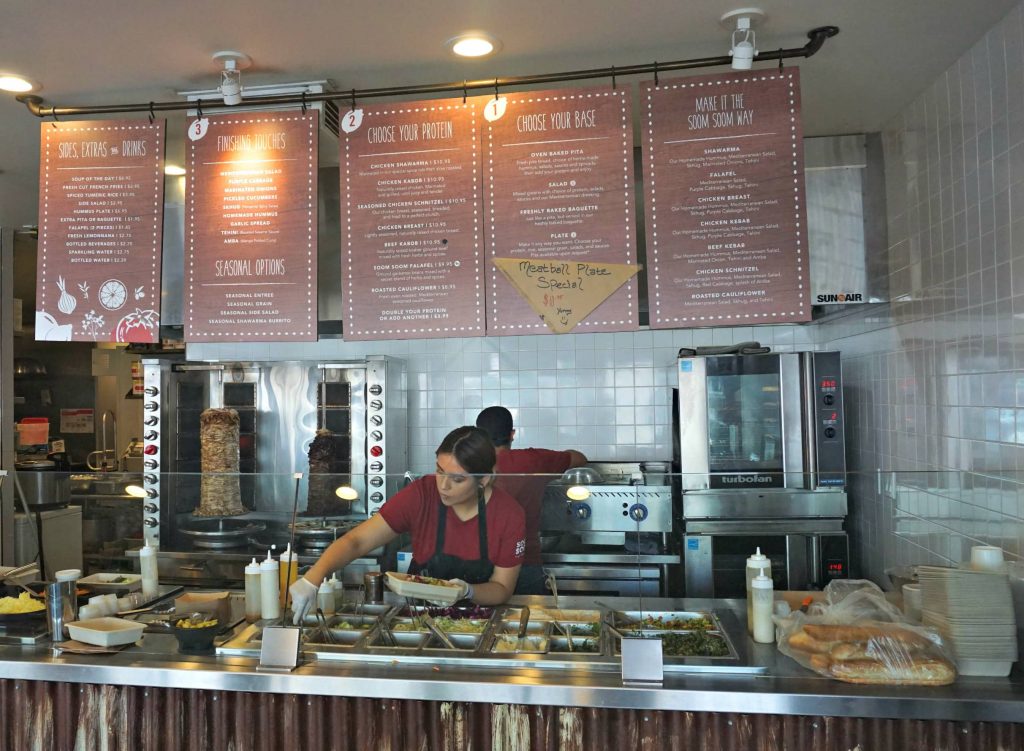 If you are not sure what to order, let them make the choices for you. Tell them the kind of meat you want and the way it should be presented (pita, baguette, lafa or plate). Mention if you like it spicy or more mild, sweet or pickled. They can then select for you the toppings that will blend well together for your taste.
Price/Quality Ratio
The prices are very reasonable for what you receive. On my last visit, I paid less than $15.00 for my pita dish and a drink. I consider spending less than $20.00 to be reasonable for a meal accompanied by a drink.
I find the food to be tasty, fresh and flavorful. With a fairly wide choice of toppings, everyone can design a dish that suits their needs and tastes.
I wish Soom Soom was in my neighborhood. It's the kind of place I'd go to a couple times a week instead of preparing dinner or lunch. I would know in advance the food would be really good, healthy and fresh. For a fair price, I could enjoy a meal among friendly people.
You will have to try it sometime to experience authentic Mid-Eastern / Mediterranean food in the heart of Los Angeles.
Or visit their kosher sister called Dr Sandwich nearby in Beverly Hills. Dr Sandwich always seems bustling with people when I pass by. I will have to go there soon. Perhaps I'll see you at one of them.