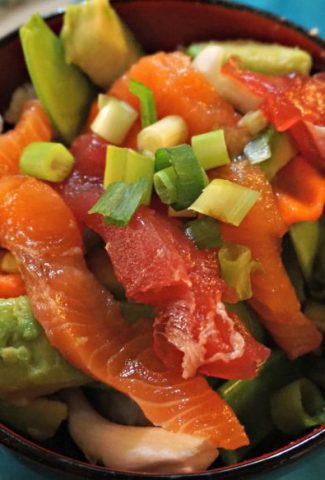 What Makes Sushi Bowls an Extraordinary Meal?
When I'm looking for a special meal which takes little time to prepare, sushi bowls (properly known as chirashi sushi) quickly comes to mind. Sushi bowls are tasty, healthy and fun to eat with friends. Sushi bowls also take little time to prepare.
What else would you want to know before making sushi bowls for your friends? All you need to make sushi bowls is fresh sushi-grade fish, quality vegetables, home-made condiments and rice. You can use pretty much whatever fish and vegetables you like. For fish I often use salmon and tuna since they are the easiest to find in Brussels and generally liked by my kids and friends. You will not need much fish, as generally it takes only about 4 ounces / 120 grams of fish per person since rice and vegetables will make up most of your sushi bowl.
For vegetables I like sliced carrots, cucumbers, green onions, avocados, daikon radishes and anything else you might add inside sushi. Cutting the vegetables in attractive shapes and sizes is essential for making this dish even more special. Some people slice seaweed into thin slivers to add on top of the sushi bowl for decoration and added seasoning. Although the seaweed adds a special touch, it is not essential.
Most people do not give much thought to the condiments needed in a dish. I find however that good homemade condiments can make a decent dish really excellent. This is even more true with sushi bowls since the ingredients do not have much flavor on their own and need the pickled ginger (gari), wasabi paste and rice vinegar to make the dish stand out. Anyone can buy pink pickled ginger and wasabi, but only people who care about the final result will take the couple minutes (literally!) it takes to make your own pickled ginger and wasabi. Click on the links in this post to get the recipes for pickled ginger and wasabi.
Finally, for the rice you can use white sushi rice available in most supermarkets today. However, I use whole-grain brown short rice to make this dish even healthier. There's no need to use special brown sushi rice, as any whole-grain brown short rice will do. Follow this link to see the recipe for brown sushi rice. Make sure however it's organic to avoid eating the chemicals found on non-organic whole-grains.
Sushi Bowls: The Perfect Meal?
A guide to making Sushi Bowls for your next special occasion.
Ingredients
1

recipe

brown sushi rice

480

g

raw sushi-grade fish

4

carrots

6

green onions

50

g

daikon radish

2

cucumber

1

avocado

2

sheets

seaweed paper

cut in narrow ribbons

4/5

recipe

wasabi paste

1/2

recipe

pickled ginger

(gari)

150

ml

soy sauce
Instructions
Prepare the brown sushi rice, wasabi paste and pickled ginger. Follow the recipes linked above for each of these recipes if you are making them yourself. If you purchase the wasabi paste and pickled ginger, assemble these in separate small dishes. If you make white sushi rice, skip the first step in the brown sushi rice recipe and follow the second step.

Slice the raw fish in thin slices and assemble on a plate.

Wash, peel and cut the raw vegetables in nice size pieces. I often use a special cutting knife to prepare my carrots with ridged edges. Try to make the vegetable pieces attractive. If you are creative, you can make shapes so the bowls are more decorative. I usually put the vegetables in separate bowls on the table so everyone can choose what they want in their own bowl.

Put the sushi rice in a large bowl on the table. If you prefer you can put some rice in each person's bowl to start. I place everything on the table and let everyone arrange their bowl as they please. This choice makes the meal more fun and friendly as you have to ask others to pass down a bowl of your favorite ingredient.

Place the condiments (wasabi paste, pickled ginger and soy sauce) in separate dishes on the table. I often leave the soy sauce in the bottle.

Call everyone to the table and enjoy!