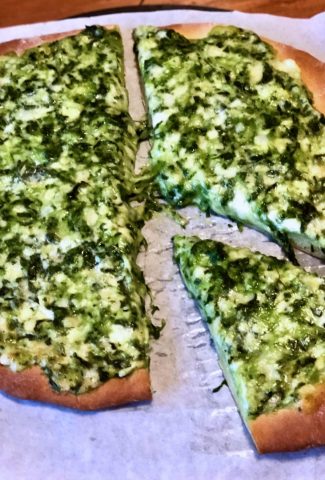 What is a Swiss Chard Pie?
It's a pie in the same sense that pizzas, quiches and other similar savory dishes can be considered a pie. It starts with a layer of dough on the bottom, then is topped with a mixture of Swiss chard, parsley, onions and cheese, and finally is baked in the oven until golden brown.
What Inspired this Unique Dish?
I have Georgian and Belgian cuisines to thank for inspiring me to make this super delicious combination. When I say Georgia, I mean the Causcasus country, not the US state.
Georgian inspiration
Last spring I had the pleasure of meeting Carla Capalbo at an International Association of Culinary Professionals (IACP) conference. Carla is the author of a wonderful book, Tasting Georgia: A Food and Wine Journey in the Caucasus. One of the first recipes I made from this book was the Georgian specialty cheese bread called khachapuri. You can read more about both the book and khachapuri in this post.
The dough for this Swiss Chard Pie with Parsley and Cheese was largely inspired by Carla's recipe for khachapuri. However, where khachapuri is a folded bread, in this recipe the dough is rolled out like a pizza and the vegetable-cheese blend spread on top.
Belgian influence
Nivelles, a town about a half hour south of Brussels, is famous for a delicious local specialty called tarte al d'jote made with Swiss Chard and a kind of cream cheese only made in Nivelles. Surprisingly this pie can only be found in and around Nivelles. This uniquely semi-pungent cheese has roots back to the 13th century in Nivelles.
Fortunately for me, I spent a year in Ecaussinnes, a small town near Nivelles. Tarte al d'jote therefore starred at numerous buffets, suppers and lunches over the years. It is customarily served warm, sometimes with a little butter spread on top.
You can find three styles of tarte al d'jote. The first is with the Swiss chard and cheese mixture spread on the entire pie. The second is with only the local Nivelles cheese on top without any chard. And the third, as you can imagine, has half the pie with the chard and cheese mixture on top while the other half has only cheese. This third style is a party favorite since it caters to everyone's taste, as not everyone loves chard. The recipe featured here is for the chard and cheese mixture covering the entire top.
How's this Final Dish?
When I first tasted the khachapuri bread made from Carla's recipe, I loved how easy it was to make the dough and how soft it turned out. Something about the first bite made me think of tarte al d'jote and how fun it would be to try adding some vegetables, mushrooms or other ingredients to this classic Georgian bread.
I therefore made it again with some new touches. At first I folded the dough over the filling, like for the khachapuri, but found each bite slightly rich. Thus by rolling the dough out like a pizza with the chard-cheese mixture on top, the balance was perfect!
The dough is so easy to make. It takes only five minutes to mix and another thirty minutes to rest before rolling it out. It is still a little soft so you can substitute the dough suggested in the recipe with a pâte brisée dough if you prefer a slightly harder or chewier crust.
How to Serve Swiss Chard Pie with Parsley and Cheese
Heat the pie before serving it to your guests. A little butter spread on top when it comes out of the oven adds a nice touch.
A slice of Swiss Chard Pie with Parsley and Cheese accompanies a salad or a bowl of soup for a light meal. Yet, it's also wonderful as an appetizer with drinks or as part of a party buffet.
Any way you decide to serve this pie, your guests will find it surprising and tasty. No one will ever guess the ingredients of this pie and will be shocked when you tell them there's Swiss chard and parsley.
Enjoy a Swiss Chard Pie with Parsley and Cheese soon with friends and family. Then come back here and share your feedback.
Swiss Chard and Parsley Cheese Bread
A Swiss Chard and Parsley Cheese Pie will surprise you and your guests. It's easy to make, tasty, and unique! This savory pie will disappear quickly!
Ingredients
Dough
85

g

flour

(bread flour)

1/3

tsp

baking soda

1/4

tsp

salt

85

g

yogurt

drained or Greek

1 1/2

tsp

vegetable oil
Filling
100

g

yellow onions

diced

25

g

Swiss chard

chopped finely

15

g

parsley

chopped finely

110

g

Gruyère cheese

shredded

110

g

Fontina cheese

shredded

1

eggs

lightly beaten

1/4

tsp

salt

1/8

tsp

black pepper

30

g

butter

diced
Instructions
Dough
Mix the flour, baking soda, and salt in a bowl

Add the yogurt and half the vegetable oil to the bowl wth the flour. Mix first with a wooden spoon or fork and then with your hands. The dough should mix easily together. You may also use a food processor for this step.

On a lightly floured countertop or cutting board, knead the dough lightly, adding a little flour if needed, less than one minute until the dough is no longer sticky. Do not knead too long.

Use the remaining half of the vegetable oil to grease a bowl. Put the ball of dough in the bowl, turning it so it's lightly covered with oil. I usually rub the oil in a bit at this time so it is absorbed. Cover the bowl with a cheese cloth or towel and put it in the refrigerator for at least 30 minutes. Leaving it longer is ok.

When ready to roll, remove the dough from the refrigerator and roll it out on a floured surface as you would for a pie. Roll the dough into a circle with a thickness of about 1/8th inch (3 mm).
Filling
Preheat oven to 175º C or 350º F.

Finely chop the onions, Swiss chard and parsley by hand or in a food processor. If you use a food processor, do the onions before chopping the chard and parsley as the amount of time might be different. Be careful not to over cut the ingredients in the food processor, as the onions will emit too much liquid and the chard and parsley will become bruised.

Dice the Gruyère and Fontina cheese into very small pieces by hand or in a food processor. I usually do this in my food processor, using the same bowl after the onions, chard and parsley. Again be careful not to overdo it.

Mix the onions, Swiss chard, parsley and cheese in a big bowl. Lightly beat the egg(s) and then add it to the bowl. Mix together with a wood spoon or fork. Add salt and pepper to taste. Be careful because the cheese also contains sodium.

Dice the butter into nut size cubes to cover top.
Assembly
Roll out your dough onto parchment paper in any shape you want. Circles, squares and rectangles are easier to cut into slices to share.

Pour the filling on top of the dough and spread it to cover most of the surface, leaving a little space around the edges for spillover. Dot with the small cubes of butter.

Place the pie into the pre-heated oven on a baking sheet and bake for thirty minutes or until golden brown.