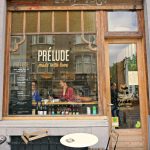 Prélude prepares healthy, tasty food!
Last week a good friend and I had made plans to have lunch together after I filed some documents at the court. She knew of a place in St Gilles (Brussels) that she wanted to take me. It turned out to be such a fun and pleasant discovery for me.
We found parking in front of the restaurant. Of course the parking came with a meter, but at least there seemed to be many spaces to park still available nearby.
Prélude
Location

Atmosphere

Food

Service

Price/Quality Ratio
Summary
Prélude offers fresh quality healthy food at reasonable prices. Prélude feels like a neighborhood place where people come back.
As you walk into the Prélude you see a glass counter displaying tempting seasonal dishes. The food is also all organic!
[caption i…
Read More