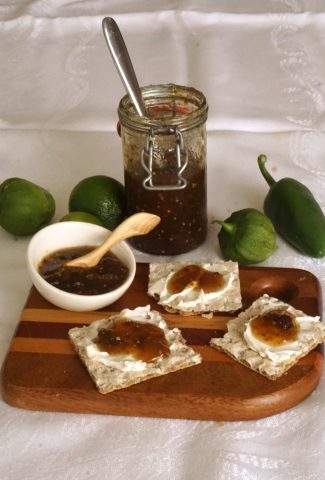 How My Groceries Inspired this Tantalizing Tomatillo Jalapeño Jam
Shopping Late at Night
Last night on my way home around 1 am, I passed a Food 4 Less, a huge discount supermarket. It's not my ordinary place to shop, but I figured it was an ideal time to check it out.
I love how many supermarkets in Los Angeles stay open 24/7 so shoppers can stop in whenever they want. I often go late at night to beat the crowds and enjoy the easier parking situation. After midnight workers restock shelves while shoppers roam leisurely around the store looking for goods. Perhaps not all customers take their sweet time choosing their purchases. But last night it seemed I had loads of time to walk down all the aisles and see what Food 4 Less had to offer.
Food from Around the World
The variety of food in Los Angeles from around the world is amazing. Several types of peppers typical of Latin America and Asia sit plentifully in bins waiting for takers. I immediately grabbed up a couple bags of dried peppers for my new kitchen. Dried peppers stay good a long time and are so versatile when cooking.
I often grind up the peppers into a powder that I can sprinkle on top of whatever I may be cooking on the stove. I enjoy creating my own special blend by mixing the ground peppers with other spices. Or using peppers to create condiments, such as harissa, salsas, jams or chutneys to enhance a dish or give it that extra wow factor.
After putting the bags of dried peppers in my cart, I saw large bins overflowing with tomatillos, little sour green husk tomatoes used in many Latin American sauces. Tomatillos come in lots of colors, yet last night only the green variety was on display. I had never cooked with tomatillos but when I saw that two pounds cost only one dollar, my creative juices started flowing.
While excited about the unknown possibilities with my tomatillos I noticed that jalapeño peppers were also on sale for 79 cents a pound. Now my possibilities expanded significantly. I could mix the fresh jalapeños with some dried peppers, mix the jalapeños with the tomatillos, or even prepare the jalapeños on their own without my other two other soon-to-be purchases. The idea of blending the tomatillos with jalapeños kept simmering in my mind.
Then I saw that limes were only one dollar per pound. Oh my goodness! In Belgium, I sometimes paid close to that amount for a single lime. I immediately decided to buy a couple pounds.
Eyes Bigger than my Stomach
Still in the produce section, I already had two pounds of tomatillos, two pounds of jalapeños, two pounds of limes, two large bags of dried peppers, along with some stray onions, green bell peppers and sweet potatoes in my cart. Initially I entered the store merely to take a look, not to buy anything since my cupboards and refrigerator at home were already filled.
I had far too much food in my cart for a newly single person living without kids. I am so used to buying larger quantities so I could cook up generous portions for my kids and their friends always stopping in for meals. Being on my own now, I need to change my shopping and cooking habits.
I was inclined to prepare some kind of condiment with these abundant dried and fresh veggies so that I could stretch them out much farther. Perhaps I could even share jars of my creation-to-be as gifts for the holidays.
Looking on the internet for ideas I noticed that many recipes called for pectin in jams using tomatillos or jalapeños. Pectin was amazingly the single item that this megastore did not have on stock. To keep my creative juices flowing I bought a large canister of California raisins to throw in the pot to give off pectin. Many fruits, such as raisins, apples, and apricots. naturally contain pectin and can easily be added to help naturally solidify this kind of creation.
Inspiration becomes Creation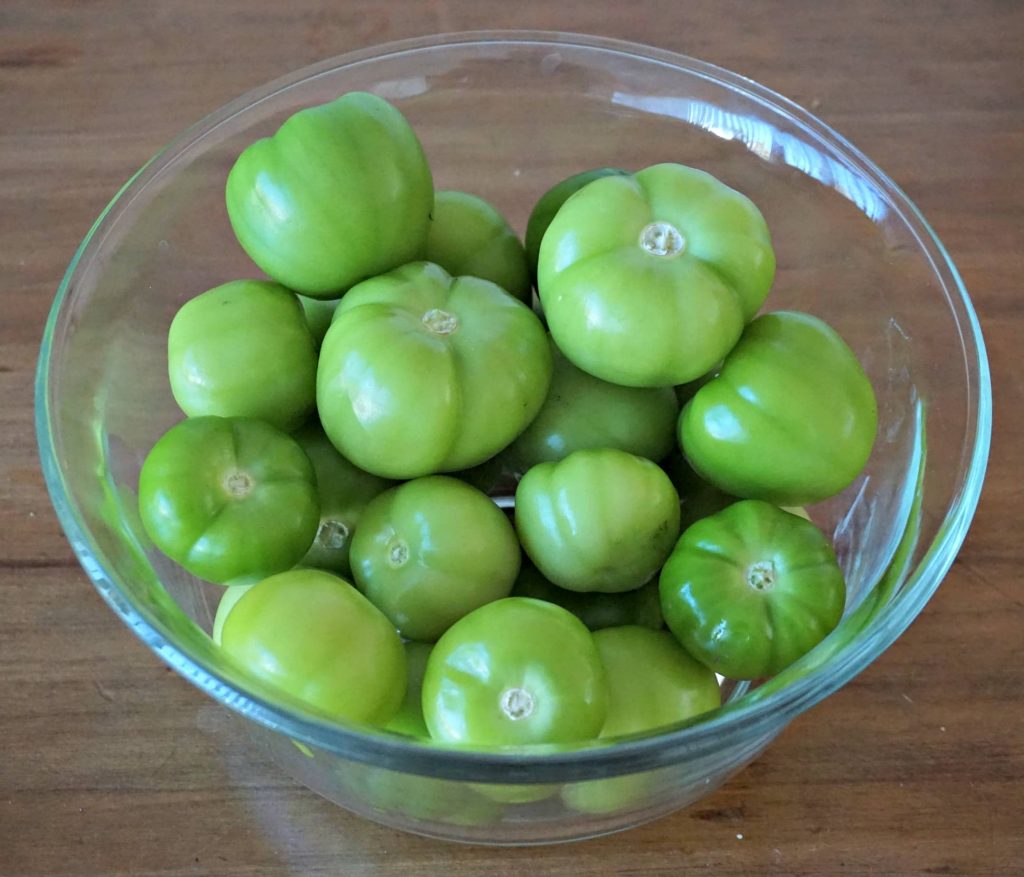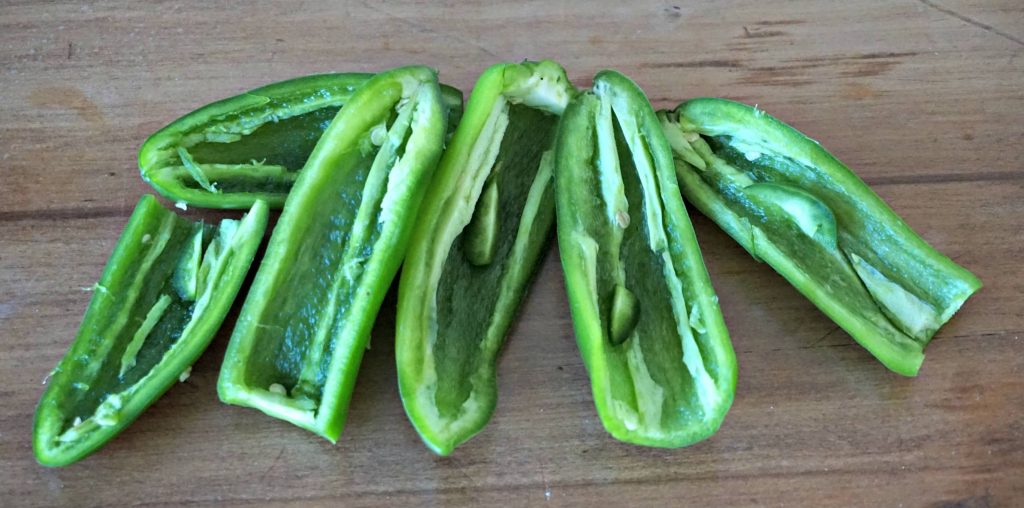 How to make Tomatillo Jalapeño Jam
When I returned home after 2 pm, I glanced at some recipes on Pinterest. Some used vinegar, while others used juice from citrus fruit, as the main liquid in the recipe. In the end I decided to use lime juice since I already had a large bag of limes in my kitchen. The Tomatillo Jam recipe created by Anni at Homestead and Gardens in particular inspired me in creating this recipe.
I had a fun time making this Tomatillo Jalapeño Jam. I hope you will too. The blend of spicy, sweet, and sour flavors, without any one of them overpowering the others, makes this jam ideal for enhancing a simple pleasure into something much more.
To learn more about making jam, read The Kitchn's guide How to Make Fruit Jam. It might help you create your own mixture of fruit jam.
How to use Tomatillo Jalapeño Jam
Tomatillo Jalapeño Jam is yummy on top of a soft mild cheese on a cracker or bread. Try to avoid something with a strong taste as it will compete with the subtle spicy flavor of the jam.
Tonight I put some Tomatillo Jalapeño Jam along with a little cheddar and jack cheese on a bagel and broiled it a few minutes in the oven. The Tomatillo Jalapeño Jam added such a special touch to this otherwise ordinary quick meal. Another time a friend enjoyed some Tomatillo Jalapeño Jam on top of cream cheese spread lightly on toast.
I would love to hear from you how you used this tantalizing Tomatillo Jalapeño Jam. Please use the social media links to share this recipe with your friends.
Tomatillo Jalapeño Jam
This tantalizing Tomatillo Jalapeño Jam is so easy to prepare, yet it will subtly enhance the flavors in your favorite dishes.
Ingredients
2

lb

tomatillo

2

jalapeno peppers

10

tbsp

lime juice

5.3

oz

raisins

14

oz

raw cane sugar

or other grain sugar
Instructions
Remove the husks from the tomatillos. Wash the tomatillos and slice them in half.

Wash, deseed and dice the jalapeños. You might want to wear gloves when deseeding the jalapeños to avoid irritation if you rub your eyes with your hands afterwards. Be careful to wash your hands well after handling the jalapeños.

Squeeze the limes and put the juice aside.

Put the tomatillos, jalapeños and lime juice into a stewing pot over a medium heat on the stove. Keep stirring gently about 10 minutes the mix in the pot until the tomatillos break down.

Bring the mixture to a boil and then keep simmering about 5 minutes until everything blends together.

Use a hand blender to mix the cooked tomatillos and jalapeños to a smooth consistency.

Add the raisins and sugar to the smooth mixture in the pot. Put the pot over medium heat until it begins to boil. Let it boil a couple minutes and then reduce the heat to a simmer.

Continue simmering about 10 minutes until you get the right consistency (it should drip thickly from the back of a spoon). Note the time is approximate. Don't overcook or it will become too hard. Remember that it will thicken more when it cools.

Pour the hot jam into hot sterilized jars. Fill them up almost to the top. Seal the jars.

Put the jars into boiling water in a pot over the stove. Continue to boil the jars for about 10 minutes. Remove gently the jars and let cool completely.

Enjoy the jam!
Nutrition
Nutrition Facts
Tomatillo Jalapeño Jam
Amount Per Serving (400 g)
Calories 579
Calories from Fat 18
% Daily Value*
Fat 2g3%
Sodium 13mg1%
Potassium 964mg28%
Carbohydrates 145g48%
Protein 3g6%
Vitamin A 0IU0%
Vitamin C 0mg0%
Calcium 0mg0%
Iron 0mg0%
* Percent Daily Values are based on a 2000 calorie diet.