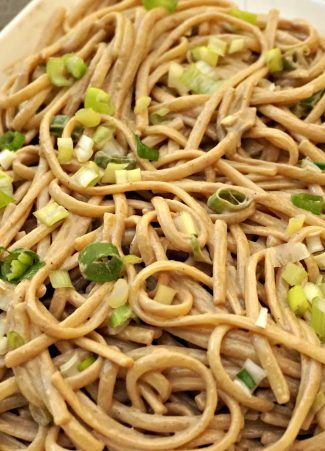 What makes these Sesame Noodles my go-to dish for lunch?
The Ease of Making Sesame Noodles
Working at home has several benefits, including an easy commute to work and dressing sporty casual every day of the week. My favorite benefit, however, remains being able to prepare tasty healthy lunches in less than 30 minutes.
Over the years I've tried many variations of salads, soups and pasta dishes. They make wonderful one-course meals that fill me up enough to hold until dinner time, with only a few apples in between. If I am in a super hurry, I'll make a sandwich, omelette or quesadilla.
One of my go-to lunch dishes is cold Sesame Noodles. My cold Sesame Noodles has all the flavor of the restaurant version, yet has so much less fat and sodium. I also try to throw in some veggies, such as slivers of carrots, zucchini, cucumber, bell peppers or whatever else I have on hand. I don't put in all these veggies at one time, yet do often put in two kinds of vegetables along with the mandatory diced green onions.
The Lovely Taste of Sesame
Sesame is one of my favorite tastes, especially when mixed with a little honey. A little sesame paste, known in many countries as tahini, spread with honey on toasted bread, pita or tortilla is heavenly for breakfast, a snack, or part of a lunch.
About five years ago I purchased a snack on Kalcin Sk, a street behind the Spice Market (Misir Carsisi) in Istanbul. This snack remains one of my most vivid gustatory memories. In one of the food stalls located on Kalcin Sk I tried a thin pancake with a mysterious mixture resembling sesame paste and honey. I'm not sure what the exact ingredients were in this delicious treat, despite many attempts to recreate it. Nevertheless, every time I eat sesame and honey together I relive those joyous moments in Istanbul.
This Sesame Noodles recipe contains only a small amount of honey, yet is not any less yummy. Please consider this recipe a starting point. You can add some ginger, garlic, chili flakes or fresh coriander (cilantro) to create your own version. If you want more protein, simply add slices of grilled chicken or tofu on top.
Use the social media links below to share this recipe with your friends. Come back to add your feedback and suggestions in the comments below.
Tasty and Healthy Sesame Noodles
Cold Sesame Noodles are a perfect Go-To dish for a quick, tasty and healthy meal. Try one or more of the suggested variations to maintain the excitement.

Servings: 6 people
Ingredients
400 g linguine or soba noodles (for vegan version)
50 g sesame paste (tahini)
1/3 tsp Chinese Five-spice blend (see notes)
1 2/3 tbsp sesame oil
2 3/4 tbsp rice vinegar or balsamic vinegar (see notes)
2 3/4 tbsp soy sauce (low sodium)
2/3 tsp honey or raw cane sugar (for vegan version)
50 ml hot water reserved from cooking pasta
90 g green onions diced
150 g carrots slivers
1 cucumber or zucchini strips
1 clove garlic minced (optional)
1 1/2 tsp ginger grated (optional)
1 pinch red chili flakes (optional) (see notes)
50 g coriander - cilantro (optional)
1 tbsp sesame seeds toasted (optional)
Instructions
Noodles
Prepare the noodles according to instructions.

When noodles are ready, pour some of the cooking water into a measuring cup for later use, as mentioned below in the sesame sauce. Pour the noodles into a strainer and then pour cold water onto the noodles until they are cool.
Sesame sauce
While you boil the water and prepare the noodles, prepare the sesame sauce and the vegetables.

Put the sesame paste in a bowl. If it is thick you might add some of the reserved hot pasta water to dilute it to the consistency that you like. If the sesame paste is not thick, add enough of pasta water at the end of making the sesame sauce until to reach the consistency you like. You might not need all the water indicated so just add as much as you need.

Add the Chinese Five-spice blend, sesame oil, soy sauce and rice vinegar. Mix the ingredients together.

Add the optional ingredients that you choose to use (except the fresh coriander and toasted sesame seeds) into the mixture. See notes re; the optional ingredients.
Vegetables
Dice the green onions. Use the white and green parts. If you want you can pour some boiling water over them for about 30 seconds to soften them up and reduce their pungency.

Peel the carrots and cut into slivers. I often add drop these carrot slivers into the pot of boiling pasta for the last minute to soften them up a little. If you don't want to mix them with the pasta, put the carrot slivers in a bowl and pour some boiling water over them. You can use pasta water for this. Let the carrots sit in the water for about 1 minute before straining them.

If you use cucumbers or zucchini, peel them, scrape out the seed core, and then slice them in strips.

If you use red peppers, follow the same steps as described above for the carrots.
Mixing it all
Put the noodles in a serving bowl. Add the sesame sauce and the vegetables. Toss everything together. If you are adding the sesame seeds and fresh coriander (cilantro), put them in last and toss gently.

Serve and enjoy!
Notes
 It may seem strange to see balsamic vinegar indicated as a substitute for the rice vinegar, but you will be surprised that it goes well with this dish.
 You can use soba noodles for this dish, especially if you want a vegan version.  Personally I enjoy the firmness and thickness of linguine noodles.  You can also try Chinese egg noodles.
 There are many items listed above as optional.  Do not feel as if you need to add them all.   Best perhaps not to overdo it, just enough to enhance the flavors.  This dish is delicious without any of the optional items.  Make this dish often and use the optional ingredients to create new versions.
 Sriracha sauce or another hot sauce can substitute the red chili flakes.
 If you add grilled tofu (for vegan version) or chicken, cook them separately and add them at the end.
Chinese Five-Spice blend can be found in large grocery stores as well as in most Asian grocery stores. The spices used in this Chinese Five-Spice blend usually include: star anise, fennel seeds, cinnamon or cassia, Szechuan pepper or ordinary black pepper, and cloves. Some add other spices, such as ginger, coriander, or other favorites. The proportion used of each spice varies from one recipe to another. Some recipes feature star anise and fennel seeds more prominently to the other spices, for instance, 2 tbsp star anise, 2 tbsp ground fennel seeds, 2 tsp cinnamon or cassia, 2 tsp Szechuan pepper and 1/4 tsp ground cloves. Others use almost 1 volume of fennel seeds, cinnamon and cloves, while using 2 volumes of star anise and Szechuan pepper. Heat all ingredients (except cinnamon) in a dry pan until fragrant. Put these ingredients with the cinnamon in a spice grinder and grind to a fine consistency. Store in an airtight container out of light.
Nutrition
Nutrition Facts

Tasty and Healthy Sesame Noodles

Amount Per Serving

Calories 210 Calories from Fat 81

% Daily Value*

Fat 9g14%

Saturated Fat 1g6%

Polyunsaturated Fat 2g

Monounsaturated Fat 3g

Sodium 453mg20%

Potassium 151mg4%

Carbohydrates 27g9%

Fiber 3g13%

Sugar 2g2%

Protein 6g12%

Vitamin A 0IU0%

Vitamin C 0mg0%

Calcium 0mg0%

Iron 0mg0%

* Percent Daily Values are based on a 2000 calorie diet.