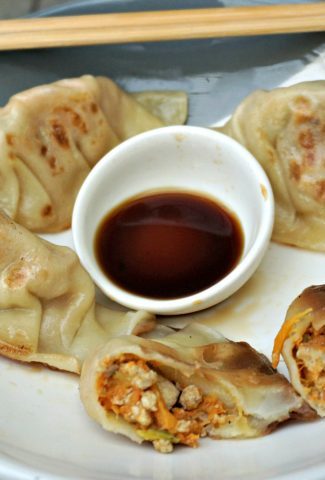 What makes Vegan Pumpkin Dumplings a Fall Favorite?
A couple years ago when I started my Vegan Before 6:00 diet I was looking for new fun ways to prepare vegan main dishes. Around that time I was practicing how to make homemade dim sum. I kept trying new dim sum recipes so I'd get the techniques down.
As many of you know, I love pumpkin during the fall, especially in savory dishes. So creating a new fall favorite with pumpkin put a smile on my face. When a friend came over for lunch I prepared these Vegan Pumpkin Dumplings and instantly fell in love!
The filling is quick and simple to prepare. Once you have your wonton wrappers and your filling has cooled, all you need to do is assemble them. If you are feeling a bit adventurous, try my recipe for Handmade Wonton Wrappers. Making your own wonton wrappers will only take about 30 minutes extra of your time, not including the 30 minutes your dough will need to rest. I find it's well worth the extra time because this dough is the most fun to knead and roll out. It is smooth, pliable, and not very sticky. If you have kids around, get them involved as they will enjoy helping out.
For this recipe you will need to freeze your firm tofu at least 24 hours in advance so it is more crumbly. I usually keep a block of tofu in my freezer in case I want to make Vegan Pumpkin Dumplings or a similar dish.
You can prepare your own pumpkin puree or use canned pumpkin. Preparing Pumpkin Puree will give you a more tasty ingredient for this lovely vegan dish. Yet, if you are short of time or want to make this dish outside of pumpkin season, do not worry about using canned pumpkin.
I hope you will enjoy this fall favorite as much as I have. I usually prepare more than I need and freeze some to use later for a quick meal.
Why Eat Vegan Pumpkin Dumplings for Chinese New Year?
Although these Vegan Pumpkin Dumplings are ideal during the fall season, dumplings are traditionally eaten to celebrate the Chinese New Year. In 2016, the Chinese New Year will be celebrated between 7 and 13 February. This coming year will be a Year of the Monkey.
The Chinese have been making dumplings for more than 1800 years. According to legend, the more boat-shaped, oval dumplings eaten during the New Year celebrations, the more money you will make in the new year. A good number of pleats in the dumplings fold augurs more prosperity. I don't know about you, but these are good reasons to prepare these Vegan Pumpkin Dumplings during the Chinese New Year celebrations. To learn more information about food traditionally prepared to celebrate the Chinese New Year, follow this link.
Vegan Pumpkin Dumplings are also very low calorie. Each dumpling contains only 2 grams of fat and 63 calories! Four or five dumplings are usually enough for my meal. So for about 300 calories (not counting the dipping sauce), you have a healthy meal!
If you are Preparing Pumpkin Puree during the autumn, you may either freeze the pumpkin puree in plastic bags for use later (after defrosting) or prepare the Vegan Pumpkin Dumplings in advance and freezing them for later use. If you freeze them in advance, do not defrost them before cooking and allow 3 or 4 minutes more for them to cook.
Let me know what you think about this recipe and share your experiences in the comments below. Remember to share the joy by forwarding this recipe for Vegan Pumpkin Dumplings with your friends.


Vegan Pumpkin Dumplings
Vegan Pumpkin Dumplings will certainly become a fall favorite for you and your family. It's relatively easy to prepare and is kid friendly. Tasty, Healthy and Seasonal. The cook time mentioned below is for one batch of dumplings to boil in water. See notes below.
Ingredients
Dumpling Filling
250

g

tofu

frozen and defrosted (see notes below)

300

g

pumpkin puree

1

tbsp

sesame oil

100

g

leek

or green onion

200

g

bok choy

or Chinese cabbage sauteed

30

g

shallot

chopped

1

tsp

ginger

chopped

1

tbsp

soy sauce

1.5

tsp

Shaoxing rice wine

or dry sherry

1

tsp

raw cane sugar

1

tbsp

corn starch

optional

black pepper

salt

(at end to taste)

1

tbsp

sesame oil
Instructions
Wonton Wrappers
Prepare Handmade Wonton Wrappers by following the link above in the list of ingredients or use equivalent amount of store-bought wonton wrappers (round preferably). Follow the instructions given for the wonton wrapper you choose to use.
Dumpling Filling
Prepare your pumpkin puree by following the link above in the list of ingredients or use the equivalent amount of canned pumpkin puree. Strain any excess liquid and let cool.

Clean and chop the leeks (or green onions) and the bok choy. Try to avoid having too big of pieces since they will need to fill the dumpling.

Pour the sesame oil in a pan over a medium flame. When hot, add the tofu, leeks, bok choy, and shallots into the pan. If you are using green onions you might add them with the minced fresh ginger below as they do not need to cook as much.

Add the minced fresh ginger and continue to cook one minute.

Add the soy sauce, Shaoxing rice wine and raw can sugar and continue to cook one minute.

Remove the pan from the flame. If you have too much liquid, remove some of the liquid so the filling is not too soggy. Let the filling mixture cool.

Add the pumpkin puree and, if using, the corn starch to the other ingredients in the dumpling filling mix. Mix well. The corn starch will help to absorb some of the liquid when the dumplings are cooked. If you prefer you may use tapioca starch or another kind of starch.
Assembling Dumplings
Roll out or prepare your wonton wrappers according to the instructions given for the type of wonton wrappers.

Place a wrapper in the palm of your left (or less dominant) hand. Use a tablespoon to add filling on top of your wrapper so about two-thirds (2/3) of your wrapper is covered by filling.

Only if you are using store-bought wonton wrappers, wet a finger and rub it gently around the uncovered edge of the dumpling wrapper to help sealing. If you make handmade wonton wrappers, the dough will be moist enough to skip this step.

Fold gently the bottom half of the wonton wrapper towards the top (so the filling is inside). With the thumb and forefinger of your right (or dominant) hand, press gently the left side towards the inside. With your thumb and forefinger press the bottom to the top of the round wrapper and make a small pleat (see photos), continue making pleats from left to right until your dumpling is closed. Be careful not to overfill the dumpling or you will have holes. If you do have holes, use a little unused dough to mend them. Place the sealed dumpling on a baking sheet covered with baking paper and a little flour.

Continue in the same manner for the next dumplings until your wrappers or filling is used.

Place the baking sheet with the sealed dumplings in the refrigerator for at least 15 minutes before cooking. This will help firm up the dumplings and prevent breakage during cooking. If you want to freeze your dumplings for future use, freeze at least 30 minutes before placing them in a freezer bag. Freezing them in this way first will help prevent them sticking together.
Cooking Dumplings
Heat a large pan over a medium flame. Add the sesame oil. When hot, add 5 to 6 dumplings (straight from freezer) into the pan. Place them with the pleats towards the top. Cook the dumplings about 2 or 3 minutes, moving them carefully a couple times, until their bottoms are brown (but not burnt).

Add about 100 ml (3 or 4 oz) of water to the pan and cover to cook about 5 to 7 minutes (or until the water has evaporated). Continue with the remaining uncooked dumplings. Serve immediately with your favorite dipping sauces.
Notes
Freeze the tofu at least 24 hours in advance and leave it to defrost in a strainer to remove excess liquid. Freezing the tofu first will help make the tofu crumble better.
Nutrition
Nutrition Facts
Vegan Pumpkin Dumplings
Amount Per Serving
Calories 63
Calories from Fat 18
% Daily Value*
Fat 2g3%
Sodium 54mg2%
Potassium 58mg2%
Carbohydrates 9g3%
Protein 2g4%
Vitamin A 0IU0%
Vitamin C 0mg0%
Calcium 0mg0%
Iron 0mg0%
* Percent Daily Values are based on a 2000 calorie diet.