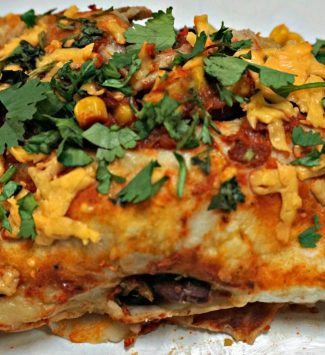 How do you turn Vegetarian Enchiladas into an evening?
Why Vegetarian Enchiladas?
A few days ago I prepared dinner for a friend on her way to Cuba. Although she will certainly have fabulous and authentic Cuban food while she's there, I wanted to make a Latin American dish to celebrate her upcoming trip. I decided to make Vegetarian Enchiladas since they are tasty, healthy and comforting.
As Vegetarian Enchiladas may be prepared in advance, reducing the effort needed when company arrives, they are ideal for a mid-week supper. Dishes requiring less preparation are ideal for entertaining guests for a weeknight supper, even if you work from home.
Well, although I originally planned to make them in advance, my afternoon was busier than expected. I therefore had to improvise. Fortunately, I prepared my appetizers as well as parts of my main course and dessert by the time my guest of honor arrived. Our sit-down dinner became a cooking workshop with everyone helping out. The theme of the dinner was tomatoes.
Evening Cooking Workshop
Our evening began in the family room with small glasses of walnut liqueur made by one of my Belgian sisters from walnuts from her own tree. We then sat down to glasses of gazpacho with chopped fresh coriander (cilantro) on top. On the side we enjoyed mini bread sticks to dip into a small cup of bruschetta-style dried tomato pesto.
Preparing the Vegetarian Enchiladas
Afterwards we moved into the kitchen where we set up a rolling station for the Vegetarian Enchiladas. We placed the pan of vegetable mixture, tortillas, grated cheese and Red Enchilada Sauce between us so we could each fill a medium glass baking dish with rolled Vegetarian Enchiladas.
First, we spread some of my famous Red Enchilada Sauce on the bottom of the dish. Next, we spread a little more Red Enchilada Sauce over each tortilla, before adding some vegetable mix, and finally some cheese. We then rolled the filled tortilla and placed it seam-side down. We continued in this way until all ingredients were gone, except for a small amount of the vegetable mix. The leftover vegetable mix was sprinkled over the top of the baking dish, along with a little Red Enchilada Sauce and grated cheese.
A bit flustered with company there to help me, I mistakenly put the chopped coriander (cilantro) on top of the baking dish before placing it into the oven. It is better to add the coriander (cilantro) on top after taking the dish out of the oven so it stays fresh and does not wilt on top.
Preparing the Dessert
We then popped the baking dishes of Vegetarian Enchiladas into the oven for about 25 minutes. While we waited for them to cook we prepared a tarte tatin (an upside-down pie) for dessert with some fresh peaches I had in my kitchen.
Enjoying the Dinner
We placed the pie dish into the oven to bake about 25 minutes while we ate our Vegetarian Enchiladas! Side bowls filled with guacamole, Red Enchilada Sauce, grated cheddar cheese, fresh tomatoes and sour cream accompanied the Vegetarian Enchiladas on the table. A bottle of Tabasco hot sauce sat nearby for anyone looking for a bigger kick. Everyone could prepare their enchilada plate how they liked.
The Vegetarian Enchiladas turned out delicious! For the vegetable filling I mixed sautéed zucchini, onions, green bell pepper and fresh spinach leaves with canned corn and kidney beans. Feel free to try other vegetables (for example, sweet potatoes, mushrooms, green beans and green onions) or beans (black beans, pinto beans or even navy beans) in your Vegetarian Enchiladas.
I will definitely make these Vegetarian Enchiladas again. I recommend that you try this recipe soon for your family and friends.
Other Suggestions
If you are looking for other combination ideas, take a peak at this post for 30 Vegetarian Enchilada Recipes (+7 sauce recipes) by the garden grazer. You are bound to find something that you like. But please try my recipe as a starting point. You will not be sorry!
For a non-vegetarian alternative, try these yummy Chicken Enchiladas. If you are feeling ambitious, you can even prepare both the Vegetarian Enchiladas and the Chicken Enchiladas for a larger group to give them a choice.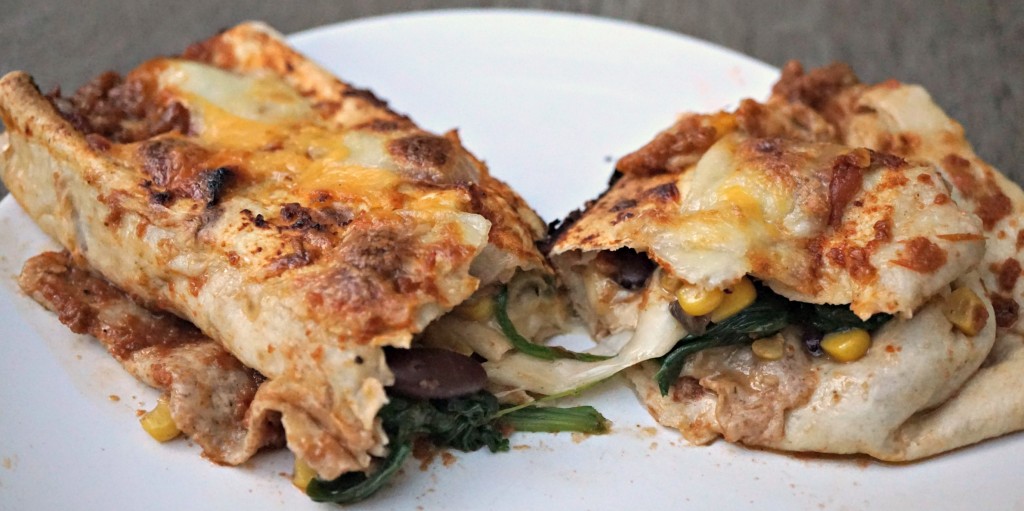 Please share this recipe with your friends and let me know in the comments below what you think. Don't forget to rate this recipe so others know how much you like it.
Vegetarian Enchiladas: Delicious and Healthy
Try this easy recipe for vegetarian enchiladas at a meal with family and friends for a tasty healthy meal
Ingredients
10

tortillas

(whole wheat, white flour or corn)

2

tbsp

olive oil

1

red onion

2

cloves

garlic

1

green bell pepper

1

zucchini

large

250

g

spinach

(fresh or frozen)

420

g

black beans or kidney beans

350

g

corn kernels

200

g

mozzarella

70

g

cheddar cheese

1

tsp

salt

1/4

tsp

black pepper

15

g

coriander - cilantro

chopped to sprinkle on top when serving
Instructions
See the photo here of my red enchilada sauce. If you make the red enchilada sauce yourself, you should make it before starting the rest of the preparation.

Preheat oven to 375° F/ 180° C

Pour the olive oil in the pan over a medium flame. Add the chopped red onions and let them cook about 3 minutes before adding the garlic and cooking another minute.

Add the chopped green bell pepper, stir, and continue to cook another couple minutes. Add the chopped zucchini and continue to cook another couple minutes. Add the spinach leaves and wait until they are cooked (not overcooked).

Drain and rinse the corn and beans (if you use canned). Add them to the vegetable mixture and stir.

Grate the mozzarella and cheddar cheese.

On each tortilla spread some red enchilada sauce to cover about 3/4 of the tortilla. Add 2-3 tbsp vegetable mix and a handful of cheese. Roll the tortilla and put it with the fold part downwards into a Pyrex-type casserole dish.

Continue for the other tortillas until you finish the ingredients. Sprinkle some grated cheese on top. If you have extra vegetable mixture you can also add this on top of the casserole dish. Don't worry if you need more than one casserole dish to fit all the enchiladas. In our home we make 2 casserole dishes (one bigger than the other). We eat the big dish for supper and the small dish the next day (if there's any left!).

Put the casserole in the oven and cook at least 25 minutes or until the top of the casserole is lightly brown and the cheese is melted good. Take out the casserole and sprinkle on the coriander / cilantro.

Serve and enjoy with the toppings of your choice presented in separate bowls.
If prepared in advance
If you want to make them in advance, cook the enchiladas as described above for 20 minutes. Once cooled completely, you can either wrap the enchiladas (whole or in portions) with aluminum foil sealing the entire dish for up to 3 months, or put in the refrigerator in a sealed container for up to 2 days. When you want to reheat, just take the enchiladas out directly from the freezer or refrigerator and cook for 45 minutes (from freezer) or 30 minutes (from refrigerator).
Notes
Make the whole portion of the red enchilada sauce as you may want extra at the table or when serving. It's also nice if you reheat leftovers the next day.
The nutrition label below takes into account the nutritional value of my red enchilada sauce.
Feel free to try your own vegetable combinations, with or without beans or corn.  The mixture in this recipe is an example to use for a reference regarding quantities, etc.  This recipe made 10 good-sized enchiladas made with medium whole-wheat tortillas.
This dish can easily be made vegan if you replace the dairy cheese by nut or soy cheese.
Nutrition
Nutrition Facts
Vegetarian Enchiladas: Delicious and Healthy
Amount Per Serving
Calories 328
Calories from Fat 108
% Daily Value*
Fat 12g18%
Cholesterol 23mg8%
Sodium 787mg34%
Potassium 528mg15%
Carbohydrates 44g15%
Protein 16g32%
Vitamin A 0IU0%
Vitamin C 0mg0%
Calcium 0mg0%
Iron 0mg0%
* Percent Daily Values are based on a 2000 calorie diet.