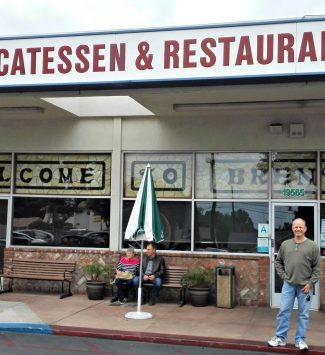 Is Brent's Deli any Different on the Vegan Front?
In yesterday's post "Scrambled Tofu Eggs", I reviewed the vegan menu choices at two delis in Los Angeles (Lenny's Deli and Factor's Famous Deli). At the same time I also surveyed their rugelach offering for a post soon to be written.
Today my brothers and I took my dad out for his 85th birthday lunch. He picked the place: Brent's Deli in Northridge (Los Angeles), California. It was my first time at Brent's Deli, which many consider to be the best deli in Los Angeles, so I was excited.
Brent's Deli
Location

Atmosphere

Food

Service

Price/Quality Ratio
Summary
Brent's Deli is one of the kings of LA delicatessens. Brent's has a gigantic menu with almost everything on it, except vegan choices. The atmosphere needs to be considered in the context of Jewish delis, which are not known for their elegant atmosphere. Booths and tables are spread out to fit in as many people as possible. Servers bustle around taking excellent care of their customers. Brent's is also available for take-out, but don't go there if you are looking for Jewish baked goods like rugelach, babkas, and other freshly made goodies.
On arrival at Brent's Deli at 11:15 am on a Monday, a crowd of people were already waiting for tables. Lunch crowd already? Although Brent's Deli has two nice-sized rooms of tables and booths, all of them were full. The servers and bussers moved around at a fast pace to keep up with the diners' requests.Brent's Deli is definitely a happening place with a vibrant atmosphere.
We fortunately did not have to wait more than 5 to 10 minutes. Seated at the table I picked up the menu and perused the options. I'm not sure I've ever seen a menu so well organized with a Table of Contents on the cover! Brent's Deli boasts having 650 items on the menu. Check the menu for yourself! Amazing, yet perhaps more astonishing is the fact that out of 650 items on the menu I could not find any that was vegan! Only a few items were vegetarian. The only dish that could pass for vegan was the "My Own Custom Salad" which allows the customer to pick the ingredients for his or her own salad. A vegan can therefore choose up to 7 greens, veggies, nuts & crunchies and fruit to make a meal. But if you don't want a salad, for instance, at breakfast or brunch, not one item seems to cater to vegans. With such a large crowd and menu selection, Brent's Deli could create some vegan options for a growing part of the population. It would not take them much effort to suggest some simple ingredient substitutions to make some of the dishes vegan.
We ordered the Super Fish Buffet for 2 and made it for 4. Brent's Deli's whitefish, lox, cod and creamed herring were all excellent. No criticism warranted concerning the quality or taste of their fish. The service was also outstanding. We all enjoyed the meal and could see why a crowd comes to this deli late morning on a Monday. On the weekend, customers should expect waiting much longer for a table, as the line continues outside the door. The customers clearly feel the quality of this deli is worth the wait.
On the way out of the deli, I looked at their pastries and in particular their rugelach for my other post. Sadly Brent's Deli in Northridge does not seem to have many pastries to be ordered to go. They have several cakes that look tasty spread around the rooms. Yet Brent's Deli had only a couple packaged bags of rugelach at the cashier's desk. I've been told however that Brent's Deli in Westlake Village has more pastry selections.
On the vegan and rugelach fronts Brent's Deli rates a low score in my book. On all other fronts (quality of food, service and atmosphere), however, Brent's Deli rates very high. Let's ask Brent's Deli to make some adjustments so that vegans can also enjoy with their friends the wide selection offered on the menu. Don't leave the vegans outside in line without a chance to come in and enjoy this fine deli!