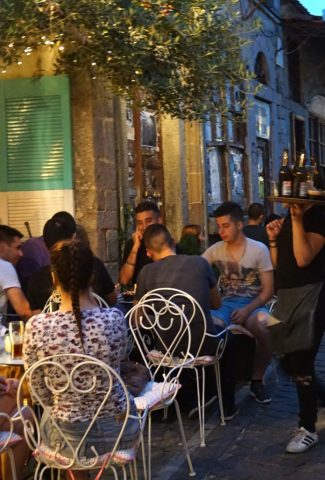 What are the Eating Out Habits in Xanthi?
Visiting friends in Xanthi
This summer I had the pleasure to visit Xanthi to spend time with friends and explore the local food culture. As many of you know, Xanthi, located in Greece's Thrace region, was the main destination of my three-month Journey to Greece, which is now about two-thirds completed.
During my stay in Xanthi, I had the pleasure of several delicious homemade meals prepared by my friend, Thomais. I also enjoyed eating out for lunch and dinner numerous times in restaurants, not including my various snacks between meals.
After a mere five weeks in Xanthi, I do not presume to know everything about Xanthi's dining culture or the eating out habits of local inhabitants. I obviously did not have the opportunity to visit every restaurant in Xanthi, as that would take too much time. I did, however, make it a point eating out at many restaurants in Xanthi in order to gather enough information to be able to make comparisons.
As my visit to Xanthi was from mid-June to late July, my experiences may have been influenced by seasonal factors. For instance, the street life during the summer is more active than the winter when it can be cold and wet. Yet, at the same time many people go away on holidays or at least to the sea during the weekends in the summer. A few restaurants even close for a month or more in the summer.
Snacking in Xanthi
Like other cities, Xanthi has bakeries, fast food places, ice cream stands and various other establishments open during the day serving food. You would not go hungry and can find something good to eat from early morning to late at night. One place, in particular, stands out. It's Η ΝΕΑ ΑΝΘΙΕΗ (translated as New Flowers), off of the Central Square of Xanthi, which serves bougatsa (sweet and savory treats made with layers of homemade filo dough) from morning to afternoon for anyone looking for a quick and inexpensive bite for breakfast, lunch or as a snack.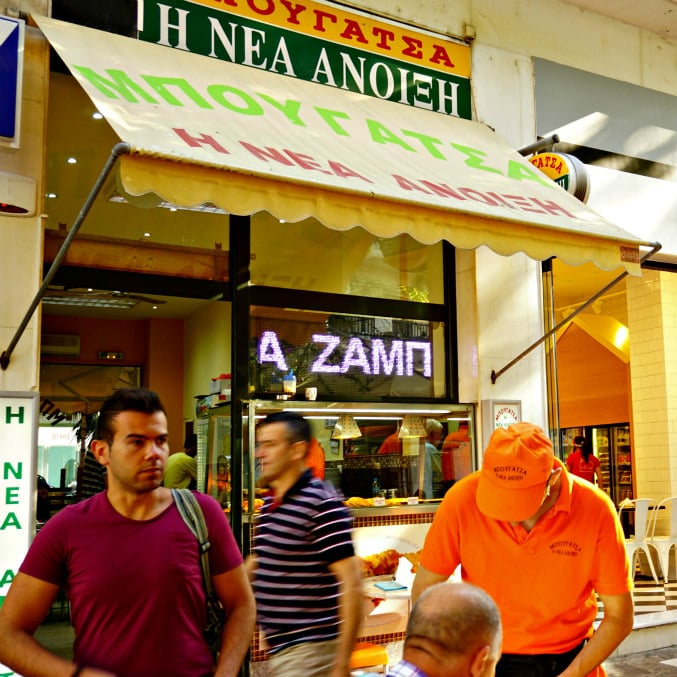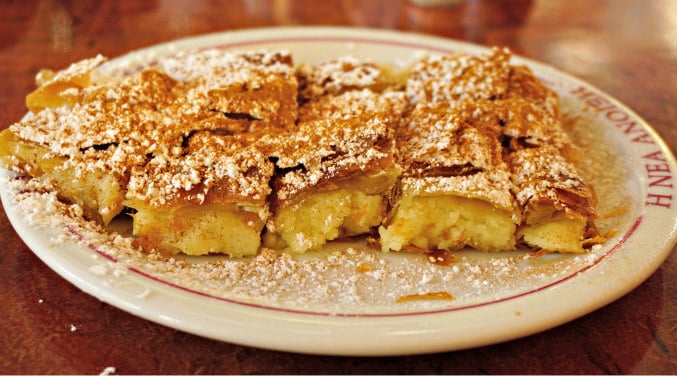 Other than mention Η ΝΕΑ ΑΝΘΙΕΗ (New Flowers) above, this post will not cover these other eating establishments and will instead focus on cafes and restaurants.
Before providing you with my reviews of eight restaurants, I'd like to share with you some personal observations about the general eating out culture in Xanthi.
What Times are Good for Eating Out?
Cafes are busy in the late morning Greek time (from 11 am to 2 pm) and in the early evenings (from 7 pm to 10 pm). Essentially people spend time in cafes before the main meals of the day: lunch and dinner.
Cafes generally serve drinks, not food, except for snacks and smaller items (for instance, sandwiches) for customers to enjoy between drinks. Restaurants are where you would go to eat a complete meal along with drinks.
Many people seem to go home to eat lunch with their family around 3 pm. They will then stay home to relax inside, waiting until the heat cools down. Eating lunch in a restaurant can therefore be a lonely experience. At first, I thought I chose the wrong place to dine because there were not many other customers. Soon I came to understand that most people simply do not eat out during the day. If you come back to the same restaurant in the evening, it will surely be full, perhaps even with some extra tables put out on the sidewalk to take care of the extra flow of customers.
How is the Cafe Life in Xanthi?
At certain times of the day, cafes are surprisingly very busy in the center and old town of Xanthi. Visiting Greece during its current economic crisis, I did not know what to expect regarding activity on the streets and in cafes.
At first glance, people are frequently drinking and eating out, enjoying themselves despite the crisis. If you scratch below this initial impression, however, you will see that people are spending a lot of time in cafes, yet they do not order much to drink or to eat.
People come to cafes to see and spend time with their friends. Rarely do you see people sitting alone for an extended period. They go for the social aspect and in a way to continue this part of their life despite the crisis. The crisis has already taken so much away from the quality of their daily life. They seem defiant not to let it prevent them from enjoying time with their friends outside in cafes during the summer months.
Locals seem to have their favorite cafes where they and their friends tend to go often. By going to one of their regular cafes, they know they will see people they know, customers as well as cafe staff. It's like going to their home away from home, a place where they are known and the setting is familiar. Kind of like the bar on Cheers, the American comedy series.
When customers sit down in a cafe, the server will directly bring a bottle of fresh cool water with a glass. Customers are expected to order at least one drink, but after that they will not be rushed to leave. They will receive a little treat with their drink. Sweet snacks accompany coffee, juices and soft drinks, while savory or salty snacks are served with beer, wine and other alcoholic beverages.
After this initial drink, people hang out, sometimes for hours. The group at a table is constantly changing, as people come and go. Friends talk or play games, such as cards or backgammon. I haven't seen people, especially young people, play cards or backgammon in a public setting in quite some time. In Belgium, I'd sometimes see older men playing cards in a bar that has seen better times. But not young people in popular trendy cafes.
Even if no one requests more drinks, the server will periodically bring new bottles of fresh cool water for customers to enjoy. Few people seem to order a second drink.
Since people tend to return to the same favorite cafe, it's really important for cafes to build loyalty with their customers. In Xanthi, cafes will from time to time offer a complimentary drink to thank customers for their regular visits. It's their way to encourage loyalty and return business, with the hope that customers will come back again with their friends. It's a much more personalized way to build support than offering a fidelity card promising a free drink after 10 purchases.
During my stay in Xanthi, I've frequented several times three cafes, which I describe below for you.
Xanthippi
During my first couple weeks in Xanthi, I visited Xanthippi, a cafe-restaurant, almost daily. I stopped in to check my e-mails and social media while sipping a double Greek coffee. I came here so often to work that I soon began calling it my office.
Xanthippi, perched above the town of Xanthi, has superb views of the city. From there Xanthi's buildings in the distance look to be mainly white with silver domes shining on their rooftops. After passing through Romania where many churches have silver domes, I felt there might be a spiritual reason for this phenomenon. The silver domes, however, ended up being just fans. In the old town, directly below Xanthippi, the rooftops are mostly composed of red tiles, making it easier to identify this historic part of the town.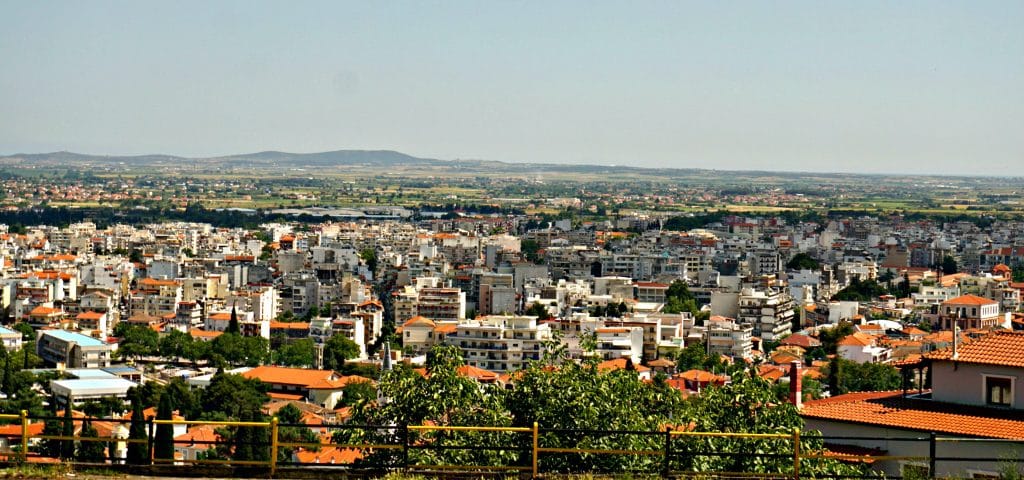 Xanthippi has large premises consisting of a couple rooms and an outside terrace. The cafe occupies one part, while the restaurant and bar occupies the rest. You can thus come here in the morning and eat and drink all day long in the same place if you like.
The mornings and lunchtime tend to be quiet at Xanthippi. Often I was almost alone to work. I sat in front of the big open windows, enjoying a light breeze and the beautiful view, as I typed away. In the late afternoon and early evening people come to relax with a drink and perhaps watch the sunset. Xanthippi is busy for dinner and on the weekends as well, yet always has space to welcome someone new.
The food at Xanthippi is good with reasonable prices given the portions. They also offer a smaller portion size for many of their dishes, which is great if you are alone and want to try several items or you have little appetite. At most other restaurants, if I was dining solo, I usually ended up with too much food on my plate, leaving me to choose between wasting food and gorging myself.
The staff and manager are very professional and friendly as well as responsive to customer needs.
Free parking is available directly in front of Xanthippi, which is a clear advantage for people coming by car.
Central Post
On the edge of the old town of Xanthi, four cafes are nestled next to each other, each as busy as the next. Each cafe has ample outdoor seating with an awning system creating shade from the direct heat of the sun. Even outside, these cafes appeared to be cool and refreshing. The customers in these four cafes tend to be young and hip, making it a bit intimidating for a mid-lifer like me to visit alone.
One day, I dared to sit at one of these hustling cafes. After inspecting all four, I chose to sit at Central Post, as it looked to be the most happening. I sat on a bench (as opposed to a metal chair) on one side of the cafe near a fan. On a hot day, being close to a fan is a definite attraction.
Being on the side also made it a bit easier to watch people. As the Greeks would say I was being a fly in the milk. Trying to blend in, yet clearly not supposed to be there. Usually people at cafes enjoy watching other people walk by. At the Central Post it was more fun watching my fellow customers and their interactions. Most customers were either teenagers or twenty-something, with many of the remaining being thirty-something or in their early forties. At fifty-something, I was definitely one of the oldest customers present.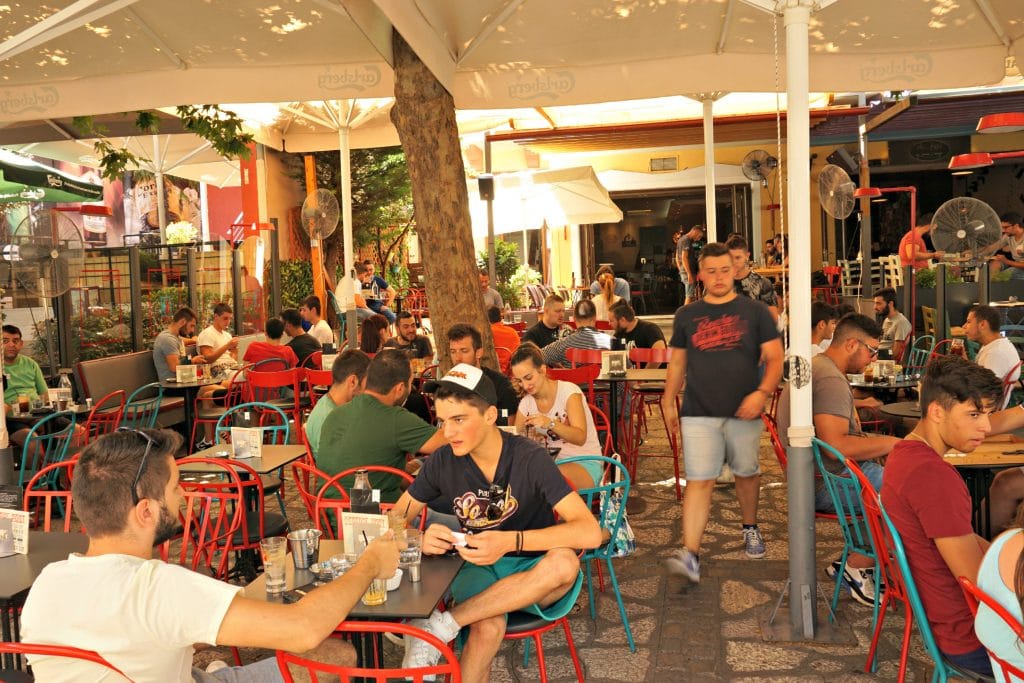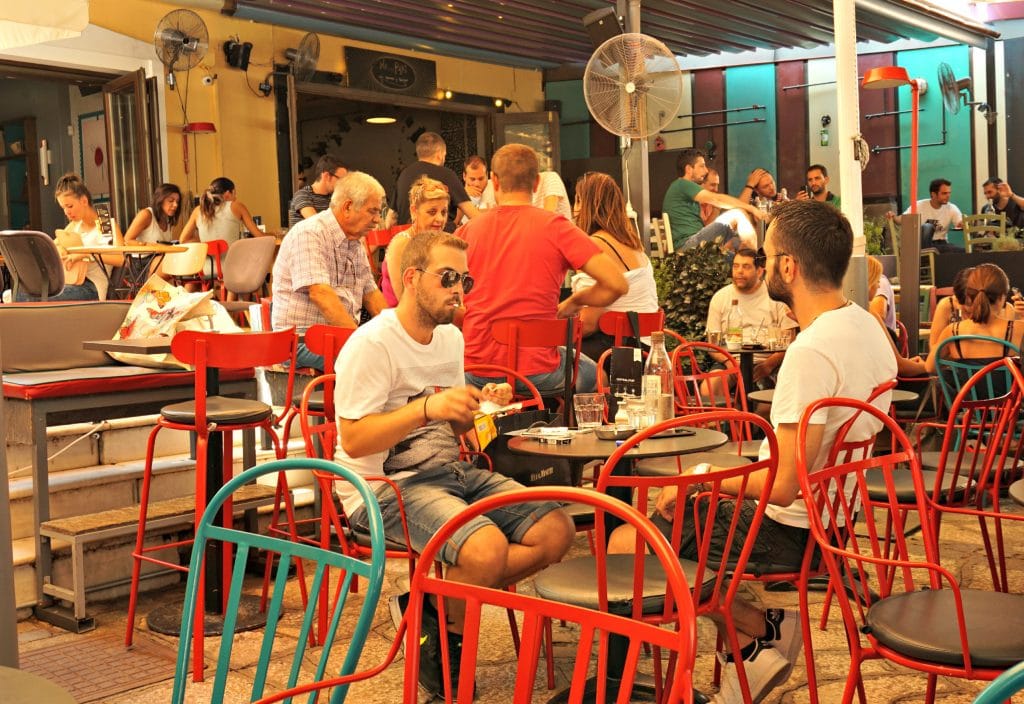 The interactions between people were heart-warming to see. With words and body gestures, friends show their true affection for each other. Sitting with arms around each other, giving pats on the back or legs, or displaying in many other ways their bonds and comfort with each other. I'm not sure if I would see this kind of affection in other parts of Greece. Yet, seeing it in Xanthi made me realize the benefits of living in a town of about 70,000 inhabitants, where ties are deeply rooted. Many of these people have grown up together and share history as well as other ties.
My fear of standing out in this hipper cafe soon disappeared. Although most customers were young, everyone was welcome and treated kindly by the servers. I would not go as far as say that I ended up blending in, but I was certainly made to feel like one of the regulars.
Like at many cafes in Greece during the summer, at the Central Post the most common drink served is the Freddo Espresso or its sibling Freddo Cappuccino. Homemade lemonade, soft drinks and other cold refreshing drinks are also popular.
The most interesting times to visit the Central Post are from 11:00 am to 2:00 pm or from 7:00 pm to 10 pm (before mealtimes). Late Saturday morning seems to be the busiest time since it's market day in Xanthi, with many locals coming to the center for shopping.
The streets of old town Xanthi attract the most people at night. Locals stroll around, have drinks, eat out, and generally talk with people they know. On your next visit to old town Xanthi stop by the Central Post and enjoy a drink with friends.
Musutu
Musutu is a popular cafe-restaurant on a pedestrian street near the central square of Xanthi. People come here in the late morning for coffee drinks before lunch and then later in the afternoon for wine or beer before dinner.
There's a lot of activity on this pedestrian street, yet it remains a place free of cars to enjoy a moment with friends. It's also safe for small children to run closeby.
For a more comprehensive review of Musutu as a restaurant and cafe, click here. I had already selected it for a special feature.
What Cuisine Tonight?
One of the reasons I chose Greece as my main destination was my love for its cuisine. I particularly enjoy meze-style dishes, whether from Greece, Lebanon, Spain or other countries. Making a meal out of a combination of little dishes is one of my favorite ways to eat. Put everything in the middle of the table and let everyone choose what they like.
I was therefore looking forward to trying all kinds of Greek food. What I did not expect, however, was that Greek food would be pretty much the only cuisine of food on offer. Besides fast-food joints where pizza slices, hamburgers and other international dishes could be found, almost all restaurants in Xanthi serve primarily Greek food.
It is hard to find a restaurant serving food from another country or part of the world, with the sole exceptions of Italy and Turkey. Even at Italian restaurants, dishes are often served Greek-style, with feta or local Greek cheeses often replacing Parmesan, Pecorino or other Italian cheeses. During the summer, mozzarella cheese seems to be available in grocery stores and featured on menus all over Europe. In Greece, mozzarella seems to be hidden.
True that food in this region of Greece has already been influenced over the years by Turkish and Bulgarian traditions as well as by the cuisines of countries nearby. Yet, it is surprising that Greek people do not seem to clamor for dishes from other parts of the world and seem content eating Greek food almost exclusively. When I visited friends in a small town in Bavaria (much smaller than Xanthi) at the beginning of my Journey to Greece, they chose to dine at an Indian restaurant, which was one of their favorites. In Xanthi, I have not seen any Indian restaurants, or Chinese, or others you might typically find in a similar size town in other parts of Europe.
In grocery stores, it is also challenging to find ingredients you might need to prepare foreign dishes. Greece is a perfect example of Eating Local. Products in markets as well as in restaurants seem to be locally produced and sourced.
The authenticity of the food culture in Xanthi has perhaps been one of the top characteristics I've appreciated about Xanthi. I feel as if I've experienced the real deal, seeing Xanthi as it truly is without effort being made to cater to international tourists.
These observations are not intended as a criticism, nor do they diminish in any way the wonderful tastes offered by Greek cuisine.
What is on the Menu?
Items on the Menu
Not only do most restaurants serve Greek food, they also serve almost the same dishes at the same prices. Never have I been in a place with so much similarity between menus from one restaurant to another.
I have therefore been able to try the same dish at several restaurants to be able to make comparisons. For instance, I have eaten several times yaortlou (ground meat grilled on a skewer served with yogurt and a tomato sauce, usually with rice and/or fries on the side), chicken souvlaki (pieces of chicken grilled on a skewer), and beefsteak as a main course. As a starter, I've often chosen eggplant salad (similar to baba ganoush), tzatziki (yogurt, cucumbers and garlic), Greek salad (click here to see my recipe), Dakos (or Crete salad) (rusks topped by tomatoes, feta or mizithra cheese, olives, olive oil and oregano), along with other dishes.
Greeks often eat family-style, ordering several starters and main courses to share. Dishes are placed in the middle and everyone eats out of the same dishes. Of course, there are also individual plates served if you prefer eating off of your own plate. Eating family-style is so friendly, I love it. It's also a wonderful way to try lots of dishes.
Even when cafes offer trendy items on their menu, they seem to be the same everywhere. During my first week in Xanthi, I tried a Caeser Salad and a Club Sandwich at Musutu. I thought these were special items being offered by Musutu. But then I discovered that Caeser Salads and Club Sandwiches are featured at many cafes and restaurants in Greece. Even at some beach bars along the coast of the Aegean Sea, you will find these dishes.
Prices on the Menu
Surprisingly the prices on the menu are nearly the same no matter where you dine. For instance, for a yaourtlou you can expect to see almost the same price if you go to a dive or a medium-range restaurant. By going to a budget establishment you will not save much money, so you might as well enjoy the atmosphere and amenities at a medium-range restaurant.
It's amazing to me that a Freddo Espresso will cost the same everywhere. In most other places, you'd expect some variation from one establishment to another. You'd pay more for a good location or view or a fancier decor. Not in Xanthi.
At first I was a bit suspicious of the fact that the prices everywhere are the same. I thought it must be the result of a secret agreement between restaurant owners to offer the same food items at the same prices. It must be the sign of anti-competitive behaviour of some kind. How else can you explain such a phenomenon?
I later started to have another theory. In fact, the uniformity of prices actually demonstrates the fierce competition between restaurant owners. In a climate where restaurants, like other small businesses, are being taxed at higher and higher levels, it is difficult to survive. VAT rates on food and drinks keep going up. Customers are also suffering from the economic crisis, having less money to spend on eating out. Restaurants cannot shift all the tax burden onto the customer, otherwise people will stop going out to eat. Pressure has forced restaurant owners to decrease their prices to the lowest amount possible to stay in business. If individual restaurants raise their prices, customers will go to their competitors where they can enjoy the same items for less money. If they lower their prices any further, they cannot afford their rent, staff wages and other costs. These prices therefore represent the bottom line reached through strong competition to survive.
How to Choose Where to Eat?
If the items and the prices on the menu are pretty much the same, how do you determine where to eat? Well, I started to look at other factors, such as the atmosphere, quality of food and service.
In such a competitive environment, cafes and restaurants have to find ways to distinguish themselves from other establishments. They need to attract customers without spending a lot of money. For instance, paying attention to the decor of the place to make it more attractive to customers. Show somehow that effort has been made to create a pleasant environment for dining and drinks.
Restaurants and cafes can also try to use top quality ingredients or offer something that the other establishments do not have. For instance, La Terra serves the most tasty treats with their drinks. I have eaten delicious homemade soft chocolate chip cookies along with other sweet biscuits with a Freddo Espresso. I have also enjoyed savory twists with a lovely Greek beer called Fix. Apparently La Terra makes these snacks every day on the premises.
After tasting these yummy delights, I wondered why La Terra serves these discretely on the side of a drink instead of as a main attraction. I would definitely come back to buy those chocolate chip cookies to go or even to eat as an afternoon treat in the brasserie. Why hide them like Cinderella? Put them on display! In short, these special treats are better than snacks served at all other cafes and restaurants in Xanthi and therefore help La Terra distinguish itself from the other cafes for drinks.
Lastly, providing friendly and attentive service from start to finish can do a lot to make customers feel appreciated. It always feels great entering a place where there is someone to greet you with a smile and lead you to a table. Many times I experienced wonderful service up to the point of my dishes being placed on the table.
After finishing the meal, however, the servers cannot be found. I generally enjoy sitting at a table after a meal without being rushed. Yet, I do not like looking at all the dirty dishes and leftover food in front of me. When eating outdoors, flies start coming to tables with food on them. More than once I wanted to ask for a dessert or an espresso after a meal, but no one even came to inquire. Good friendly service from beginning to end would help a restaurant distinguish itself from the others.
Restaurant owners try to establish bonds with their customers. Some offer complimentary tsipouro (brandy) as you sit down, while others bring a small dessert at the end of the meal. If you are ordering a few glasses of wine, the restaurant may offer one of them on the house. These small gestures show the restaurant's appreciation for the customer's coming out to eat, despite the crisis and the customer's own financial difficulty. They build loyalty between the restaurant and the customer.
Recommendations for Eating Out in Xanthi?
Ok, now that you have the background to appreciate the eating out culture in Xanthi, I will provide you with some recommendations for restaurants. Each restaurant mentioned below in this post has been visited by me at least twice. I wanted to try different items on the menu and make sure my observations were not based solely on a single visit.
As mentioned above, this list is not exhaustive and has been compiled on the basis of the restaurants I tried during my visit in Xanthi. In alphabetical order, I would recommend the following restaurants:
* Read this Explanation of the Belgian Foodie® Rating System to understand what these numbers signify.
Amaltheia
Amaltheia prepares and serves traditional Greek food in a charming atmosphere at reasonable prices and friendly service.
Amaltheia, located in the heart of old town Xanthi, has an attractive covered garden downstairs (with fans) and an air-conditioned room upstairs.
I particularly enjoyed the chicken souvlaki and the yaourtlou as main courses and their mixed fried vegetables (eggplant, zucchini and green wax pepper) as a starter.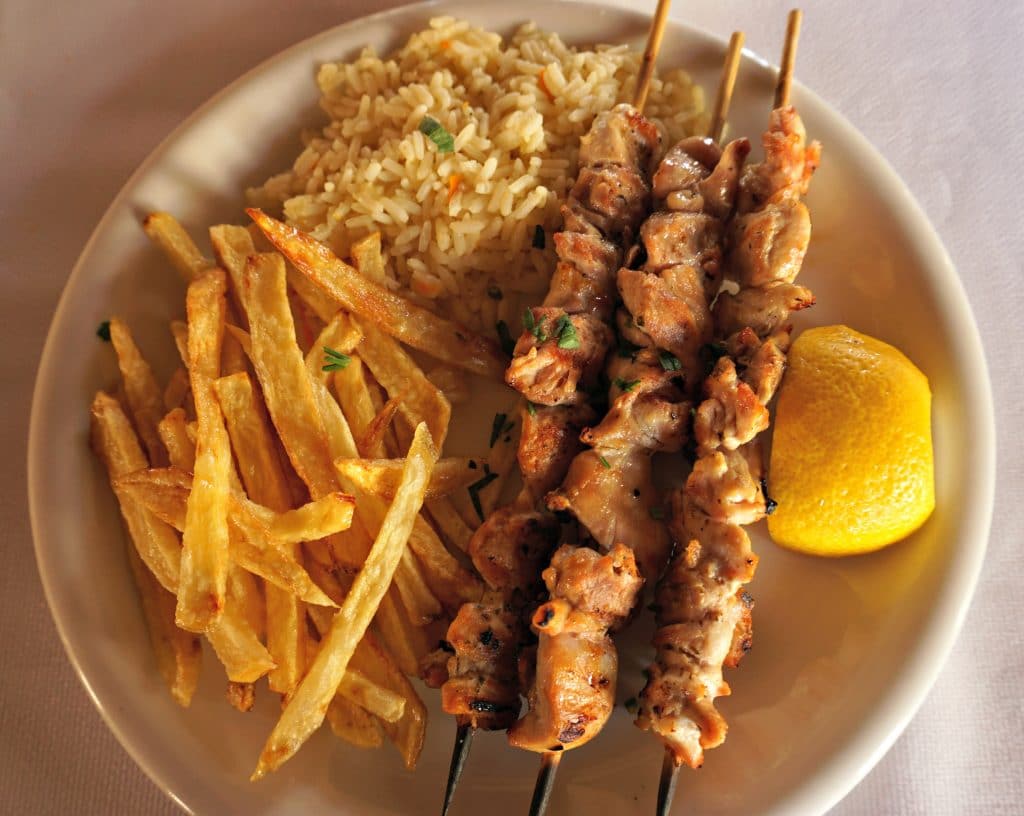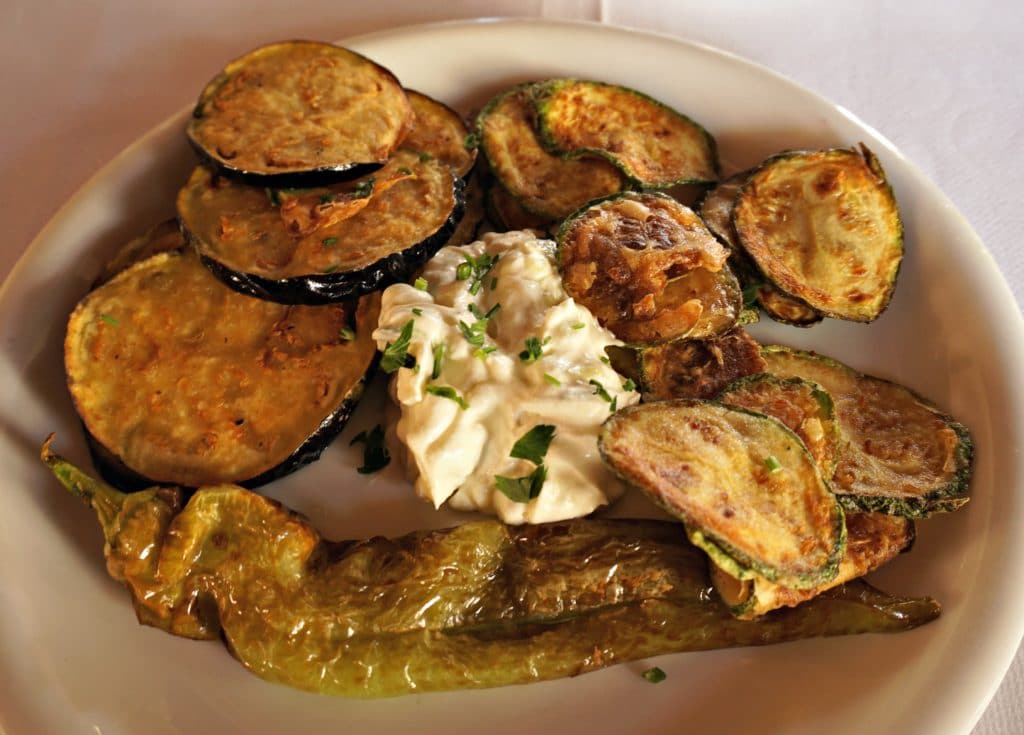 Ta Fanarakia
In the summer, Ta Fanarakia has one of the largest outdoor dining areas. The entrance passage, covered with a ceiling made of vines, provides shade during the hottest hours in the afternoon.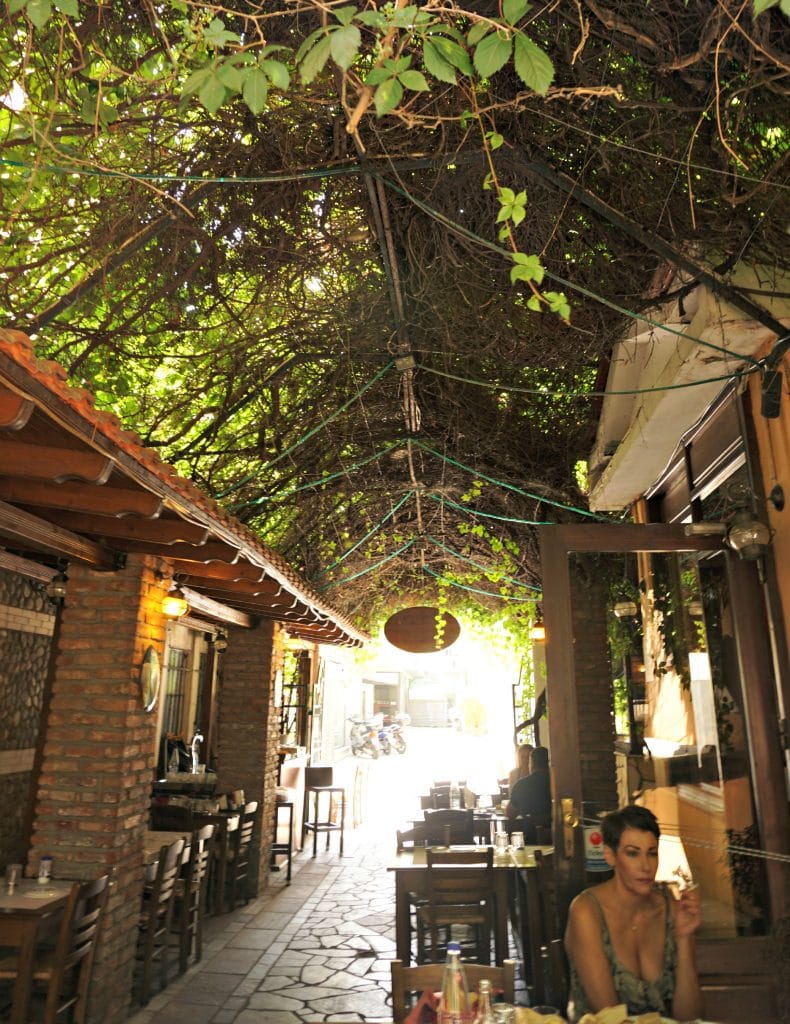 Ta Fanarakia is located on a pedestrian street off of the central square of Xanthi, only a short walk from old town. Although close to the commercial center of Xanthi, Ta Fanarakia's shaded garden area shields you from the noise of cars and the town.
I've enjoyed the Grilled Mixed Vegetables and the Eggplant Salad with Yogurt, Garlic and Bread. The Grilled Mixed Vegetables follows the same recipe as Musutu, not surprisingly since both restaurants have the same owner. I love the sauce on the vegetables, which is a mix of pine honey and ouzo. The hint of ouzo cuts the sweetness of the sauce and brings it to another level. The Eggplant Salad with Yogurt, Garlic and Bread is delicious. Its presentation in a bell jar is creative and attractive.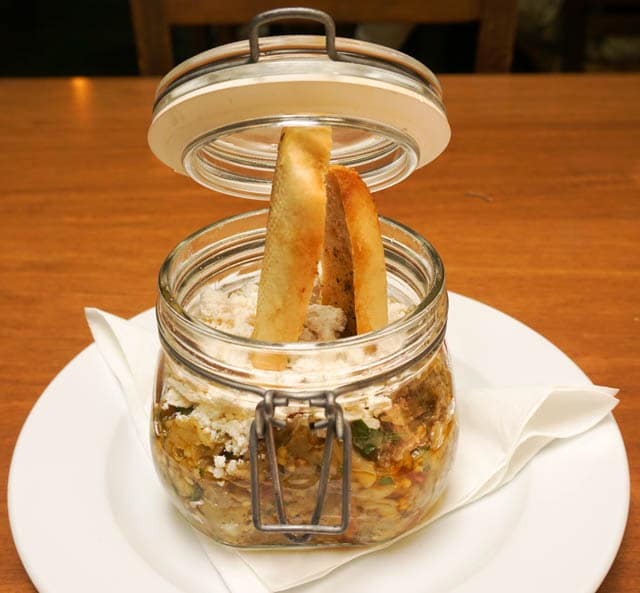 Mezebar
Mezebar, located in the heart of old town of Xanthi, has attractive indoor and outdoor seating. It gets very busy at night, especially if you want to sit outside on a warm evening.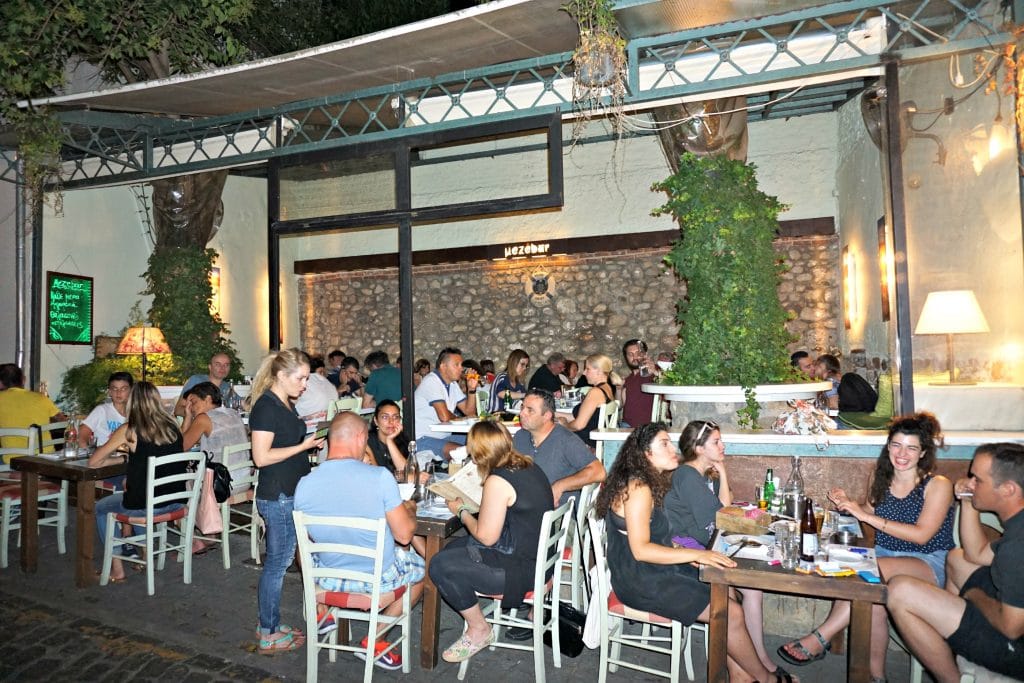 The food is overall very good. I particularly enjoyed the Fried Eggplant and Zucchini starter served with tzatziki.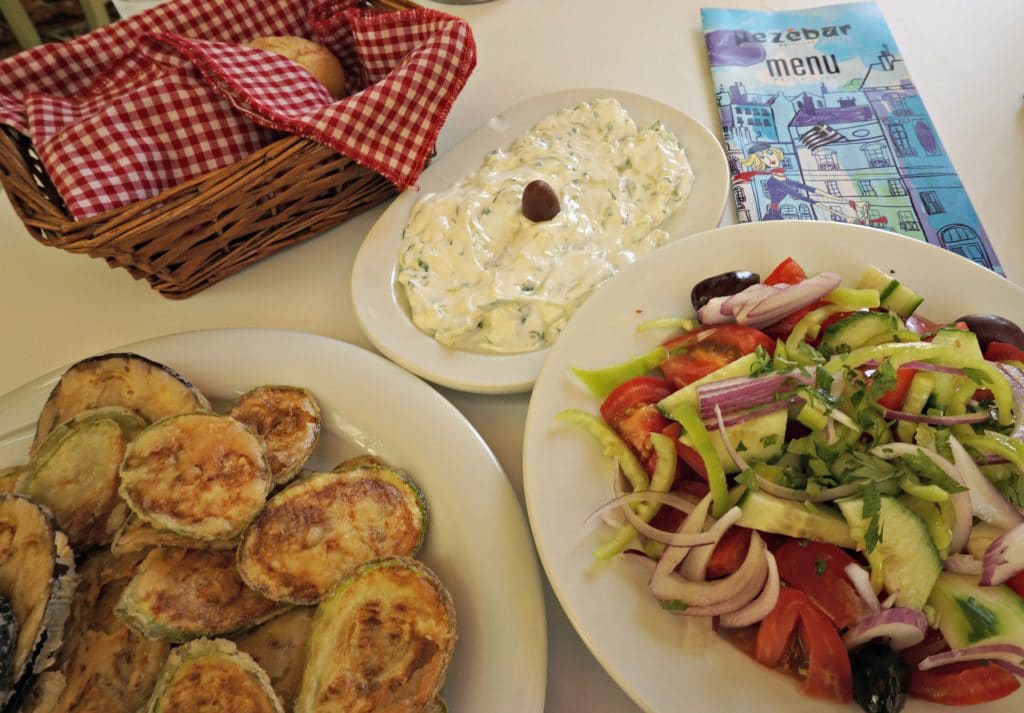 Service at Mezebar is attentive and professional. Prices are reasonable.
Musutu
Musutu is an attractive, well-managed restaurant near the central square of Xanthi. For a full review of Musutu, click here.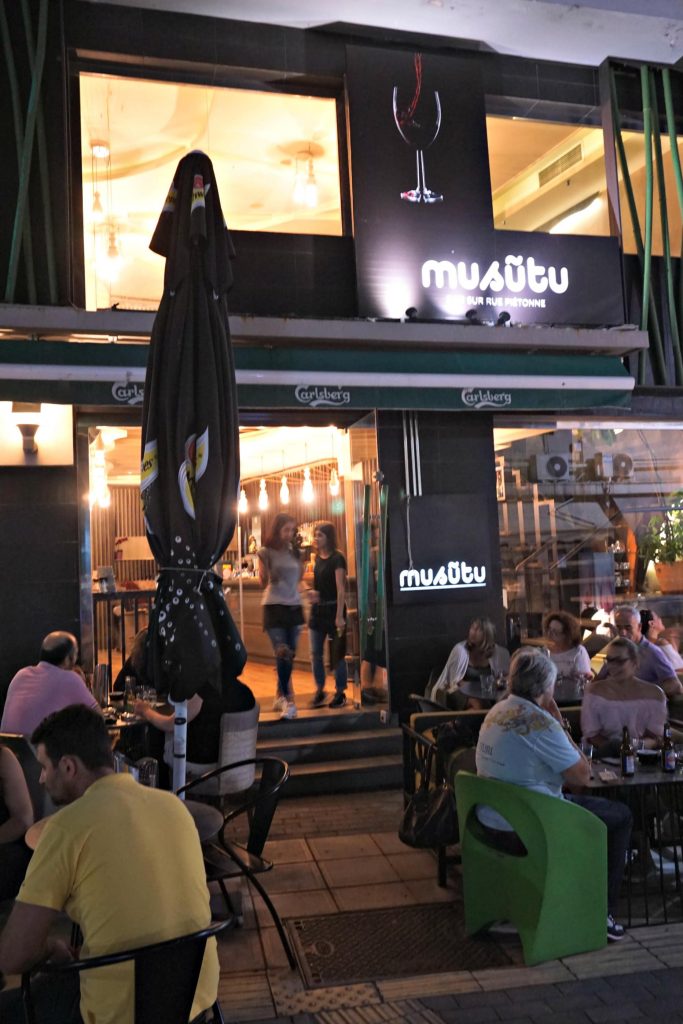 Taverna Pilima
Taverna Pilima is located in a tiny village called Pilima, about 12 kilometers (7.5 miles) outside of Xanthi. You must have a bit of adventurous spirit to enjoy Taverna Pilima. To reach the restaurant you have to cross an old stone bridge and follow a windy road up a mountain until you reach the village. As you approach the village you will start smelling the smoky scent of the restaurant's grill. At that point, you will be under a spell.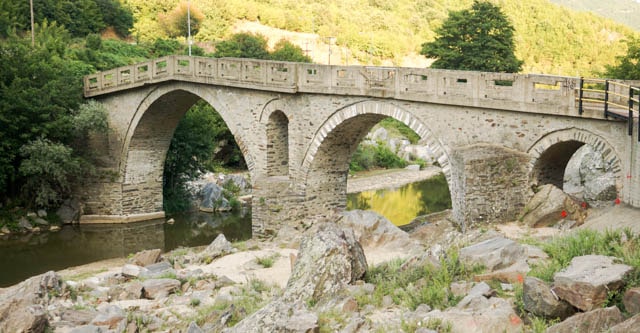 I was shocked when I saw the restaurant the first time. I was expecting a small little restaurant in a sleepy town that no one knows about. When I arrived I saw a large tree-house style restaurant with lots of people dining at the various tables. There are three main seating areas outside and one inside. Everyone can find a nook with a stunning view.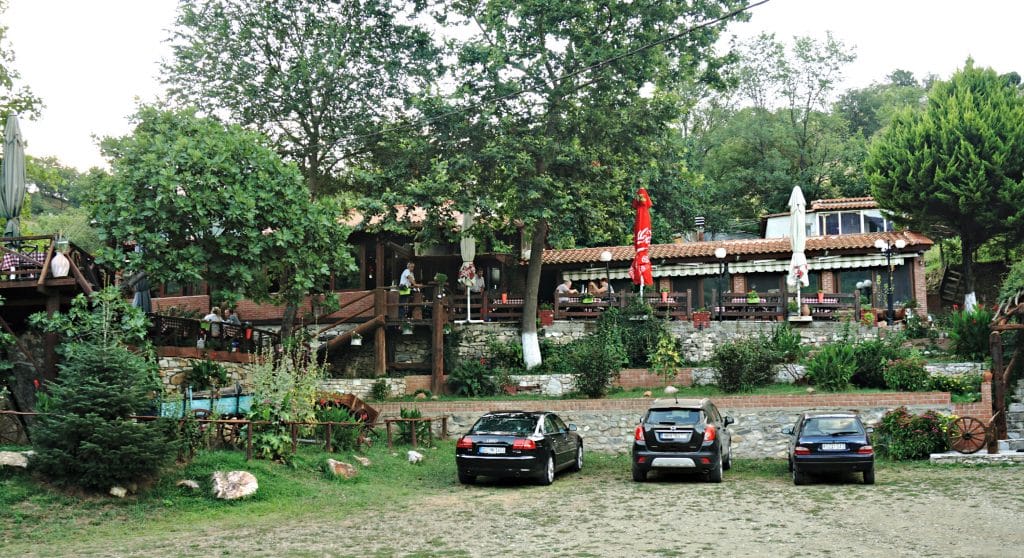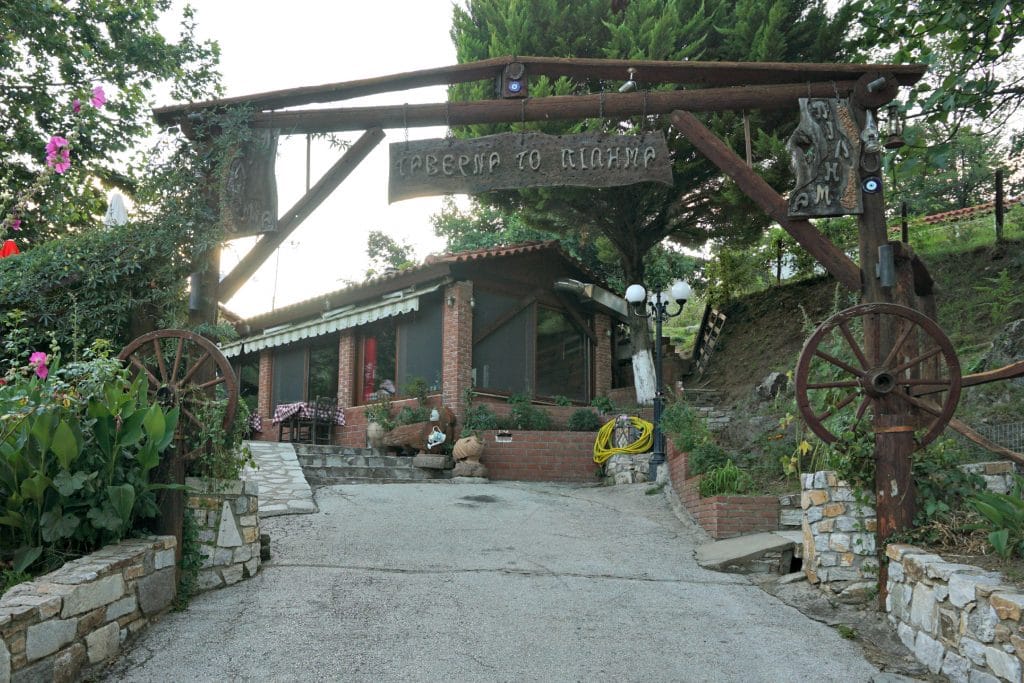 The food is wonderful and authentic. The first time I went I had the yaourtlou, which is one of their signature dishes. It is served with unique metal skewers, beside the thickest yogurt I've ever seen or tasted, and on top of the most delicious fried pita wedges. These fried pita wedges, probably cooked in the droppings of the grilled meat, are pure heaven (or perhaps hell since they are not low calorie).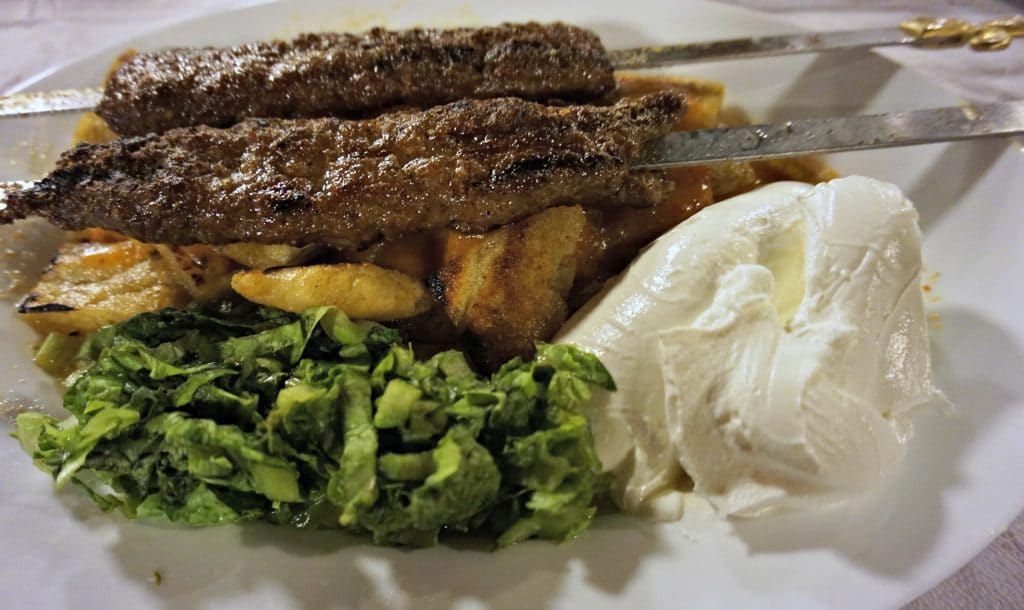 The flavor of the fresh tomatoes and feta cheese in the Greek Salad ordered to accompany the dish was also memorable. The second time I selected lamb skewers, along with many starters to share with a friend. The lamb was very tender and tasty and the starters super delicious.
The ingredients at Taverna Pilima are clearly top quality and fresh. I would not be surprised if the feta cheese and yogurt were produced in a nearby village.
Everything was special at Taverna Pilima. I would recommend this place for the food, but also for its extraordinary location. Most of the servers at this local restaurant live in the village of Pilima. Service, prices, food and atmosphere all top!
Stou Thoma
Located at the edge of old town Xanthi, Stou Thoma has a sizeable garden area with a gentle refreshing breeze passing through it.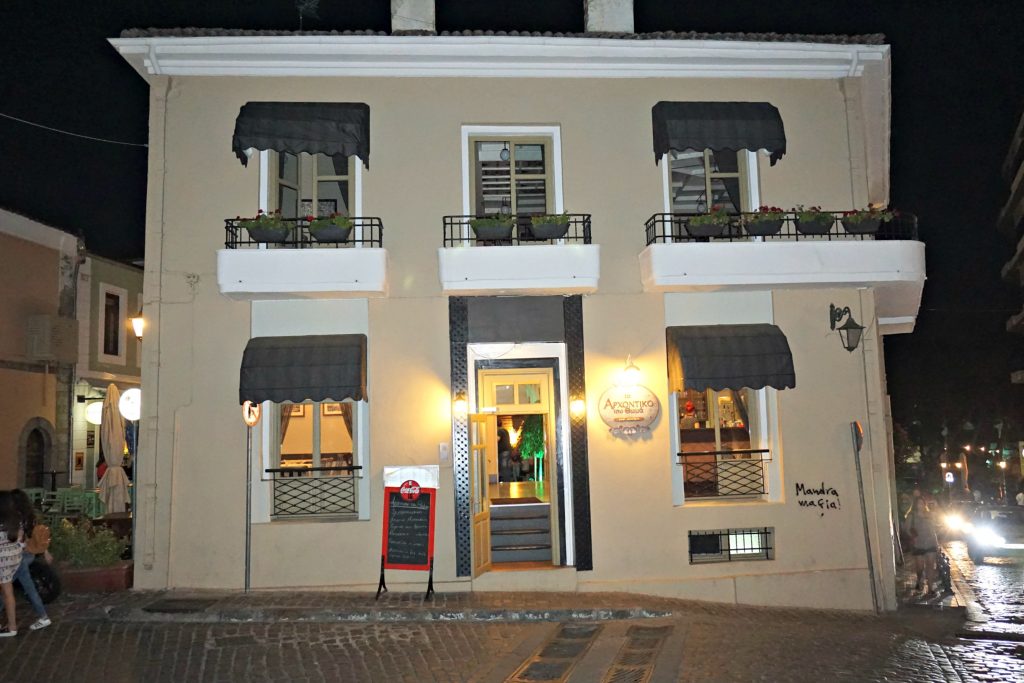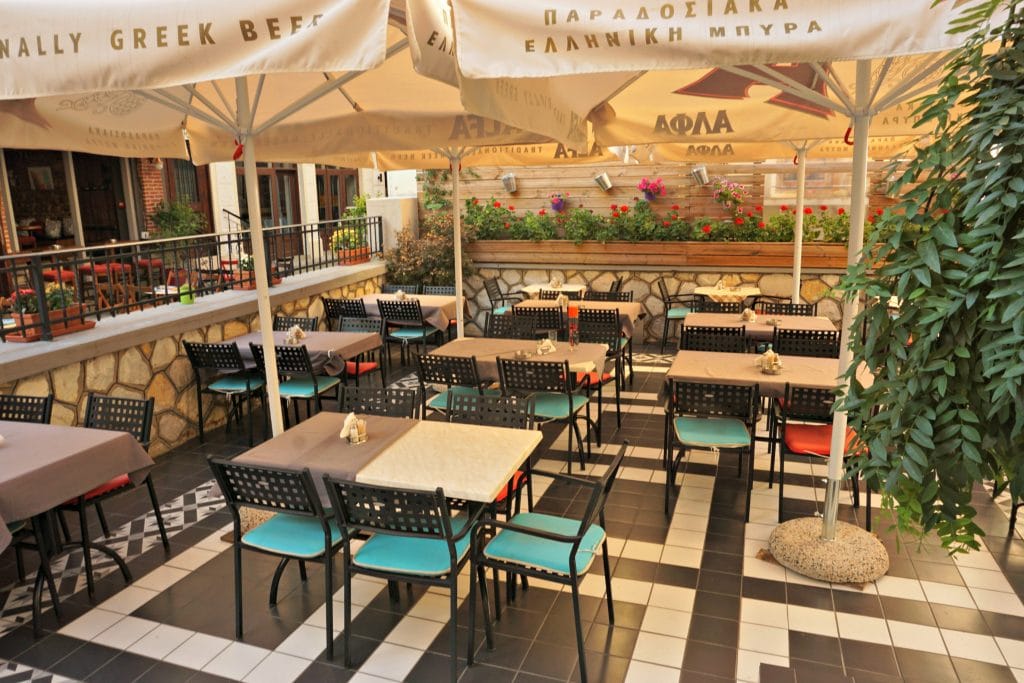 The food at Stou Thoma is good and reasonably priced. The family that runs this restaurant is kind and obviously takes care of the restaurant's atmosphere.
The atmosphere is pleasant, the food tasty, service professional and location central. The outdoor terrace is a good place for a business meeting or to get some work done.
To Vareli
To Vareli is located next door to Ta Fanarakia on a pedestrian street in the center of Xanthi. It has seating outside on a charming terrace on the pedestrian street. The interieur is decorated nicely against brick walls.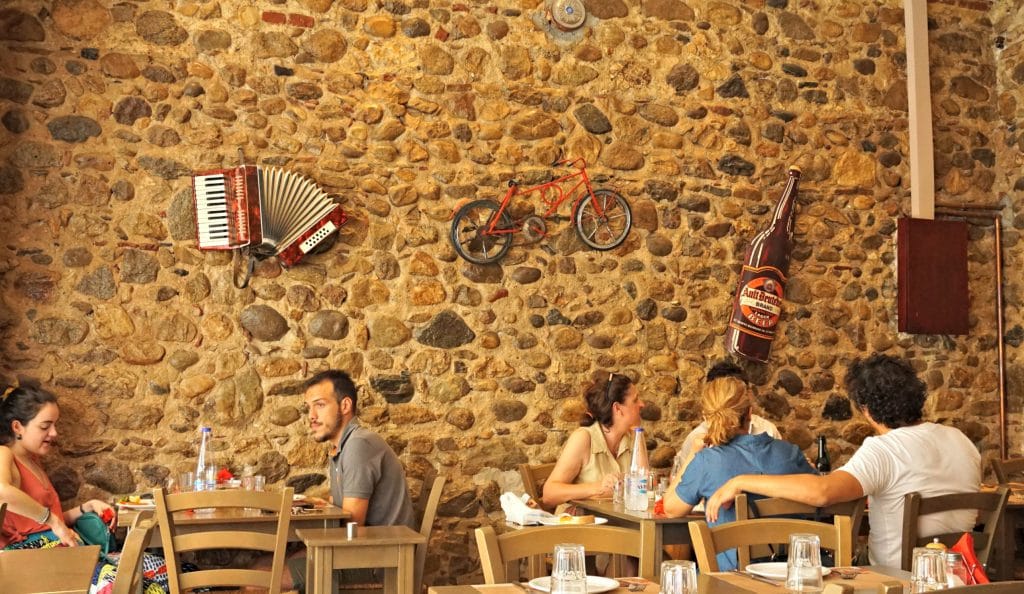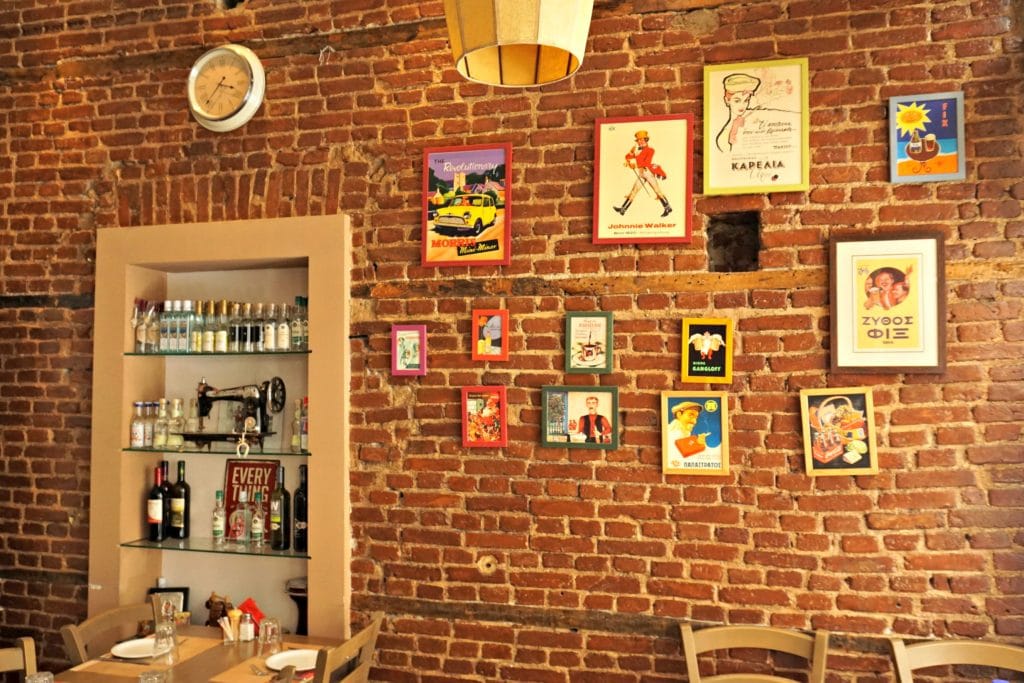 I've eaten family style a couple times at To Vareli and enjoyed everything I've eaten here. Once I had super yummy fried cheese balls (made with a Rodolpi cheese) as a starter.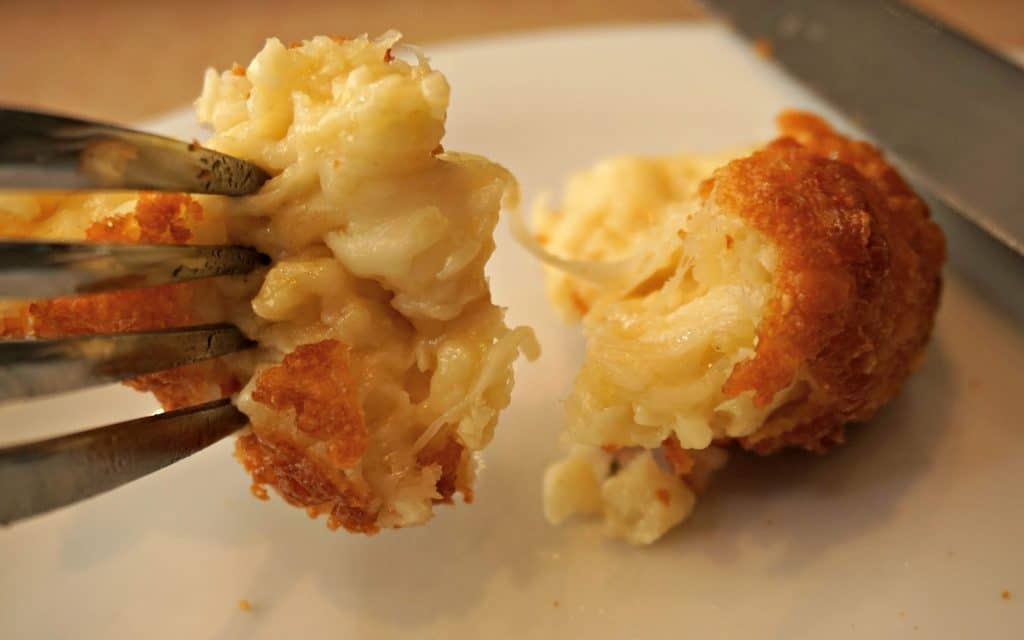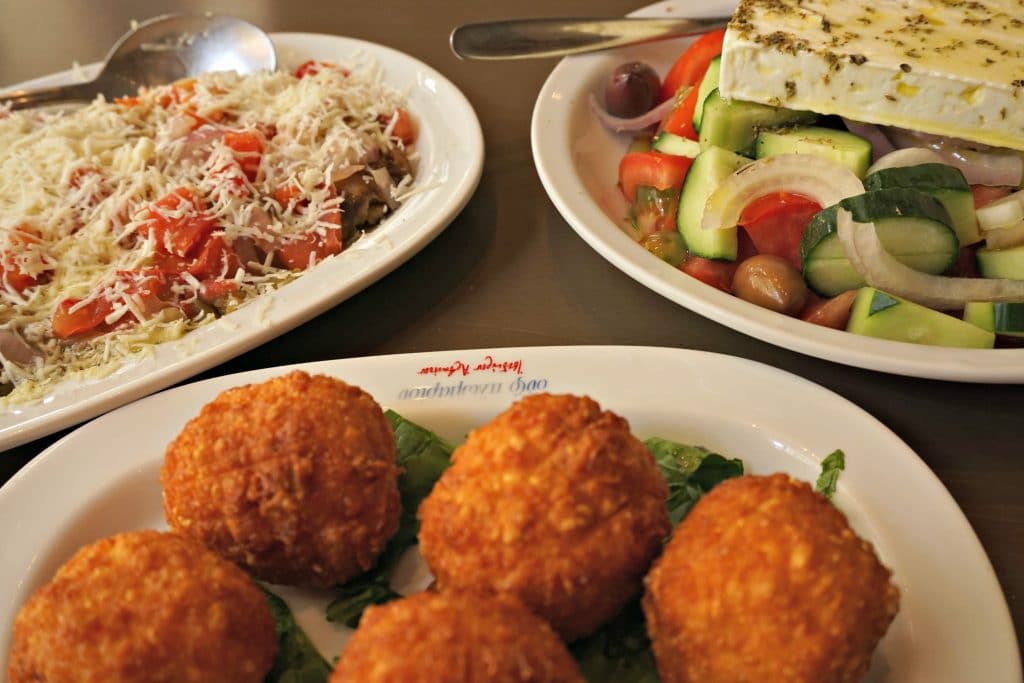 To Vareli has air-conditioning inside and fans outside on the terrace at lunchtime.
The service is very good and friendly. You can surely ask your server to select a few dishes for you to enjoy.
Xanthippi
See above under the How is the Cafe Life in Xanthi section my comments about Xanthippi as a cafe and restaurant.
I've particularly enjoyed the fried cheese pies with herbs, the tzatziki, and the yaourtlou at Xanthippi.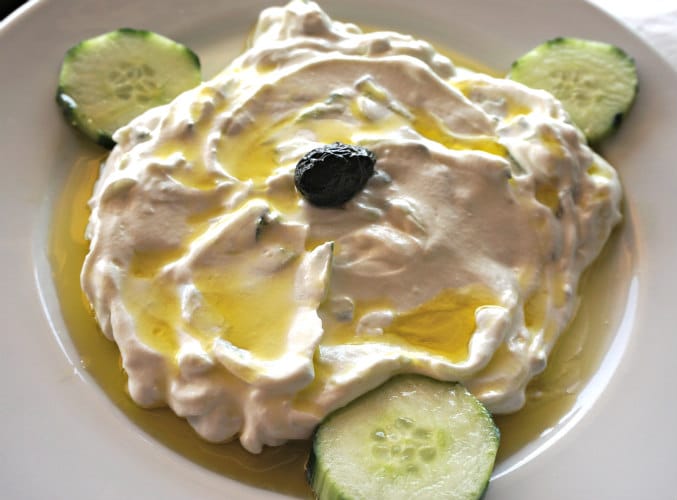 Go to Xanthippi for the view and stay for the food and drinks.
I hope this personal guide to Eating Out in Xanthi will help you enjoy your time in this lovely town. Please share it with your friends and send me your feedback in the comments below.
Click here to read more about my Journey to Greece and to follow my food adventures.