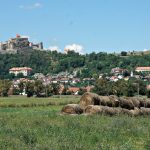 First Time in Romania
At the start of my Journey to Greece last June, I spent five days in Romania visiting mainly Timisoara, Sibiu and Brasov. Stopping in villages along my route or at vista points atop mountains to take photos of the magnificent scenery below became part of my daily routine while travelling by car.
The landscapes in the Transylvania region of Romania, in particular in and around the Carpathian Mountains, were absolutely breathtaking.  Of the three cities visited on my first trip, I loved Brasov most and would have liked to have stayed there longer.
For more informatio…
Read More