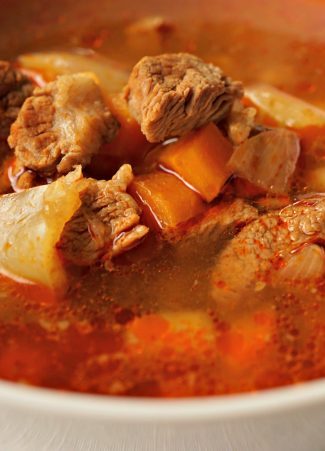 A Cooking Extravaganza with friends in Budapest
On my travel through Hungary at the start of my Journey to Greece, I spent three wonderful days with friends outside of Budapest. My friends have twin five-year-old children so we planned to spend much of our time at home cooking traditional local dishes.
Little did I know how many dishes we would prepare on my second day there. I say we but really all I did was watch, take notes, take photos and, of course, taste the final results. You may think I did nothing, however, these elementary tasks constitute the main duties of a food blogger. So, in short I worked. I have the extra kilos (pounds) to show for it.
Over the years I have visited Budapest more than 20 times, mostly for work. I really love Budapest and have always enjoyed coming back.
The city center has evolved a lot since my first visit in 1983. In the mid-1990s most of the crowd was concentrated on Váci utca, mostly during shopping hours.
Today you will see thousands (yes mobs) of young people congregate near Deák Ferenc Square at night to sit outside and share drinks. Most of the drinks seem to come from stores nearby or home. If you forgot to bring your own drinks you can stand in line and purchase what you like in one of the stands nearby.
In recent years a few streets in the center have become pedestrian passageways and a few squares have essentially eliminated the presence of cars. These changes in mobility have made Budapest an even more pleasant city to visit.
What's the difference between Hungarian Goulash Soup and Goulash Stew?
I arrived at my friends' home on Friday late afternoon. Pali, the husband, described how he would prepare a goulash soup on Saturday for lunch. He also explained that gulyás in Hungarian actually referred to a soup, so it was somewhat repetitive to say goulash soup or gulyásleves as they say in Hungarian.
The main difference between a goulash soup or a goulash stew seems to be the thickness of the dish. You would add less water to make a stew. Hungarian Goulash Soup can be made with pork, beef, or veal. Pali chose to make a pork version, as this is the way he grew up having this traditional soup with his family.
Does Hungarian Goulash have to be prepared over an open fire?
In fact, the term gulyás originally referred to the herdsmen who would make this dish over an open fire. Traditionally a gulyás is prepared in a cast iron pot or kettle called a Bogrács in Hungarian.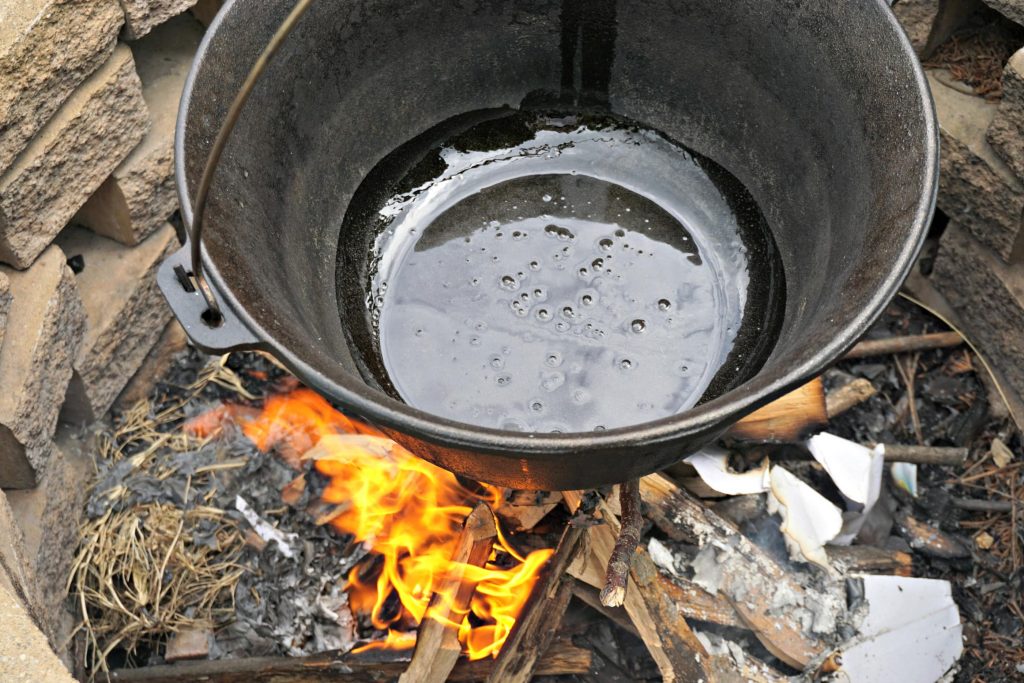 Today, this national dish is often reserved for visits by special guests. I was thus very honored that Pali prepared this dish the traditional way in a cast-iron pit over an open pit fire in the backyard.
Although Pali did most of the work, he had his twin children to help him along the way. His five-year-old son helped prepare the fire by putting the sticks, paper and wood in the correct way. Both children added the ingredients into the pot at each stage.
You can make Hungarian Goulash Soup (or Stew) on your stove in a Dutch oven or other solid dish that allows you to slow-cook the ingredients until the meat is tender. It can also be made in a similar dish in your oven if you prefer. Of course, some of the folkloric flare will be lost and supposedly also some of the special taste if not prepared over an open fire. Yet, I'd imagine most people will have to prepare their Hungarian Goulash Soup in their kitchen, especially during wintertime.
Is there only one way to make Hungarian Goulash?
There are many variations of goulash dishes today, some having their own name. Do not be intimidated by the various terms used and list of ingredients. As long as you use meat, paprika, some vegetables and some water and cook the dish slowly over heat you will end up with a dish resembling a Hungarian Goulash.
Start off with my recipe and then experiment as you like to create a dish you and your family will enjoy. If you want more flavor, add some Lecsó, a Hungarian mix of tomatoes, onions, peppers and other ingredients, to create a popular condiment added to dishes for extra taste. In Hungary, Lecsó can be found in grocery stores in forms easily stored and used in kitchens. Don't worry, follow this Lecsó recipe to make your own at home.
I asked Laura if she would make nokedli (dumplings) to accompany the Hungarian Goulash so I could see how to make them. She had given me a recipe a few years ago but I never succeeded to make this apparently easy dish.
There was some discussion between Pali and Laura whether a real goulash should be made with nokedli. Apparently some families (and regions) do add nokedli while others do not because there are already potatoes in Hungarian Goulash. As a favor Pali gave in so I could see how to make the nokedli. Of course, I will share the recipe for nokedli in a separate post soon.
Enjoy this hearty Hungarian Goulash soup with special guests or merely with your family on a cold evening. Please share your comments and suggestions below.
Hungarian Goulash Soup Made at Home
A hearty soup to welcome special guests or merely to warm up on a cold day! Enjoy this full-flavored soup.
Ingredients
2

tbsp

(refined) sunflower oil

or virgin olive oil (see notes)

5

onion

3

tbsp

paprika

1

tbsp

salt

1/2

tsp

pepper

2000

g

pork shoulder

cut in cubes

1000

g

tomato

fresh cut in quarters or canned stewed tomatoes

1 1/2

l

water

1000

g

potato

cut in cubes

1000

g

carrots

4

parsley roots

or parsnips cut in cubes (see notes)

500

g

celery root

peeled, cut in cubes

6

green wax peppers

or banana wax peppers or a mix of red and yellow bell peppers (see notes)

4

cloves

garlic

(optional)

2

tbsp

Lecsó

(optional) (see notes)
Instructions
Dice onions and cut pork shoulder into cubes. Leave fat on the pork cubes to give more flavor.

Heat cooking pot. When very hot, add olive oil.

Add the onions and leave over hot heat until onions are translucent and become tender. Stir regularly to avoid burning. If needed, add a little water to prevent the onions from sticking to the pot and becoming too dark.

Remove the pot from the heat. Add the paprika powder and stir. Add salt and pepper. Stir 1 to 2 minutes off of heat before next step.

Add the pork cubes into the pot and stir. Leave to cook until brown on all sides.

Add the tomatoes cut in quarters. If you are using canned tomatoes, use stewed tomatoes if available, otherwise cubes are fine. Mix well and continue to cook a couple minutes.

Add enough water to cover the ingredients by about 1 inch (2.5 centimeters). Bring to a boil and then reduce to low heat and leave covered to cook for about 1 1/2 to 2 hours or until the meat is almost tender. Stir from time to time. Keep adding water so the water tops the ingredients by about 1 inch (2.5 centimeters).

Add remaining ingredients (potatoes, carrots, parsley roots, celery root, garlic, wax peppers) as well as Lescó if you choose to add. Bring back to a boil and then reduce heat and continue to cook until vegetables are tender. Make sure the ingredients have the soup consistency that you like. If needed, add more water.

Serve with bread and if you choose with nokedli (Hungarian dumplings). Enjoy!
Notes
Use a vegetable oil that can withstand high heats and thus maintain their nutritional value.  In this respect, refined oils do better than unrefined.  For instance, sunflower oil over unrefined sunflower oil and virgin olive oil over extra virgin olive oil.
Parsley roots are not the same as parsnips, yet they are in the same family of root vegetables.  If you are unable to find parsley roots, feel free to substitute with parsnips, which are slightly sweeter.
Hungarian wax peppers tend to be more mild than bell peppers.  If you use bell peppers to replace the Hungarian wax peppers (or longer banana wax peppers), use a mix of yellow and red peppers as these will be more mild than green peppers.
See the link in my post above (http://www.thehungarydish.com/lecso-recipe-guest-post-by-peter-pawinski/) to learn how to make your own Lecsó.
Nutrition
Nutrition Facts
Hungarian Goulash Soup Made at Home
Amount Per Serving
Calories 232
Calories from Fat 63
% Daily Value*
Fat 7g11%
Cholesterol 56mg19%
Sodium 363mg16%
Potassium 864mg25%
Carbohydrates 23g8%
Protein 19g38%
Vitamin A 0IU0%
Vitamin C 0mg0%
Calcium 0mg0%
Iron 0mg0%
* Percent Daily Values are based on a 2000 calorie diet.