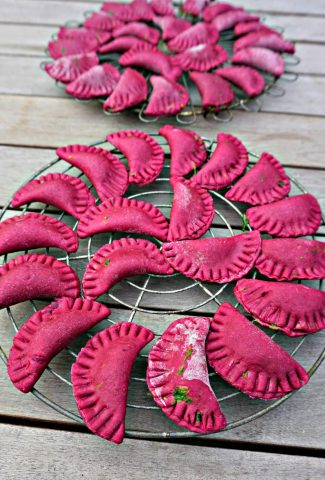 What Inspired this Soul-Fulfilling Red Beet Ravioli Dish?
Towards the end of my Journey to Greece, I spent a few days in Kosice, Slovakia, near the Hungarian, Polish and Ukrainian borders. I initially planned to spend one night in Kosice, yet immediately fell in love with its old town. I ended up staying three nights so I could leisurely visit the town, hang out in its cafes and restaurants, and spy on the hordes of people strolling on the main street, Hlavná ulica.
Hlavná ulica is such a vibrant street with a park, musical fountains, and loads of statues dividing the broad street into more cozy spaces for people to enjoy. At this point on my Journey to Greece, I needed a place to catch up on some work and to feel more grounded. I'd been travelling about ten days pretty much non-stop at that point.
East Meets West
As you can imagine, the various cultures inhabiting Kosice have inspired the food in this border town. Traditional tastes from eastern lands blend with flavors from western parts of the European Union.
One restaurant I loved in Kosice was Republika Vychodu because it used natural high quality ingredients to prepare homey down-to-earth healthy dishes.
One night at Republika Vychodu I tried their red beet pirohy, one of their several pirohy (pierogi) dishes featured on the menu. The red beet pirohy dish captured my heart and soul with its simple, earthy and yummy flavors mixing together. The colors of the red beets, green spinach and white goat cheese make this dish extremely attractive. I also enjoyed the use of hot pasta filled with cooked spinach topped by cold goat cheese and raw baby spinach leaves.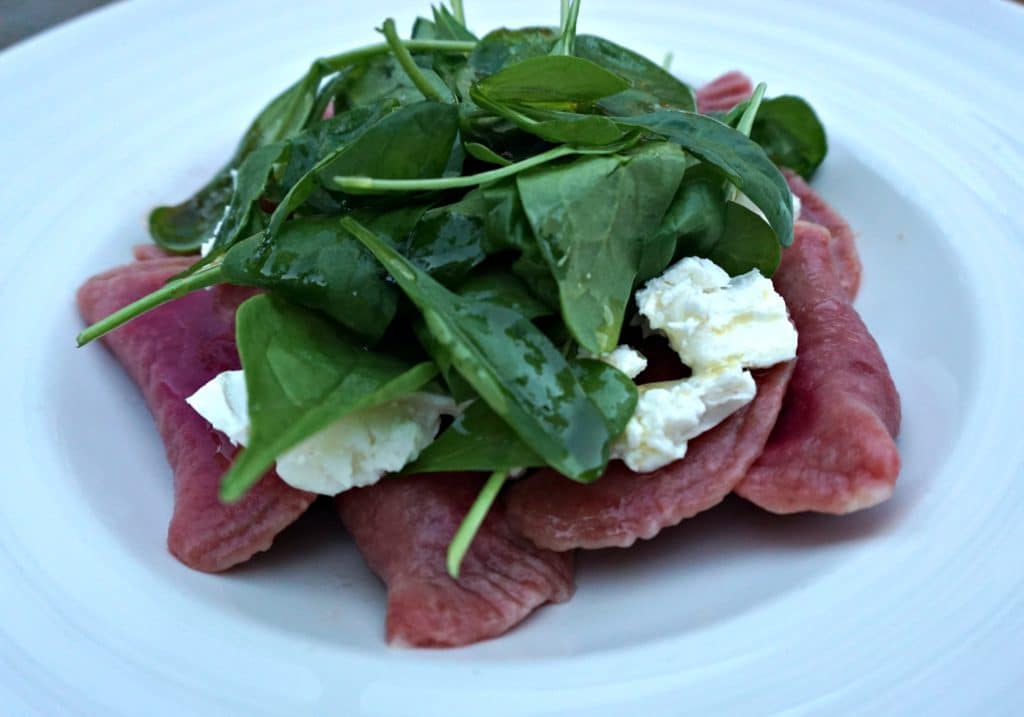 The next day I found myself craving the red beet pirohy dish I had devoured the night before. Although Kosice hosts loads of good places to eat, I found myself compelled to return to Republika Vychodu for another taste of its red beet pirohy. This time I took notes on how I might try re-creating this stunning dish. I had to find a way to make this dish again at home and, of course, to share the recipe with all of you.
How did I develop this Red Beet Ravioli recipe?
My first week back in Belgium after my Journey to Greece I started trying to prepare this Red Beet Ravioli with Spinach and Goat Cheese. I was fortunately staying at my Belgian family's farm in Ecaussinnes, Belgium, so had access to fresh red beets, spinach and eggs to use in my attempts. My Belgian sister, Stéphanie also gave me a huge helping hand as well as valuable feedback.
The Dough
I explored recipes for pasta, pierogi, gnocchi and other dumplings to find a dish similar to what I had enjoyed at Republika Vychodu. Surprisingly I could not find anything that resembled this dish. There was pasta dough using red beet juice for its color, pasta dishes featuring red beets, spinach and goat cheese, yet nothing for a pasta, pierogy or dumpling dough made out of cooked red beets. I quickly discovered that the dish I wanted to make did not fit neatly into a single cultural category. The main dough could be considered pasta, dumpling or pierogi, depending on your cultural point of view.
Although my initial taste was of a pierogi, I decided to start from a basic pasta recipe and to substitute cooked red beets for some of the liquids and eggs in the recipe. As with ordinary pasta, you can choose to prepare the dough with or without eggs. The recipe below is with eggs yet see notes below for an eggless alternative.
The Filling
Since I had fresh spinach available, I chose to steam fresh spinach leaves and then sauté them with some shallots in a bit of olive oil for my filling. Another time I tried using frozen spinach with equal results. Whichever method you choose, make sure you drain the excess liquid before preparing the filling.
After a few attempts adding herbs, such as dill and thyme, I would recommend you refrain from adding a lot of herbs, as they will detract from the other flavors in the dish. This Red Beet Ravioli with Spinach and Goat Cheese succeeds in large part because of its blend of subtle flavors. However, you could try adding a couple grains of caraway seeds to highlight the earthiness of this dish. Go for it and see what you think. But remember to avoid adding too much.
If you like the flavor of red beets, you can add a small amount of pureed red beets into the filling to enhance this taste. Be careful, however, not to add too much.
Assembling the Red Beet Ravioli
Preparing the dough and the filling do not take much. One or both of these steps, nevertheless, may be done up to a day in advance to reduce the time needed to prepare the final dish.
Rolling out the dough, adding filling and sealing the ravioli are the most time-consuming steps of this recipe. They are also the most fun steps, especially if you are doing them with friends. It's so easy to have one person rolling out the dough while a friend fills and seals the ravioli.
Making ravioli is also very kid friendly. Everyone can get involved. If you're competitive, you can split the ingredients among you and then see who makes the most beautiful ravioli. In the end, like most ravioli dishes, the appearance of the ravioli is fairly insignificant. It's the taste that matters.
You may assemble and then freeze the ravioli ahead of time. You can store frozen ravioli a couple months to use for other occasions. All you need to do is lay the assembled ravioli on a baking pan lined with baking paper and then stick the pan in the freezer about 30 minutes. You can then put the semi-frozen ravioli in sealed plastic freezer bags for future consumption. Do not thaw the frozen ravioli before adding them to boiling water to cook.
Cooking the Red Beet Ravioli
The Red Beet Ravioli need to be boiled about ten minutes. The exact time might depend on your dough so you may need a little more or less. If you freeze your ravioli in advance, count on an additional two minutes.
You might need to cook the Red Beet Ravioli in batches. In my cooking pot, about eight to ten ravioli can be cooked together in one large pot of boiling water. If your pot is smaller, you will need to reduce the number of ravioli cooked at the same time.
Once your ravioli are cooked, they may be kept warm in the oven in a cooking dish with a little olive oil until time of serving. If you prefer a crunchy exterior to your ravioli, they may be sautéed in a pan on one side before serving. Personally I would not sauté them the first time serving the ravioli, yet would definitely recommend this step when reheating leftovers the next day. It's a great way to heat up the leftovers and add a different touch.
Serving the Red Beet Ravioli
To serve the Red Beet Ravioli, place some washed baby spinach leaves in a bowl. Add the hot ravioli on top of the baby spinach leaves. Finally, sprinkle some crumbled goat cheese, drizzle some olive oil and add a pinch of coarse grey sea salt and black pepper on the ravioli. Serve immediately and enjoy!
If you use fresh organic red beets and still have some beet greens, sauté the greens with a little olive oil and water and add them on top of the ravioli. These sautéed greens will enhance the beet flavor as well as add an extra touch of red to the dish. Most importantly perhaps, they will increase the dish's nutritional value.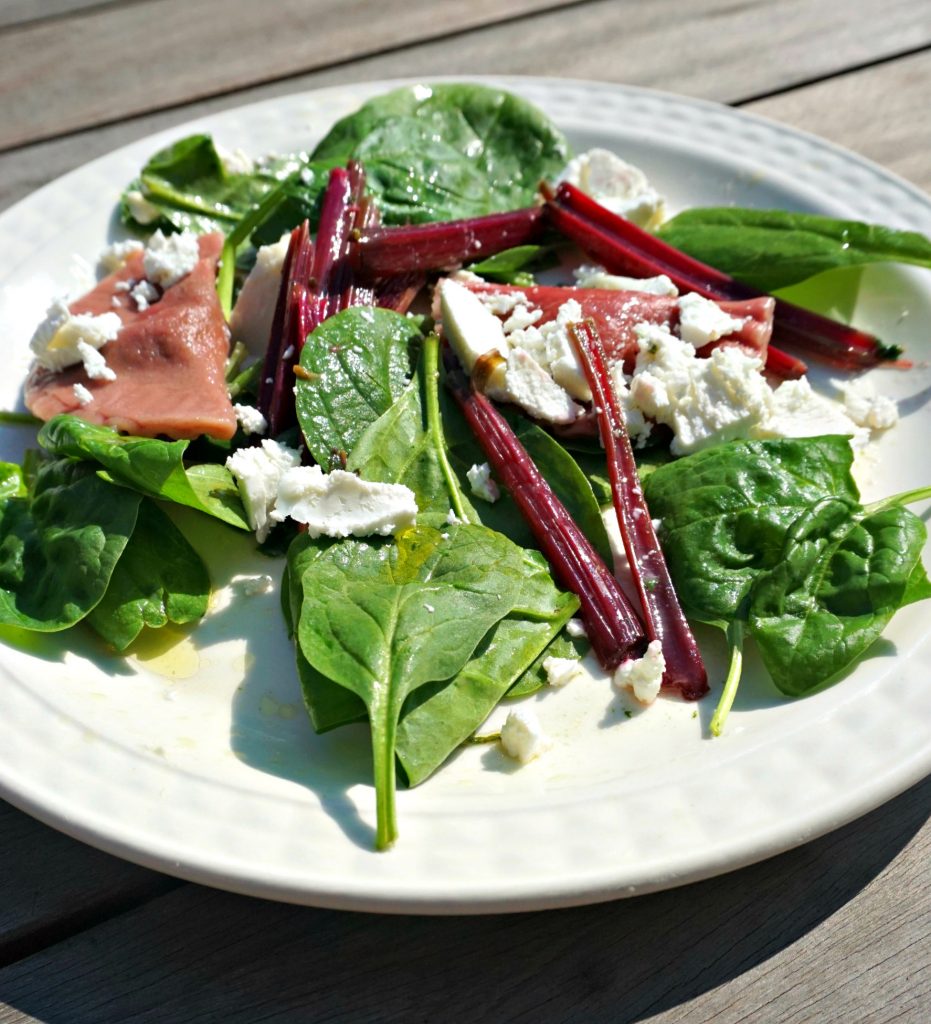 Try sprinkling some pumpkin seeds, walnuts or hazelnuts on the ravioli before serving them for extra nutritional value and taste. If you like nutty flavors, you might consider replacing some of the olive oil on top with pumpkin seed oil, walnut oil or hazelnut oil.
For your information, I tried making this dish with a dash of balsamic vinegar and did not think it helped this dish. In fact, it detracted from the natural flavors here.
Final Remarks
Try making Red Beet Ravioli with Spinach and Goat Cheese soon. You will discover that it's not as difficult as it looks and in fact is a lot of fun to make, especially with others. It will immediately become a family favorite, in particular when prepared with fresh seasonal ingredients available in the summer and autumn.
Inspired by this Red Beet Ravioli dish, I've also created a similar dish using cooked pumpkin called Pumpkin Ravioli with Spinach and Goat Cheese. Please try this delicious fall dish to mix up a bit your pumpkin repertoire. For other pumpkin dishes, click here.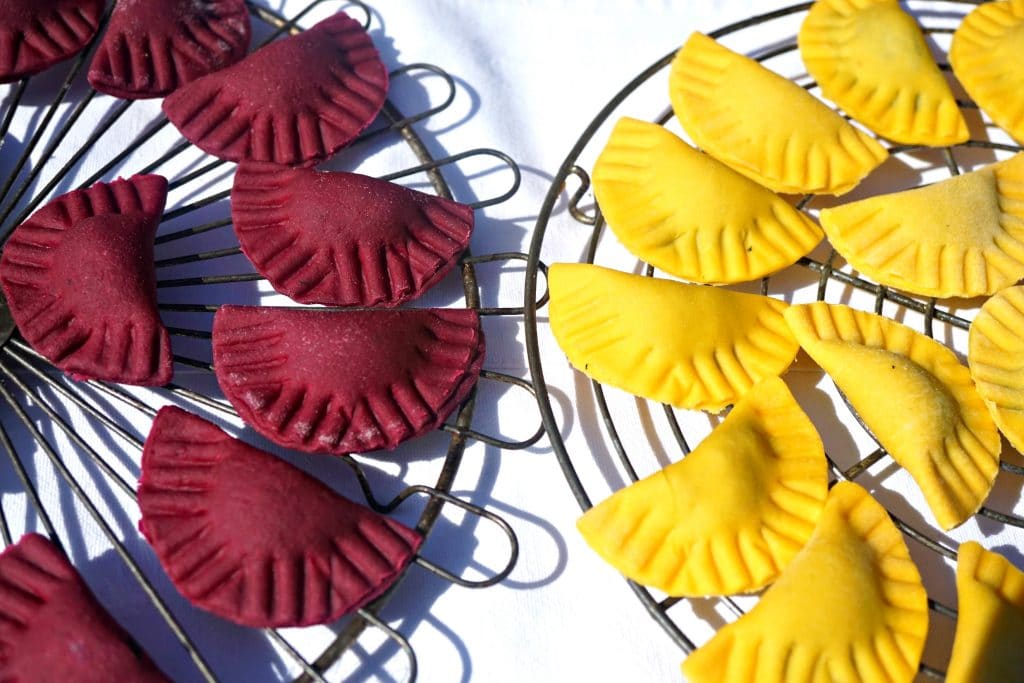 Please share this recipe with your friends using the social links below and remember to leave me your comments. If you try this recipe, kindly come back and rate this recipe so others can benefit from your experience.
Red Beet Ravioli with Spinach and Goat Cheese
Red Beet Ravioli is fun to make with kids or friends and a delight to eat. It's a healthy way to celebrate the end of summer and the start of fall. If the Red Beet Ravioli are served as a main dish, figure on each person eating between six and eight. See notes below re: time needed.
Ingredients
Filling
640

g

spinach

cooked and drained

2

tbsp

olive oil

3

shallots

or a bit less if you prefer.

2

tbsp

red beet

pureed (optional) (see notes)
Topping
350

g

goat cheese

medium soft inside, chewy crust outside

120

g

baby spinach leaves

raw

1

tbsp

olive oil

1/3

tsp

salt

grey

pepper

2

tbsp

pumpkin seeds

hazelnuts or walnuts (lightly roasted) (optional)
Instructions
Preparing the Dough
Follow the link to see recipe for Red Beet Pasta. Prepare Red Beet Pasta according to instructions described.
Preparing Filling
Wash and cook the spinach to be used in the filling (not the spinach leaves to be added on top).

Put the cooked spinach in a drainer over a bowl to eliminate excess liquid. Press down on the spinach to remove as much liquid as possible.

Put the olive oil in a pan over a medium-high heat. Dice the shallots and add them to the pan. Cook the shallots about 2 minutes until they are translucent.

Add the drained cooked spinach to the pan and continue to cook a couple minutes. Add salt and pepper. Optional: Add some pureed red beets to enhance the flavor of the beets in this dish. (See notes below). Let cool.
Assembling the Ravioli
Roll the Red Beet Pasta dough according to the instructions described in the recipe. You can roll out the Red Beet Pasta dough by hand or by machine.

There is no need to let the dough dry very much before they are filled. You can let them dry more after they are filled. Place the strips of pasta (rolled by machine) or the discs of pasta (rolled by hand) on a lightly floured surface. Use a glass with a diameter of about 7 cm (2.75 inches) to cut out round discs for the ravioli. Roll again the unused dough and continue in the same manner until all the dough is used. If you do not care about each disc being perfect, you can also roll each part (1/3 of 1/3/) into a log about 1 cm (1/2 inch) wide and then cut into about 7 or 8 pieces. Roll out each piece separately.

Take each disc in the palm of your hand. Add about a teaspoon of the filling in the middle. About one-third of the disc should be filled. Close one half over the other half into a half moon shape. You can close the edges with your fingers like you would the top of a pie crust or use a fork to press down the edges until they stick together. If the dough is still a bit moist, no extra moisture is needed. If the dough is dry, it might crack as you prepare the ravioli and you'd need to wet the edges before closing the ravioli.

Place the assembled ravioli on a baking sheet or other surface covered with baking paper. If you need the ravioli to touch, add a little flour to avoid them from sticking together. Let the ravioli rest a little until you are ready to cook them. If you will not cook them relatively soon, put them in the refrigerator until the final cooking stage. NOTE: at this time if you like you can place the lined baking sheet into the freezer for about 30 minutes if you want to keep them for another day. After the 30 minutes in the freezer, place the semi-frozen raviolis in a plastic freezer bag for storage. See notes below.
Cooking the Ravioli
Bring large cooking pots filled about 2/3 with water to a boil.

Add about 8 raviolis into the boiling water. Be careful not to overcrowd the pot as the raviolis will expand while they cook. They will need to cook about 10 minutes from the time you place them in water. The raviolis usually come up to the surface of boiling water after approximately 2 minutes and then need to cook another 8 minutes before they are ready. These times are estimates and they may vary depending on the size of the ravioli.

If you are not serving the ravioli immediately, place them in a baking dish with a little olive oil to avoid sticking. Place the dish in a warm oven (low heat only to keep warm) until you are ready to serve the ravioli.

Continue to cook the ravioli until they are all ready. If possible, you can have two pots going simultaneously to save time.
Serving
On each plate, place a handful of washed raw baby spinach leaves. Cover with about 6 to 8 cooked raviolis.

Crumble 30 to 40 grams (about 1 ounce to 1.3 ounces) goat cheese on top.

Drizzle a little olive oil (or a blend of olive oil and a nut oil) (see notes) on top. If you are adding some seeds or nuts on top, add them now. (Don't however add the seeds or nuts if you are also mixing some nut oil with the olive oil for the top). Finish with a pinch of grey salt and a dash of black pepper freshly grounded. Serve and enjoy!
Notes
1.  The time needed to prepare one recipe for 10 people may seem daunting.  However, you should note that several tasks can be happening at the same time.  For instance, you prepare the filling as the dough rests in the refrigerator or as you cook the red beets for the dough.  In addition, you can break up the work into several steps performed at different times. The dough may be prepared one or two days in advance or up to 1 or 2 months in advance if you choose to freeze it. If you prepare the ravioli with children or friends, people can perform different tasks simultaneously.  One person can roll out the dough while another fills them, for example.  The time indicated above is the total time if you were to perform all of the tasks at one time by yourself. 2.  Contrary to what you would think, these ravioli do not have a strong red beet flavor.  If you enjoy the taste of red beets, you can add a little red beet puree to the filling to enhance the flavor. 3.  The flavor of the ravioli is delicious and subtle.  I'd recommend trying it as suggested the first time.  If you want to add a little additional flavor without overpowering the dish, try blending some nut oil (pumpkin seed, walnut or hazelnut) with the olive oil on top OR adding some crushed roasted nuts or seeds on top.  If you are using organic red beets, try roasting the greens of the beets in a little olive oil and water in the oven or in a pan on the stove.  They should cook until they are softer to eat yet still give a little crunch.  Add these cooked beet greens to the top of the plate when serving to add some additional color and beet flavor. 4. If you freeze the dough to be used at a later time, be sure to defrost before using to roll out. 5.  If you freeze the red beet ravioli, do not take them out to thaw in advance.  Put the frozen ravioli directly in the boiling water and let cook an extra 2 minutes or so.  
Nutrition
Nutrition Facts
Red Beet Ravioli with Spinach and Goat Cheese
Amount Per Serving (187 g)
Calories 328
Calories from Fat 126
% Daily Value*
Fat 14g22%
Cholesterol 99mg33%
Sodium 277mg12%
Potassium 433mg12%
Carbohydrates 38g13%
Protein 15g30%
Vitamin A 0IU0%
Vitamin C 0mg0%
Calcium 0mg0%
Iron 0mg0%
* Percent Daily Values are based on a 2000 calorie diet.